Stories about...6–8 STEM Outreach
"I do this, and I will always do this because I think that this is a very crucial age group." Cecelia Leal on why she does the Mid-GLAM camp.
Franklin Steam Academy Students Experience High-Tech Science at MRL
Clinton 4-H Group Visits Campus, Experiences STEM at Illinois
I-MRSEC's Musical Magnetism Curriculum Uses Hip Hop to Teach Science
Becerra and Muskin Expose Wiley Fifth Graders to Engineering Via Fun Solar Projects
Middle School Girls Discover Engineering Is Fun During SWE's Round Robin
Next Generation School's New-Look Science and Engineering Fair Imparts the Same Old In-Depth Learning and Life-Long Skills
STEAM Studio AstroTech Unit Focuses on Telescopes Courtesy of Astronomy's Wong
Monticello Teacher Exposes Students to the Engineering Process Via a POETS-RET-Developed Curriculum.
I-MRSEC, Champaign Educator Jamie Roundtree, Embrace Hip Hop/Rap to Reach Youth at Their Level
Cornerstone Christian Homeschoolers' Students Design Infant Incubators Using POETS RET-Developed Curriculum
Jefferson Middle School Students Experience Cool Hands-On Science, Courtesy of the MCBees
Local Girls Make Strides In Mathematics During AWM's Sonia Math Day
Mid-GLAM Camp Exposes Middle School Girls to Materials Science and Engineering
At the 2017 NGS Science & Engineering Fair, Every Student Is a Winner!
Student Spotlight: Hani Awni–Engineering for Social Justice Scholar
Engineering for Social Justice Scholars Program Helps Students Rethink Engineering's Role in Society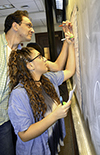 Illinois Math Women Seek to Keep Kids, Especially Girls, in the STEM Pipeline

---
MechSE Grads Milner & Armstrong Trade in Sports Outreach for STEM Via ENVISION
SWE's "Save the World With Engineering" Outreach Targets Middle School Girls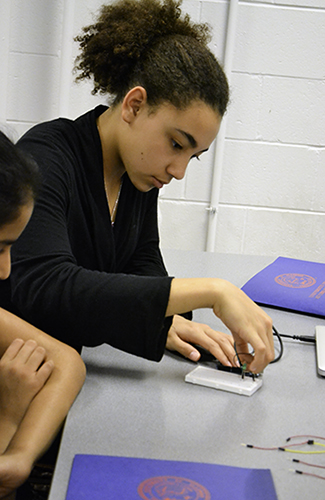 ---
ECE's Kitt Peterson Exposes Local Middle Schoolers to Rapid Prototyping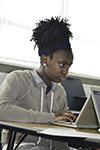 Local Students Learn About DNA During I-STEM's DNA Day Outreach Event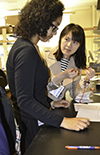 MCBees Help Provide Student Support, Recruit, & Share the Joy of Science

NGS Students on the Ball Teaching BTW Kindergarteners About Polymers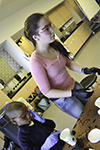 2016 NGS Science & Engineering Fair Fosters to Research/Presenting to Experts
ChiSE Program Exposes Chicago Public Schools Students to STEM...and Illinois
2015 NGS Science & Engineering Fair Called the "Most Successful" Ever
Mommy, Me and SWE Strives to Convince Girls That They Can Be Engineers Too
UMS STEM Night Exhibitors Hope Their Enthusiasm for STEM Is Contagious
Memory Metal to Oobleck: NanoDays Makes Learning About Nanoscience Fun
Next Generation School's Science and Engineering Fair: Every Student Is a Winner
First Lego League—More Than Just Robots
iRobotics Engages Kids in the Sport to Pique Interest in Engineering
Danville Teacher Partners with Illinois To Expose Students to STEM
Danville School Experiences a "Night at the Museum" Courtesy of Illinois Researchers
Pollen Power: Exposing Girls to Pollen—and Possibly STEM Careers
GEMS: Steering Middle School Girls Toward Careers in Computer Science
Marie Murphy School: A Day in the Life of an Illinois Science Olympiad Team
Betabrain Makes Learning Engineering and Science Fun
Next Generation School Fair: Tomorrow's Scientists & Engineers Meet Today's
Local Teacher Uses Project Lead the Way to Prepare Next Generation of Engineers
MechSE Gives Back to the Community
Myong, BioE Undergrads Expose Middle Schoolers to DNA/Cell Measurement
GIRRRLS Camp Exposes Local Middle School Girls to Engineering
CPS Students Discover Campus...and That Learning Can Be Fun
Physics Center Rises to the Challenge:
iRISE Makes Learning Science Fun
iRISE and Denos Work to Get Students Hooked on Science in Middle School
Science Olympiad National Tournament turns K-12 students' attention to STEM