3. Campus Projects to Reform Undergraduate and Graduate STEM Education
---
Acquisition of Equipment for High-Throughput Experimentation
National Science Foundation Award #1048545
Steven Zimmerman, John Hartwig
Chemistry
This project is for the acquisition of equipment for a high-throughput experimentation system that incorporates robotics, data processing and control software as well as a variety of different technologies to synthesize, analyze and screen multiple reaction conditions and outcomes in an automated way that otherwise would require a multitude of individual experiments. The technique, which involves grid-based sampling of physical and chemical variables, saves time, is capable of carrying out reactions in a combinatorial manner, and is useful in chemical and biological systems and especially for studies in catalysis.
Education Component: The HTE equipment will be used to educate students through both research and formal course instruction and as part of outreach activities. It will enhance research training and education at all levels, especially in areas of study such as (a) catalytic reactions exploiting main group compounds, (b) discovery and mechanistic analysis of transition metal-catalyzed reactions, (c) high-throughput development of chemical sensor systems, (d) discovery of biologically active organic molecules, and (e) discovery of organic molecules that bind RNA. The system will also be used by participants in special programs that bring underrepresented groups to campus, such as the Snyder Scholars Program; in laboratory experiments conducted by chemistry majors in an advanced laboratory course; in a short laboratory course conducted by high school teachers who participate in the NSF-funded EnLIST MSP program; and will create a capability for synthetic chemists within the High Throughput Facility at Illinois, which has been established as an open facility for members of nearby undergraduate institutions.
---
A New Integrated Approach to Undergraduate Course Instruction
Howard Hughes Medical Institute Award
Yi Lu
Chemistry
Dr. Lu proposes developing a new integrated, inquiry-based course involving all levels of undergraduate students, from freshmen to seniors, with the theme of the role of chemistry in life and society. The course will help recruit, motivate, and retain minority students as science majors. The course will be a single class that spans the four-year undergraduate education; students may take up to one semester per year. First-time students will attend lectures as well as presentations by other students. They will also choose an open-ended topic to research. The second time students take the course, they will give a literature seminar on their chosen topic. The third time, they will give a proposal seminar on how they will investigate their topic and resolve problems. The fourth time, they will give a seminar to report the results of their investigations.
Students at all levels who have similar topics will be put into groups to work together; seniors will be expected to act as mentors to the more junior students. In addition, each group will be assigned a more senior mentor, such as the instructor, a teaching fellow, a graduate teaching assistant, or a research assistant. The goal of the course is to interest students who may not otherwise choose science courses or a science major. In addition, to recruit minority students from other universities, the course will be offered in the summers and fellowships will be provided to defer expenses.
---
A Participatory Investigation of Learning in International Service Projects
National Science Foundation Award #0935057
J. Bruce Elliot-Litchfield, Laura Hahn, Russell Korte
Biochemistry
Project Dates: 10/01/09–8/31/13
The Molecular Biophysics (MB) Training program prepares highly qualified students with outstanding quantitative and computational skills to become a creative workforce to lead the basic biomedical research enterprise. The primary focus is on molecular biophysics, spectroscopy and imaging, computational biology and bioinformatics, areas that are major drivers of advances in biological and medical research, and in technology. The program design gives students full access to the diverse research of participating faculty in seven different degree programs (Biochemistry, Biophysics & Computational Biology, Cell & Developmental Biology, Chemistry, Chemical & Biomolecular Engineering, Molecular & Integrative Physiology, and Physics), while providing them with the supportive atmosphere of their own community. Trainees can choose their research advisor from any of the 30 faculty trainers, regardless of department or degree program. Significant features of the training program include hands-on research rotations through at least three faculty labs prior to choosing an advisor, monthly meetings with research presentations, a select curriculum including a course in cell biology specifically designed for students from a physical sciences background and a course on research ethics, and career advising, provided jointly with the Cell & Molecular Biology (CMB) and Chemistry-Biology Interface (CBl) training grants. Ten traineeship stipends are requested, generally to be provided in years 2-3. All trainees will have funds to attend professional meetings, and additional opportunities to assist in recruiting of underrepresented minorities at national student conferences. During their doctoral training (5-6 years on average), most trainees serve on the organizational committee for the Annual MB/CMB Training Grant Symposium. This is entirely run by trainees and is an important organizational experience for the committee members. The Symposium serves the whole campus community of interested students and faculty, providing a professional forum for students to present their research. Trainees also have personal contact with and responsibility for a world-renowned scientist (the keynote speaker) each year. Quantitative skills in biology have become especially important in the molecular, cell and systems approaches underlying biomedical research. This has created a great opportunity for capturing the imagination and interest of students already well trained in quantitative methods in the physical sciences. The Molecular Biophysics Training Program at Illinois is especially well positioned to serve these students, the future leaders in quantitative biology.
---
An Institutional NRSA in Molecular Biophysics
National Institutes of Health Award #2T32GM008276
Colin Wraight
Biochemistry, Molecular and Cellular Biology
Project Dates: 7/1/2009–6/30/2014
This engineering education research award to the University of Illinois at Urbana-Champaign will employ researchers to investigate the learning mechanisms and benefits to engineering education of popular and rapidly expanding international service learning projects. These projects are believed to elicit many of the competencies for future engineers described as essential by the National Academy of Engineering and engineering education accreditation boards. The results of this research will enable the development and dissemination of research-based educational materials for project-centered service-learning experiences for engineers. It will also lead to the discovery of models and pedagogical approaches for incorporating key features of co-curricular international project work into the mainstream of instruction and curriculum reform. International projects may be a powerful means to provide preparation for professional practice, developing knowledge and competencies in meaningful contexts that are applicable for both domestic and international engineering projects. The acquisition of these competencies will better prepare engineering students to participate in a more globally competitive workforce.
---
An Integrated Lab-on-a-Transistor for Biological Detection
National Science Foundation Award #1028549
Rashid Bashir
Electrical and Computer Engineering
Project Dates:10/01/2010–9/30/2014
The crisis in the management of infectious disease for the developed world and in the developing world (global health arena) requires rapid, easy to use, integrated, and inexpensive diagnostic devices for the detection of agents of infectious diseases, i.e., bacteria, viruses. In this application, the development of a "Lab-on-a-Transistor" is proposed for cell capture and thermal lysing, and ultra rapid techniques for performing nucleic acid amplification on silicon transistors with a direct, rapid electrical detection of the amplified products. The grand challenge of making nucleic acid amplification truly a point-of-care test will be addressed, where the results can be obtained with high accuracy and reliability in less than 5 minutes on a silicon sensor array. To address these challenges, the bacteria Listeria monocytogenes will be used as the model system within the three years of this proposed grant but the technology platform can be applied to other pathogenic microorganisms as well.
Lab-on-a-Transistor will (a) concentrate single bacteria on individual field effect transistors within a linear array using dielectrophoresis within a microfluidic channel. Then ultra-localized heating on the surface of the field effect sensor using an ac voltage will be explored. Using this method, thermal lysing of bacteria that are attached on the surface of the transistors will be performed by achieving temperatures of 95°C or higher. (b) The same sensor would be used as a heater to perform nucleic acid amplification reactions using either a polymerase chain reaction or a rolling circuit amplification method. (c) We will explore the use of the transistors themselves for label free electrical detection of the PCR products. The proposed work will have a broad impact in the area of silicon-based biosensors and the proposed technology could provide significant advances in developing point of care sensors.
Education Component: Graduate students will be involved in summer lecture and hands-on workshops to be held at the Micro and Nanotechnology Laboratory at the University of Illinois. REU summer support will be requested for hiring additional undergraduates to work with the graduate students on the research project during the summer, which will also help to develop a pipeline of graduate student researchers for the future.
---
Application Robustification
National Science Foundation Award #1118391
Rakesh Kumar
Electrical and Computer Engineering
Project Dates: 8/01/2011–7/31/2013
All of computing today relies on an abstraction where software expects the hardware to behave flawlessly for all inputs under all conditions. However, for emerging circuits/devices, the cost of maintaining the abstraction of flawless hardware will be prohibitive due to variations and we may need to rethink the correctness contract between hardware and software.
The primary focus of the project is application robustification of fundamental algorithmic methodologies to transform arbitrary applications such that they can continue to make forward progress in spite of errors produced by the hardware. In this project, our preliminary research effort is focused on a) techniques to convert different classes of application kernels into robust, efficiently solvable stochastic optimization problems that can tolerate hardware errors, b) techniques based on Krylov subspace methods, gradient projection, quasi-Newton approaches, stochastic approximation theory-based approaches, preconditioning techniques, and intelligent step sizing to reduce the cost of robustness for different forms of hardware variations, and c) low overhead checksum-based techniques robustifying sparse linear algebra libraries and graph algorithms.
Broader Impact/Education: Broader impact of this project includes development of a potentially promising approach to ride Moore's Law and training students in both the hardware and software aspects of computing in face of errors. Broader education will also be achieved through research artifacts (e.g., library of error tolerant kernels) that will be made available for research and education.
---
CAREER: Anharmonic Dynamics of Thermal Transport in Nanotransistors and Across Hard-Soft Interfaces
National Science Foundation Award #0954696
Sanjiv Sinha
Mechanical Science and Engineering
Project Dates: 02/01/2010 – 1/31/2015
This project is aimed at tailoring phonon transport phenomena in nanostructures through the control of coherence and anharmonicity effects. Coherence-scale phenomena are prominent in, for example, field-effect transistors while anharmonicity affects transport at interfaces separating hard and soft matter. The long-term goal of this project is to enable and advance pertinent applications ranging from nanoelectronics to nanomedicine. Theoretical tools will be developed to analyze coherence effects, while novel experiments will be devised and conducted to probe the spectral properties of phonons participating in thermal transport at hard-soft interfaces.
A systematic investigation of the role of anharmonicity (in soft matter) and coherence (in hard matter) during thermal transport will be conducted. A phonon wave transport theory will be extended to include particle-like behavior to enable the prediction of thermal responses in sub-10 nanometer transistors. A novel time-resolved Raman scattering approach to experimentally probe temperature-dependent anharmonic shifts in the frequencies of macromolecules will also be developed, providing a means to gain insight into the anharmonic dynamics of phonons in soft matter.
The project is aimed at developing a fundamental understanding of thermal transport in soft and hard matter, and across interfaces separating these materials. This understanding may lead to new pathways for developing small-scale transistors, discovering new cancer therapies, and creating novel energy harvesting thermoelectric materials.
Education Component: The education plan will motivate students at multiple levels to pursue careers and research in energy conversion and the thermal sciences. New laboratory experiences will be incorporated into undergraduate laboratory courses at the PI's institution. Likewise, a new graduate course in nanotransport will be developed. Teaching kits will be developed for K-12 teachers, and outreach will include summer camps to introduce energy conversion principles to high school girls.
---
CAREER: Bayesian Models for Lexicalized Grammars
National Science Foundation Award #1053856
Julia Hockenmaier
Computer Science
Project Dates: 02/01/2011 – 1/31/2016
Natural language processing (NLP) is a key technology for the digital age. At the core of most NLP systems is a parser, a program which identifies the grammatical structure of sentences. Parsing is an essential prerequisite for language understanding. But despite significant progress in recent decades, accurate wide-coverage parsing for any genre or language remains an unsolved problem. This project will advance the state of art in NLP technology through the development of more accurate statistical parsing models.
Since language is highly ambiguous, parsers require a statistical model which assigns the highest probability to the correct structure of each sentence. The accuracy of current parsers is limited by the amount of available training data on which their models can be trained, and by the amount of information the models take into account. This project aims to advance parsing by developing novel methods of indirect supervision to overcome the lack of labeled training data, as well as new kinds of models which incorporate information about the prior linguistic context in which sentences appear. It employs Bayesian techniques, which give robust estimates and allow rich parametrization, and applies them to lexicalized grammars, which provide a compact representation of the syntactic properties of a language.
Education Component: This project will also train graduate students in NLP and develop materials that can be used to teach middle and high school students about NLP and to inspire them to pursue an education in computer science.
---
CAREER: Computational Methods for Analyzing Large-Scale Genomic Changes in Mammalian Genomes
National Science Foundation Award #1054309
Jian Ma
Bioengineering
Project Dates: 03/01/2011 – 2/29/2016
This project will develop new combinatorial and probabilistic algorithms that will unravel the interwoven large-scale genomic changes that have occurred across species in an evolutionary context. The main research thrust is to develop new ancestral genome reconstruction algorithms that handle rearrangements, duplications, and large insertions and deletions at different resolutions in a single unified framework. These methods will be applied to the large number of available whole-genome sequence data to elucidate detailed history of large-scale genomic operations in mammalian genomes. With the reconstructed history, scientists will be able to explain the large-scale genomic changes and assess their phenotypic impact on any lineage, including the human lineage.
These new software tools and resources will shed new light on the extraordinary diversity of mammalian forms and capabilities. Insights from this project will be applied to improve genome assembly methodologies based on next-generation high-throughput DNA sequencing reads. The models and algorithms will also investigate specific genomic regions influenced by large-scale genomic changes, such as complex gene clusters and regions that harbor genome instability in cancer genomes. The open-source software tools for comparative genomics research will be accessible to other scientists around the world. In addition, the outcome of the project will be disseminated through online website. Visualization tools from the research will provide scientific education on genome evolution to increase the accessibility of scientific results to the general public.
Education Component: Educational objectives include new bioinformatics courses; training graduate students with interdisciplinary expertise necessary for the post-genomic era and providing them with meaningful international research experience through collaboration; getting undergraduate students involved in research projects; and participating in the G.A.M.E.S. camp at the University of Illinois to inspire pre-college girls to develop careers in science and engineering.
---
CAREER: Innovative Confinement Technology for Strong Main Shock-Aftershock Damage Mitigation
National Science Foundation Award #1055640
Bassem Andrawes
Department of Civil and Environmental Engineering
Project Dates: 04/01/2011 – 3/31/2016
This project seeks to mitigate damage and to enhance the robustness and functionality of reinforced concrete bridges subjected to moderate-to-strong earthquakes and their aftershocks. For damage-control, the project will investigate the application of a new concrete confinement technology utilizing the shape memory alloys (SMAs) as the transverse reinforcement. This new technology capitalizes on the concept of active confinement. The research activities planned for this project include: (1) Conducting multi-axial monotonic and cyclic tests on concrete elements confined with the new reinforcement. (2) Developing general 3-dimensional plasticity model for concrete confined with SMA reinforcement with enhanced damage prediction feature. (3) Examining the durability and long-term performance of SMA reinforcement through laboratory tests and field tests conducted on real bridges in Illinois. (4) Developing models for realistic seismic hazard scenarios comprising moderate-to-strong main shock followed by a series of aftershocks. (5) Conducting seismic damage analyses to develop fragility curves for bridges reinforced with the new technology. (6) Conducting confirmatory hybrid simulation tests on reduced-scale reinforced concrete bridge piers strengthened with the new confinement technology.
This project will provide the earthquake engineering community with critical, in-depth, information about the new confinement technology. It will address the modeling, durability, and design issues that are crucial for this technology to reach its full potential in delivering immediate solutions to the problems of post-earthquake functionality, down time, and repair costs of critical lifeline bridges. To increase the awareness of this new technology among the practicing bridge engineers, the PI will organize a workshop to disseminate the project results to this group of engineers. The project will also promote the new hybrid simulation testing technique used in this project to the seismic research community. Finally, this project will also increase the awareness among the research and practitioner communities about the impacts of strong earthquake aftershocks on the design of civil engineering structures.
Education Component: The results of this project will be directly disseminated to the graduate and senior level civil engineering students through two graduate-level concrete design courses taught at Illinois. To encourage and promote the involvement of K-12 students from underrepresented groups in the field of Civil Engineering, an annual summer camp for female high school students will be organized.
---
CAREER: Investigation of DNA-Binding Protein Dynamics With High-Resolution Optical Traps
National Science Foundation Award #0952442
Yann Chemla
Physics
Project Dates: 02/15/2010 – 01/31/2015
A broad class of DNA-binding protein interacts with the genome in a non-sequence-specific manner. These proteins act mechanically on their substrates, altering DNA conformation by bending, twisting, or stretching the molecule, and oligomerizing to form long filaments. These nucleoprotein complexes often serve as substrates upon which genome maintenance processes occur. Thus, they are involved in all aspects of DNA metabolism, in replication, recombination, and repair, and are important regulators of cellular processes. Single-stranded DNA binding proteins (SSB) serve as a model system for features common to this class of proteins. This project will use a synthesis of techniques from traditional biochemistry and molecular biology, in combination with single-molecule biophysics and computational biology to investigate: (1) how SSBs induce conformational rearrangement of nucleic acids, (2) how they oligomerize into nucleoprotein filaments, and (3) how these protein clusters recruit and modulate the activity of other proteins involved in nucleic acid processing. Specifically, high-resolution optical trapping in combination with single-molecule fluorescence techniques will be used to reveal dynamic protein-DNA interactions, going beyond the limitations of current methods. This work will shed light on fundamental aspects of genome maintenance.
Education Component: The PI has a deep commitment to interdisciplinary education of young scientists and outreach towards underrepresented groups. In particular, he sees in biophysics a unique opportunity to recruit women, who have traditionally been drawn to biology over physics, into the quantitative sciences. The outreach and education components of the project synthesize these themes into a broad plan targeting middle and high school, undergraduate, and graduate education. Specifically, the PI will: (1) develop a lab camp for a girls' summer program to teach middle and high school girls about physics and its impact on biological problems and to provide hands-on experience with biophysics, (2) improve the teaching of an introductory undergraduate physics course for life science students (the majority of whom are women) to better connect physics concepts with biology and medicine, (3) develop a lab course devoted to the training of the next generation of biophysicists in advanced technologies as part of the NSF Center for the Physics of the Living Cells (CPLC), and (4) participate in yearly minority conferences. This project is jointly supported by the Genes and Genome Systems Cluster and the Biomolecular Systems Cluster in the Division of Molecular and Cellular Biosciences.
---
CAREER: Large-Scale Recognition Using Shared Structures, Flexible Learning, and Efficient Search
National Science Foundation Award #1053768
Derek Hoiem
Computer Science
Project Dates: 05/01/2011 – 4/30/2016
This research investigates shared representations, flexible learning techniques, and efficient multi-category inference methods that are suitable for large-scale visual recognition. The goal is to produce visual systems that can accurately describe a wide range of objects with varying precision, rather than being limited to identifying objects within a few pre-defined categories. The main approach is to design object representations that enable new objects to be understood in terms of existing ones, which enables learning with fewer examples and faster and more robust recognition.
The research has three main components: (1) Designing appearance and spatial models for objects that are shared across basic categories; (2) Investigating algorithms to learn from a mixture of detailed and loose annotations and from human feedback; and (3) Designing efficient search algorithms that take advantage of shared representations.
The research provides more detailed, flexible, and accurate recognition algorithms that are suitable for high-impact applications, such as vehicle safety, security, assistance to the blind, household robotics, and multimedia search and organization. For example, if a vehicle encounters a cow in the road, the vision system would localize the cow and its head and legs and report "four-legged animal, walking left," even if it has not seen cows during training.
Education Component/Dissemination: The research also provides a unique opportunity to involve undergraduates in research, promote interdisciplinary learning and collaboration, and engage in outreach. Research ideas and results are disseminated through scientific publications, released code and datasets, public talks, and demonstrations for high school students.
---
CAREER: Subsampling Methods in Statistical Modeling of Ultra-Large Sample Geophysics
National Science Foundation Award #1055815
Ping Ma
Statistics
Project Dates: 09/01/2011 – 8/31/2016
Remote sensing of the Earth's deep interior is challenging, and direct sampling is impossible due to extreme pressures and temperatures. Our knowledge of the Earth's deep interior is thus pieced together from a range of surface observations. Among surface observations, seismic waves emitted by earthquakes are effective probes of the Earth's deep interior and are relatively inexpensively recorded by networks of seismographs at the Earth's surface. Unprecedented volumes of seismic data brought by dense global seismograph networks offer researchers both opportunities and challenges to explore the Earth's deep interior. The key challenge is that directly applying statistical methods to this ultra-large sample seismic data using current computing resources is prohibitive. To facilitate geophysical discoveries that can enhance our understanding of the Earth's deep interior using current computing resources, the investigator proposes a family of novel statistical methods under a subsampling framework to provide an opportunity to study various distinct statistical problems, such as function estimation and variable selection, in a unified framework. The investigator will establish asymptotic and finite sample theory to investigate the approximation accuracy and consistency of the proposed methods.
How to analyze ultra-large sample data creates a significant challenge in almost all fields of science and engineering.Various solutions to tackle the problem include cloud computing for aggregating a wide range of computing resources and powerful supercomputers; however, the high cost of these solutions creates an extraordinary budget barrier for researchers. The proposed subsampling methods provide alternative methods to surmount this challenge. The theory to be established will benefit a wide spectrum of research in science and engineering.
Education Component: This project will offer a unique educational experience for both undergraduate and graduate students to participate in cutting-edge statistical and interdisciplinary research and inspire new lines of research in three distinct fields: statistics, geophysics, and computational biology.
---
CAREER: Theory and Application of Reflective Microring Resonators
National Science Foundation Award #1055941
Lynford Goddard
Electrical and Computer Engineering
Project Dates: 03/01/2011 – 2/29/2016
The objectives of this program are to characterize, model, and utilize reflective microring reflectors. The PI proposes engineering novel device functionality by integrating a Bragg reflector in a microring resonator. The microring amplifies grating reflection, creating a compact mirror with high reflectivity, narrow linewidth, and no side lobe ripple. These benefits would reduce channel crosstalk and potentially result in lower power, higher data rate communication systems.
The research will advance scientific understanding of the device and demonstrate its potential as a fundamental element to the photonics community. The PI proposes to leverage his preliminary results in device theory, experience in lasers, sensors, and nanofabrication, and experimental capabilities and resources. This potentially transformative research may unlock new lines of research (new devices and models) and enable diverse applications (interferometry, metrology, RF photonics, and communications). Two specific applications will be explored: as cavities for on-chip absorption spectroscopy and as mirrors for tunable lasers.
The broader impacts will be to create novel devices for next generation communications and consumer electronics.
Education Component: Research and teaching will be integrated through the development of two courses: Principles of Experimental Research and Modeling of Photonic Devices. Recruitment, retention, and participation of students from underrepresented groups will be addressed through mentoring, REU internships, and a new electrical engineering summer camp for 10th-12th grade girls. Results from both research and teaching will be published to enhance the current understanding of reflective microring devices and engineering education/outreach methodologies.
---
CDI-Type II: Collaborative Research: Joint Image-Text Parsing and Reasoning for Analyzing Social and Political News Events
National Science Foundation #1027965
Cheng Xiang Zhai
Department of Computer Science
Project Dates: 10/01/2010 – 9/30/2014
Rapidly changing technologies of multi-modal communication, from international satellite TV, Internet news outlets, to YouTube, are transforming the news industry. In parallel, citizen journalism is on the rise, enabled by smart phones, social networks, and blogs. The Internet is becoming a vast information ecosystem driven by mediated events, elections, social movements, natural disasters, disease epidemics, with rich heterogeneous data: text, image, and video. Meanwhile, tools and methodologies for users and researchers are not keeping pace: it is prohibitively labor-intensive to systematically access and study the vast amount of emerging news data.
The research team is developing a new computational paradigm for analyzing massive datasets of social and political news events: 1) Studying joint image-text parsing to categorize news by topics and events, and analyzing selection and presentation biases across networks and media spheres in a statistical and quantitative manner never before possible; 2) Studying by joint image-text mining to reason the persuasion intents, and modeling the techniques of verbal and visual persuasions; 3) Discovering spatio-temporal patterns in the interactions of multiple mediated events, and analyzing agenda setting patterns; and 4) Developing an interactive multi-perspective news interface, vrNewsScape, for visualizing and interacting with our computational and statistical results.
Intellectual merit: This interdisciplinary project makes innovative contributions to three disciplines. The project develops a data-driven paradigm for transforming communication research in the social sciences. By enabling quantitative studies of massive visual datasets, the research team identifies and characterizes large-scale patterns of news mediation and persuasion currently inaccessible to researchers, due to the prohibitive cost of manual analysis. The research team goes beyond traditional object detection, segmentation, and recognition by studying framing and persuasion techniques in images, an untouched topic in computer vision; semantic associations and meanings for object and scene categories in their social context; and image parsing to fill the semantic gap, a long-standing technical barrier in image retrieval, and will generate narrative text descriptions from the parse trees so they can be fused with the input text and closed captioning for topic mining.
Going beyond conventional topic mining from text to perform integrative text-image mining, bias detection, and pattern discovery in the spatio-temporal evolution of mediated news events, the research detects and summarizes controversy and mine user-generated content for analyzing communicative intent and persuasive effects.
Broader impacts: vrNewsScape is being made publicly available to researchers and graduate students. Because the news media report on events in multiple different expert domains, the analytical tools in development are not limited to a particular research domain but permit a systematic and quantitative examination of the massive datasets required to understand today's mediated society.
Education: the project extends UCLA's Digital Civic Learning initiative (dcl.sscnet.ucla.edu), a program involving college and high-school students in the analysis of news, thus delivering education benefits to potentially a huge number of students nationwide in Communication Studies (in 2004, 433,000 college students were enrolled in Communication and Journalism and 209,000 in Political Science[153]), exposing them to a new generation of high-level tools for handling multimodal data and inspiring them to pursue computational thinking, in line with the NSF's objectives.
---
National Science Foundation Award #0965918
Rashid Bashir, Martha L. Gillette, K. Jimmy Hsia, Taher A. Saif
Micro and Nanotechnology Laboratory, Molecular and Cellular Biology, Mechanical Science and Engineering
Project Dates: 8/01/2010 – 7/31/2015
The CMMB IGERT is training the next generation of leaders who will define the new frontiers of cellular and molecular mechanics and bionanotechnology.
Integrating biology and medicine with micro and nanotechnology can be categorized into two broad areas, namely how micro/nano-fabrication can help solve problems in life sciences (such as diagnostics, therapeutics, and tissue engineering) and how we can learn more from life science to solve important problems in micro/nano-science and engineering (such as bio-inspired self-assembly).
---
Collaborative Research: Anthropological-Genomic Effects of European Colonization on Native North Americans
National Science Foundation Award #1025139
Ripan Malhi
Anthropology
Project Dates: 9/15/2010 – 8/31/2013
European colonists changed the natural, social, and cultural environments of indigenous populations in North America. This project focuses on the effects of European colonization on Native North Americans through an approach that incorporates genomic analysis, computational-statistic methods, and integration with existing databases. The genomic and statistical analysis will be combined with historical and genealogical information to provide a substantive view of Native American evolutionary history and the colonization process. Inclusion of multiple communities from within individual geographic regions across North America will provide a basis for examining shared and distinctive aspects of the history of European colonization within each of these regions. The study examines the amount of non-Native ancestry in each group and the properties of events that contributed non-Native ancestry to Native American communities. In addition, the study examines admixture-driven selection: regions of the genome in which genomic signatures characteristic of non-Native American ancestry have an elevated frequency in Native Americans. This project serves as a model for understanding the genomic effects of European colonization in other parts of the world and works to create mutually beneficial and trusting relationships between Native American communities and scientific researchers.
Education Component: Central to this effort is a summer workshop for Native American students to discuss genomic research. In addition, two molecular anthropology students and one postdoctoral fellow will be trained in the latest genomic analyses. This project expands collaborations of researchers with an interest in studying important recent historical events in Native American history
---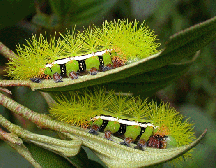 Automeris caterpillar
Collaborative Research: Caterpillars and Parasitoids in the Eastern Andes of Ecuador
National Science Foundation Award #1020510
James Whitfield
Life Sciences
Entomology
Project Dates: 9/01/2010 – 8/31/2013
Plants, plant-feeding insects, and insect-feeding wasps and flies (known as parasitoids) are central components of terrestrial forest ecosystems. These plants and insects represent more than half of all described organisms in the world and comprise a larger proportion of undiscovered tropical species. This project consists of an intensive plant, caterpillar, and parasitoid insect inventory at the Yanayacu Biological Station (YBS) in the Ecuadorian Andes. The objectives are: 1) to sample and catalog the diverse community of caterpillars and associated parasitoid insects at YBS to discover new species and understand interactions between species; 2) to disseminate this information with a searchable database accessible to scientists and the public throughout the world; and 3) to discover natural history information, such as caterpillar diets, development times, and what insects feed upon specific herbivores and plants. Such information is used to test hypotheses about how diversity evolved and how it affects variables such as ecosystem stability, forest productivity, or ecosystem services.
The intellectual merit of this activity includes significant advances in insect classification by naming new species, developing identification guides, providing specimens with associated molecular data to experts, as well as providing a critical inventory that can be used in conservation efforts in the equatorial Andes (a global hot-spot of biodiversity). These data will also be used to address a variety of basic and applied questions, particularly those associated with climate change and biodiversity.
Education Component:The broader impacts of this project include direct involvement of multiple local field assistants, senior scientists, postdoctoral researchers, collaborating insect specialists, graduate students, and undergraduate students. Therefore the project strengthens international scientific dialogue and relationships. The project includes enhancements in science education and research experience programs for minorities.
---
Collaborative Research: CEDAR—A Novel Technique for Estimating Oxygen Density in the Mid-Latitude Thermosphere
National Science Foundation Award #0836489
Lara Waldrop
Department of Electrical and Computer Engineering
Project Dates: 7/1/2009 – 6/30/2014
This project aims to develop an accurate technique for determining the atomic oxygen density in the mid-latitude thermosphere by combining modern instrumentation with state-of-the-art modeling. The method will combine optical and radar measurements to constrain a forward model of a key thermospheric O-atom emission, the twilight airglow at 8446 A, and in turn use the constrained model to develop an [O] estimation scheme suitable for application at other mid-latitude locations. The 8446 A emission has long been considered an ideal candidate for [O] remote sensing owing to its relatively simple emission model, and the project will acquire an unprecedented set of 8446 A spectral data under various observational conditions at two distinct mid-latitude facilities: Millstone Hill (MH) Observatory in Massachusetts and Arecibo Observatory (AO) in Puerto Rico. Additional parameters derived from nested incoherent scatter radar, Fabry-Perot interferometer, and photometer measurements will not only serve as additional forward model constraints, but also help assess the validity of current model assumptions, specifically with regard to the role of secondary sources of 8446 A production. Together with a thorough quantification of model parameter dependencies, the constrained forward model will be used to develop a novel inverse-theoretical technique to estimate thermospheric [O] from measured 8446 A brightness at mid-latitudes. Quantification of neutral atomic oxygen, the dominant constituent in the Earth's thermosphere between 200–600 km, is important for several reasons. In this region, its resonant charge exchange with O+, the principle ion in the F-region ionosphere, plays a vital role in both the momentum and energy exchange between the thermosphere and ionosphere. Similarly, its charge exchange with H+ has long been recognized as an important influence on ion transport between the ionosphere and plasmasphere. Owing to this strong chemical coupling, the accuracy of many fundamental aeronomical calculations—such as the derivation of transport coefficients, neutral wind speeds, energy deposition rates, chemical reaction rates, or photochemical emission brightnesses—hinges on accurate specification of [O]. Thus, current uncertainties in thermospheric composition and density limit the understanding of the coupled thermosphere-ionosphere system, both with regard to its climatological variability as well as its response to impulsive forcing from above and below. The development of a new, ground-based capability of measuring thermospheric [O] will benefit both of these central priorities of the NSF CEDAR program. One graduate student will be trained in this Aeronomy-related area with support from the project. The student will gain familiarity with acquisition and analysis of ISR spectra as well as that of optical SHS, FPI, and photometer data. Available internal funds for undergraduate research support, together with the strong involvement of AO in the Research Experiences for Undergraduates (REU) program, presents another opportunity to introduce undergraduate students to aeronomy as well.
---
Collaborative Research: High Pressure Calibration at High Temperatures
National Science Foundation Award #0842345
Jay Bass
Geology
Project Dates: 7/1/2010 – 6/30/2013
This proposal seeks funding to support developing a high pressure, high temperature calibration scale for diamond anvil cell (DAC) studies. Existing pressure scales are plagued with issues, particularly at high temperatures. Developing a pressure scale is proposed by performing density measurements by x-ray diffraction and concurrent sound velocity measurements using Brillouin scattering on cubic boron nitride (cBN). In addition, Raman P and T measurements will be made. The PIs propose to reference other materials though their equation of state to cBN at varying temperatures and pressures by coupling methodologies into a single pressure scale. Because material properties change under high pressure and temperature, it has been difficult to ascribe pressure exerted on materials in DAC studies. Pressure and temperature effects have been noted for numerous materials and measurement techniques (X-ray, optical, fluorescent, etc). cBN is suggested as a potential pressure scale calibrant, as its crystal structure is theoretically stable to phase transformation up to at least 1000 GPa within the range of DAC studies. DAC studies, along with the calibrated pressure scale, will allow studies into material phase transitions in the Earth's interior, Earth material thermal property studies and equation of state determinations, and material phase stability and chemistry. This study will result in a primary pressure scale—calibrated on an inert material and suitable for high T&P work. The outcome will allow accurate X-ray diffraction, X-ray spectroscopy, and X-ray scattering measurements under high T&P. This, in turn, will allow theoretical equation of state calculations for deep Earth materials. Results will broadly impact geophysics, mineral physics, geochemistry, and geodynamics. Studies will involve REU students (2–3 per summer). Graduate students or post-docs are also proposed for training.
---
Collaborative Research: Investigation of Superconducting Nanowires and Graphene Junctions Using a Coplanar Fabry-Perot Microwave Resonator as a Qubit Device
National Science Foundation Award #1005645
Alexey Bezryadin
Physics
Project Dates: 9/1/2010–8/31/2013
Recently, it became clear that quantum mechanics, which is traditionally used to describe individual and small groups of elementary particles (e.g., electrons and atoms), can also predict the behavior of the so-called "mesoscopic" objects, i.e. systems containing a large number of atoms like large molecules or nanodevices. The goal of this project is to investigate how the laws of quantum mechanics apply to nanowires. These nanowires are metallic cylinders having a diameter of a few billionth of a meter. The project will explore nanowires made out of superconducting metals. The scientific question to be addressed is the applicability of the Heisenberg uncertainty principle to the electrical current and electrical charge in nanodevices involving nanowires. The most advanced nanoscience and nanotechnology will be used to fabricate such wires. The measurements on nanowires will be done using a novel experimental approach, namely a nanowire will be inserted into a special type of microwave resonator called a microwave superconducting Fabry-Perot resonator. This project will explore the possibility of using the hybrid nanowire-resonator devices as qubits, the quantum mechanical analog of the classical "bit" that stores information in a computer.
Education Component: This project will support the education of graduate students in these advanced technologies, which will prepare them for scientific careers in academia and in our most advanced technology industries. Undergraduate students will also participate in the project, gaining training and hands-on experience in the most advanced scientific research. The project will also provide training to a postdoc.
---
Collaborative Research: Physics of Living Systems Student Research Network
National Science Foundation Award #1026550
Taekjip Ha
Physics
Project Dates: 9/1/2010–8/31/2013
This collaborative award will support formation of a Physics of Living Systems Graduate Student Research Network, a trans-institutional community-based network of graduate students and graduate student educators all working on the physics of living systems. The initial participating institutions are the University of California, San Diego (which will coordinate the program), the University of Illinois, Urbana-Champaign, Princeton University, Yale University, Cambridge University, and University College, London. The network structure will allow students at participating institutions (and a select number of other students) to meet their peers (both in-person and in-silico) and collectively help define the research agenda for this field. It will also allow for the creation of visiting internships, which will serve both as a way of broadening students perspectives on possible approaches to difficult research topics and as a way of creating collaborative ties between groups at the various sites. This structure will also enable the exploration of various means of educating these students in biology, while also ensuring that they develop and maintain a firm grounding in physics. This award is supported by the Physics of Livings Systems Program in the Physics Division in the Directorate for Mathematical and Physical Sciences, as well as Molecular and Cellular Biosciences in the Directorate for Biological Sciences, and the Office of International Science and Engineering.
---
Collaborative Research: Variability-Aware Software for Efficient Computing with Nanoscale Devices
National Science Foundation Award #1028888
Rakesh Kumar
Electrical and Computer Engineering
Project Dates: 9/1/2010–8/31/2015
As semiconductor manufacturers build ever smaller components, circuits and chips at the nano scale become less reliable and more expensive to produce, no longer behaving like precisely chiseled machines with tight tolerances. Modern computing is effectively ignorant of the variability in behavior of underlying system components from device to device, their wear-out over time, or the environment in which the computing system is placed. This makes them expensive, fragile and vulnerable to even the smallest changes in the environment or component failures. We envision a computing world where system components—led by proactive software— routinely monitor, predict, and adapt to the variability of manufactured systems. Changing the way software interacts with hardware offers the best hope for perpetuating the fundamental gains in computing performance at lower cost. The Variability Expedition fundamentally rethinks the rigid, deterministic hardware-software interface to propose a new class of adaptive, highly energy efficient computing machines which will be able to discover the nature and extent of variation in hardware, develop abstractions to capture these variations, and drive adaptations in the software stack from compilers, runtime to applications. The resulting computer systems will continue working though components vary in performance or grow less reliable over time and across technology generations. A fluid software-hardware interface will mitigate the variability of manufactured systems and make machines robust, reliable and responsive to changing operating conditions.
The Variability Expedition marshals resources of researchers at Illinois and other universities. With expertise in process technology, architecture, and design tools on the hardware side, and in operating systems, compilers and languages on the software side, the team also has the system implementation and applications expertise needed to drive and evaluate the research as well as transition research accomplishments into practice via application drivers in wireless sensing, software radio and mobile platforms.
A successful Expedition will dramatically change the computing landscape. Re-architecting software to work in a world where monitoring and adaptation are the norm will achieve more robust, efficient and affordable systems able to predict and withstand hardware failures, software bugs, and even attacks. The new paradigm will apply across the entire spectrum of embedded, mobile, desktop and server-class computing machines, yielding particular gains in sensor information processing, multimedia rendering, software radios, search, medical imaging and other important applications.
Education Component: Transforming the relationship between hardware and software presents valuable opportunities to integrate research and education, and this Expedition will build on established collaborations with educator-partners in formal and informal arenas to promote interdisciplinary teaching, training, learning and research. Strong industrial and community outreach ties will ensure success and outreach to high-school students through a combination of tutoring and summer school programs. The Expedition will engage undergraduate and graduate students in software, hardware, and systems research, while promoting participation by underrepresented groups at all levels and broadly disseminating results within academia and industry.
---
National Science Foundation Award #0722327
Leonard Pitt, Eric Jakobsson, Deanna Raineri, Lori Kendall
Computer Science
Project Dates: 9/1/2007–8/31/2013
This CPATH project develops, implements, and disseminates a transformational model that illuminates new pathways to careers in informatics for new communities. The iCUBED model is based on the notion that levels of engagement in computation can be viewed on a continuum from novice to very technical levels and that students from any discipline and point on the continuum should have courses and programs that meet their needs and discipline interests. The iCUBED model provides the inside reform within the computer science department, the interdisciplinary reform to infuse informatics into various disciplines, and the institutional reform to provide the administrative and infrastructure support for this transformation. The project includes the implementation of a campus-wide interdisciplinary informatics minor, student community building and engagement activities, discipline-specific and interdisciplinary workshops, and dissemination on a national level.
---
CPS: Medium: Collaborative Research: Cyber-Physical Co-Design of Wireless Monitoring and Control for Civil Infrastructure
National Science Foundation Award #1035562
Gul Agha, Billie Spencer
Computer Science, Civil and Environmental Engineering
Project Dates: 10/1/2010–8/31/2014
The objective of this research is to develop advanced distributed monitoring and control systems for civil infrastructure. The approach uses a cyber-physical co-design of wireless sensor-actuator networks and structural monitoring and control algorithms. The unified cyber-physical system architecture and abstractions employ reusable middleware services to develop hierarchical structural monitoring and control systems.
The intellectual merit of this multi-disciplinary research includes:
a unified middleware architecture and abstractions for hierarchical sensing and control;
a reusable middleware service library for hierarchical structural monitoring and control;
customizable time synchronization and synchronized sensing routines;
a holistic energy management scheme that maps structural monitoring and control onto a distributed wireless sensor-actuator architecture;
dynamic sensor and actuator activation strategies to optimize for the requirements of monitoring, computing, and control; and
deployment and empirical validation of structural health monitoring and control systems on representative lab structures and in-service multi-span bridges.
While the system constitutes a case study, it will enable the development of general principles that would be applicable to a broad range of engineering cyber-physical systems.
This research will result in a reduction in the lifecycle costs and risks related to our civil infrastructure. The multi-disciplinary team will disseminate results throughout the international research community through open-source software and sensor board hardware.
Education Component: Education and outreach activities will be held in conjunction with the Asia-Pacific Summer School in Smart Structures Technology jointly hosted by the US, Japan, China, and Korea.
---
Cyclogenesis in a Tropical Wave Critical Layer: Vertical Structure of the "Wave Pouch" and Impacts of the Large-Scale Environment
National Science Foundation Award #1016095
Zhuo Wang
Atmospheric Sciences
Project Dates: 9/1/2010–8/31/2014
This effort will address the genesis of tropical cyclones (and antecedent regions of low pressure and near-surface cyclonic wind patterns termed tropical depressions) through further study of the "marsupial paradigm." This conceptual model refers to a theory of hurricane formation in which the translation speed of one type of parent atmospheric disturbance (termed an "easterly wave") is matched the environmental flow so as to create a protective zone (or so-called "pouch") in which developing small-scale cyclonic circulation(s) are protected from hostile environmental conditions until further strengthening occurs. This study will be supported by data to be collected during the 2010 NSF-supported PREDICT (PRE-Depression Investigation of Cloud-systems in the Tropics) field campaign involving the NSF/NCAR GV research aircraft as well as complementary resources being provided by NASA and NOAA.
This research will focus on conditions within the meso-alpha scale wave pouch region, its interaction with the larger-scale environment, and impacts of this interaction on ultimate tropical cyclone formation. It will incorporate flight-level, dropsonde and radar data from the PREDICT field campaign, with reanalysis data, various satellite datasets, and the WRF-ARW numerical model to address three main questions:
Is a well-defined wave pouch a necessary condition for tropical cyclone development, and if so, how does it form?
Why do some waves exhibiting a deep pouch fail to develop into a tropical storm?
How does the Saharan Air Layer (SAL) affect tropical cyclogenesis, and why do some wave pouches provide protection from dry air intrusion while others do not?
The intellectual merit of this effort centers on exploitation of the focused PREDICT dataset in conjunction with numerical model simulations conducted in the marsupial framework to lead to better understanding of tropical cyclogenesis.
Education: Broader impacts of this research include the education and training of two graduate students and the integration of tools and products into classroom learning activities, as well as support for an investigator drawn from an underrepresented group. Benefits to society will come through the increased understanding of tropical cyclogenesis and associated increases in warning lead time for hurricane formation.
---
Discovering the Nanoworld: A New Module for Teaching about Molecules and Bonding in General Chemistry
National Science Foundation Award #0942090
David Woon; Thomas Dunning; Lizanne DeStefano; Donald DeCoste
Chemistry
Project Dates: 10/1/2010–9/30/2014
The objective of this project is to create a new module on the nature of chemical bonding, one of the most fundamental components of undergraduate general chemistry. In place of memorizing rules, the new strategy develops an understanding of the nature of bonding by exploring the process by which atoms combine to form molecules, with an emphasis on developing predictive intuition. Context is supplied by focusing on molecules in real-world situations, such as the gases that constitute Earth's atmosphere. Being developed by expert working scientists and seasoned general chemistry lecturers, the web-based, extensively visual module is being tested in Illinois classrooms and modified in response to student comprehension. The performance of chemistry majors is being tracked through subsequent courses. The module will be improved using input from chemistry lecturers and instructors of later courses that depend upon an understanding of bonding. Instructors are being trained in the new material through local workshops and resources on the website, including video. The website will serve as a nexus for implementing the module beyond the University.
The way chemical bonding is taught in general chemistry needs to be transformed to update material to reflect current knowledge and address and avoid common misconceptions. Founded on rigorous quantum chemistry, the new module uses both static and animated graphics. Lessons involve discovery of principles rather than rules to be memorized. Employing the same reasoning process working scientists use to study basic phenomena, students will develop their ability to confront the mysteries of the subject and construct an effective cognitive framework for understanding bonding. The approach builds a coherent narrative that connects atoms and their properties to molecules and their properties. It emphasizes connecting theory and its symbolic representations to actual molecules in real-world contexts. This project impacts STEM education by: 1) improving the chemistry curriculum; 2) improving introductory chemistry, which should also help to increase student interest in STEM careers; (3) developing a model for course revision.
---
EAGER: Augmented Reality for Understanding Social and Environmental Science
National Science Foundation Award #1025298
Alan B. Craig, Robert McGrath
I-CHASS (Institute for Computing in Humanities, Arts, and Social Science), NCSA
Project Dates: 5/15/2010–4/30/2013
This project is an experiment to introduce Augmented Reality (AR) to new platforms. AR is an exciting emerging technology that overlays geographically registered three dimensional computer graphics onto the real world. Until recently, AR required expensive hardware or, at the minimum, a laptop computer equipped with a web camera. Recent improvements in cellular telephone technology, however, have enabled the possibility to use a smart phone as an interaction device for AR, thus creating a portable AR experience. By using the cell phone as a "magic lens," participants can view the real world through the camera on the phone and see the augmentations in place, in registration with the real world.
In this project, the research team will create a demonstration of how Augmented Reality can aid in understanding and teaching social and environmental science. The interdisciplinary, collaborative team of researchers will develop and demonstrate a sample scenario for using AR environments to teach archaeology at the collegiate level. Archaeology was chosen for a variety of reasons. Archaeology has a very physical component and deals largely with three dimensional objects and, thus, is a good match of needs with the capabilities that AR provides. One problem in teaching archaeology is that the processes and methods of field research are difficult to present in a classroom, and many students will never get the opportunity to engage in field research, and those who do will be limited to only a few different sites. The project team hypothesizes that AR-based simulations will be suitable to expose students to what is involved in field work and to enable them to participate in a wide variety of simulated sites.
To address the challenge of teaching field work techniques, we seek to create an immersive, interactive demonstration in which students use AR environments to "excavate" sites, interpret artifacts, and create a reconstruction of an overall site. Such an AR environment will include many aspects of actual field work, including excavation methods, strategic analysis (e.g., where to look next), systematic recording of the field data, imaginative reconstruction of 3D artifacts, and interpretation of evidence from multiple sources. Archaeology field work has a considerable amount of physical activity, and the nature of AR is that there is a strong physical aspect to its use. The project team suspects that a smart phone is a suitable interaction device because it is a device familiar to most students and it is of a size such that a student can carry it like any other archaeological tool, such as a trowel or a brush.
This is a proof of concept project, that AR can be implemented through a smart phone and used in a classroom setting to communicate critical scientific methodologies and concepts, in this case surrounding the discipline of archaeology. However, the implication of this project are quite extensive, e.g., virtual classrooms on small platforms in remote rural communities and field site access to virtual zoological and lithics collections.
---
EAGER: Collaborative Research: Exploring the Inverse Cascade in Two-Dimensional Turbulent Soap Films
National Science Foundation Award #1044901
Gustavo Gioia, Nigel Goldenfeld
Mechanical Science and Engineering, Physics
Project Dates: 9/15/2010–8/31/2014
Turbulent flows past a wall experience frictional drag, the property of a flow that sets the cost of pumping oil through a pipeline, the draining capacity of a river in flood, and other quantities of practical interest. Much is known about frictional drag, mostly from extensive experiments in which frictional drag was measured in pipes or open channels; yet, there has been no known link between frictional drag and statistics of turbulent eddies in the flow. The project's goal is to test experimentally a recently proposed theory that will allow us to predict frictional drag from a knowledge of the statistics of turbulent eddies. This will be achieved through measurements in a type of two-dimensional turbulent flow that may be realized in very thin soap films, where it is possible to create flows with different types of statistics. If confirmed, the theory could provide the key to understanding the drag-altering effects of polymeric additives used in oil pipelines, particulate suspensions found in rivers in flood, entrained bubbles found in water-treatment plants, and other agents known to affect the statistics of the flow. At Illinois and Pittsburgh, graduate and undergraduate students will be trained with a multidisciplinary focus encompassing engineering and fundamental condensed matter physics, introducing undergraduates and women to research in turbulence. The PIs will collaborate on outreach to grades 6-12, work with an all-girl's middle school to devise a unit on soap film physics, turbulence, chaos and optics, and participate in a teacher's workshop.
---
National Science Foundation Award #0838434
Steven Bradlow; John D'Angelo
Mathematics
Project Dates: 6/01/2009–5/31/2014
The Mathematics Department at illinois aims to train stewards of the mathematical enterprise. Our programs facilitate all stages of development from prospective undergraduate math major to senior mathematician. We propose here to enhance our REGS program and thereby impact several critical transitions at the graduate level. REGS stands for Research Experiences for Graduate Students"; for many students, REGS provides the initial contact with research. Our current program provides summer support for early graduate students to work (individually or in a group) on a research project with one or several faculty mentors. We propose here an enhanced program with four components: one for incoming Ph.D. students (REGS 0), one for 1st- and 2nd-year Ph.D. students (REGS 1), one for students who have already begun thesis research (REGS 2), and one for students about to complete their dissertations (REGS 3). The first three components are summer programs, while the fourth provides a year-long fellowship. We will extend the reach of our programs by including external participants in the REGS 0 and REGS 1 components. The external participants will include students from underrepresented minority groups and also from schools which do not have mathematics Ph.D. programs.
---
Enhancing Student Learning in Introductory Physics Through the Use of Multimedia Learning Modules
National Science Foundation Award #0817185
Gary Gladding; Jose Mestre; Timothy Stelzer; Mats Selen
Physics
Project Dates: 9/01/2008–8/31/2014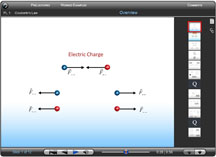 Physics multimedia module.
This project addresses a documented and persistent problem in introductory physics instruction: Students taking introductory physics are loath to read the textbook prior to coming to class and are unprepared to participate in classroom activities aimed at refining conceptual understanding and promoting problem-solving skills. The project's Multimedia Learning Modules (MLM) for the two-semester, calculus-based introductory physics course incorporate established learning principles from research on multimedia learning by combining animated video with accompanying audio to engage students' auditory and visual working memories, which improves their mastery of the material. The MLM teach basic conceptual knowledge and are used with Just-in-Time Teaching (JiTT) to improve students' pre-class preparation, thus freeing up class time for other uses.
The impact of the MLM on learning are evaluated by developing a set of questions that are administered to students prior to coming to each lecture both before and after the MLM are implemented, and by comparing performance on secure final exams both before and after implementation of the MLM. The materials are also being tested at partner institutions that have a very dissimilar student demographic profile from the students at the University of Illinois at Urbana-Champaign.
---
National Science Foundation Award #0904200
Michael Loui; Christopher Schmitz
Engineering
Electrical and Computer Engineering
Project Dates: 10/1/2010–9/30/2014
This project is transforming a course to capitalize on the diversity of the students enrolled in the course and to incorporate course content of immediate interest to students. This new classroom pedagogy, called diversity harnessing, folds the direct interests of the student population back into course materials through lecture topics, homework exercises and exam problems. Diversity harnessing is making extensive use of active and collaborating learning. The course, ECE 101: Exploring Digital Information Technology, is an engineering course for non-engineering majors that strives to prepare students for a meaningful role in an increasingly technological society. The goals of this project are to 1) better engage the students in the course topics, 2) quickly integrate diverse student-driven subject matter back into the course, and 3) empower the students to more effectively apply new skills to their lives and careers. The project includes rigorous formative and summative evaluation plans with both qualitative and quantitative components coordinated by an independent evaluator.
---
Exploring the Mechanism of VLS Planar Nanowire Growth through Structural and Impurity Perturbation
National Science Foundation Award #1006581
Xiuling Li
Engineering
Electrical and Computer Engineering
Project Dates: 6/1/2010–5/31/2014
The project explores the mechanism of VLS (vapor-liquid-solid) planar III-V nanowire growth. It addresses basic research issues in a topical area of materials science with technological relevance. Results from the proposed research will be incorporated in the syllabus of a new course the PI is teaching on Semiconductor Nanotechnology. A semi-annual Student Research Symposium on Semiconductor Nanotechnology led by the PI will serve the dual purpose of dissemination of research results and training of students in public speaking and scientific presentation, The interdisciplinary nature of the project reflects materials science, electrical engineering, chemistry and physics, with potential technological impacts in electronics and photonics. By engaging students in such integrated research and education, the competence and leadership of our future workforce will be enhanced. By recruiting and retaining women engineers through creating and maintaining a sense of community and leading by example, the PI seeks to make a long lasting effect on the education and training of a broadly inclusive science and technology workforce. The outreach component of the project targeting elementary school girls will expose more young minds at a timely stage about the interesting challenges and opportunities in science and engineering careers.
---
National Science Foundation Award #0904200
Ilya Kapovich
Mathematics
Project Dates: 10/1/2010 – 8/31/2013
The outer automorphism group of a free group is a more complicated and much less well-understood cousin of the modular group of a Riemann surface. The project aims to study the outer automorphism group of a free group via analyzing the interaction between the Culler-Vogtmann Outer space (the traditionally considered free group analog of the Teichmuller space) and the space of geodesic currents on a free group. A geodesic current is a measure-theoretic generalization of the notion of a closed curve or a conjugacy class. The space of geodesic currents turns out to be a natural companion of the Outer space, and studying them together should produce substantial new information of the dynamics and geometry of the outer automorphism group of a free group. A key tool to be used for such study is the so-called "geometric intersection form'' introduced in the earlier work of the proposer. Specific questions to be studied include: studying the geometry of various free group analogs of the curve complex, constructing domains of discontinuity and developing a theory of convex co-compactness for subgroups of the outer automorphism group of a free group, developing a theory of generalized (or "non-commutative'') currents, and others. In combinatorics and computer science there is an active search for theories of words based on domains other than an integer segment (e.g. the integer lattice of the Cayley graph of a free group). The theory of generalized currents, introduced in the proposal, provides a good model of this kind that should be useful in the study of words based on non-linear domains. The proposal aims to develop this theory further and to investigate in more detail the interactions between geometric group theory and computer science that arise in this context.
The goal of the project is to study dynamics and geometry of the outer automorphism group of a free group, one of the most mysterious, interesting, and least understood mathematical objects. Among the key ideas is the use of a new tool, called a "geodesic current," which allows one to bring substantial new machinery and techniques from analysis and ergodic theory to the subject. The project will also explore, via the notion of generalized geodesic currents, interactions between geometric group theory and computer science, aimed at understanding new types of data structures—namely words that, unlike standard words, are not written on straight line segments. A significant component of the project includes REU (Research Experience for Undergraduates) activities that will involve U.S. undergraduate students in advanced mathematical research and help prepare them for future careers in science and technology. The proposed research has served as a basis for a project, funded for two years, under the umbrella of the illinois-CNRS institutional collaborative agreement, for collaborative research in geometric group theory between researchers from illinois and Marseille. The NSF grant will be used to expand and enhance that project, to involve additional research groups, and to further build up institutional international research ties between illinois and CNRS.
---
GOALI: Validated Multiscale Simulations of Ceramic Matrix Composites for Power Generation
National Science Foundation Award #1030569
Carlos Armando Duarte; Alireza Namazifard
Department of Civil and Environmental Engineering
Project Dates: 9/15/2010 – 8/31/2014
The objectives of this Grant Opportunity for Academic Liaison with Industry (GOALI) research project are to improve the understanding and to model the failure mechanisms of CMCs using an integrated approach based on novel multiscale computational methods and experimental validation. Revolutionary design of future power generation systems, rockets, and most recently, hypersonic missiles and flight vehicles are contingent on the development of advanced materials like ceramic matrix composites (CMCs), able to operate at high temperatures. A major challenge in the design of CMC components is the determination of the fracture behavior of these materials at relevant crack sizes for ceramic materials. Fracture of CMCs involves phenomena spanning several spatial scales from micron-size fibers to meter-size structural components. Illinois will collaborate with researchers and engineers from General Electric Company to vigorously expand fundamental knowledge and modeling of damage mechanisms in CMCs.
This research offers an alternative for the difficult and costly fracture experiments needed to determine the fracture behavior of CMCs. If successful, it will allow validated simulations and improve the understanding of complex multiscale phenomena. This will pave the way for the solution of important engineering and scientific problems. While the focus of his research is on the problem of failure of CMCs, this multiscale framework may also have a direct impact on the modeling and understanding of other material systems and problems where existing multiscale methods are not applicable.
Education Component: This research program will enable the education and training of graduate and undergraduate students from Illinois. These students will be involved in a multidisciplinary research topic that will foster critical interactions with researchers and engineers from General Electric Company. Another objective of this program is to motivate K-12 students to pursue an engineering degree. This will be achieved through the hands-on seminar Computational Mechanics, Engineering and Simulation Showcase (COME-&-SEE), showcasing the environmental and economical impact of computational engineering sciences.
---
Graduate Assistance in Areas of National Need (GAANN) Program
U.S. Department of Education Award #P200A090308
Steven Zimmerman
Chemistry
Our nation's future economic, military, political, and moral vitality depends on its ability to educate its own citizens and permanent residents to assume leadership roles in the fields of science, mathematics, and engineering. Among these, chemistry is a specific area of national need identified by the Secretary of Education. Therefore, the Department of Chemistry's Graduate Assistance in Areas of National Need program promotes the following objectives, to:
Mentor graduate fellows who are committed and talented educators to become leaders in the intellectual development of the field of chemistry.
Train graduate fellows to be technically preeminent chemists in all aspects of the discipline.
Train the next generation of chemists in the traditional areas of chemistry and, in particular, the new, emerging areas of the field, chemical biology and materials chemistry.
Join the vanguard of a curriculum reform that reflects the evolution of chemistry in the 21st Century.
Build on a long tradition of inclusion and integration of underrepresented groups in the Chemistry Program at Illinois.
The GAANN Chemistry Fellowships are primarily to recruit and retain new graduate students from historically underrepresented groups. Fellow selection includes an outstanding academic record, intellectual promise, and demonstrated financial need. A unique feature of our teaching program is a three-tiered, vertically integrated teacher-mentor system. The system links undergraduates in our highly successful Merit Program with beginning GAANN fellows who serve as instructors and mentors. Merit seeks to recruit, retain, and foster the academic success of traditionally underrepresented undergraduate students. The presence of GAANN fellows as Merit Workshop facilitators provides role models for undergraduates while also enriching fellows' teaching experience. As GAANN fellows advance in the Ph.D. program, they serve as formal and informal mentors and tutors of beginning GAANN participants. All interactions build a support network, increasing retention and academic achievement at all levels. A key underlying program theme is that true gender and racial equality in the field of chemistry will not be achieved until the "pipeline issue" is solved: women and underrepresented minorities must obtain Ph.D. degrees from top chemistry programs and in proportion to their representation within the population.
---
U.S. Department of Education Award P116M080003
K. Peter Kuchinke
Human Resource Education
This project establishes, implements, and evaluates a sustainable educational partnership between four leading research universities in the United States and Brazil. The goal of the research is increasing the level of competence in talent development among undergraduate and graduate students in agricultural and environmental science fields through in a student exchange setting. This project focuses on core talent development skills including leadership, cross-cultural and cross-disciplinary collaboration, teamwork, and performance management, as well as domain-specific skills and knowledge in agricultural and environmental sciences by blending structured learning opportunities in human resources, business administration, and agricultural and environmental sciences.
---
Graduate Research Fellowship Program
National Science Foundation Award #0946817
Debasish Dutta
Graduate College
[no abstract available]
---
National Science Foundation Award #0903622
Douglas Jones, Robert Wickesberg, Monica Fabiani, Todd Coleman
Electrical and Computer Engineering, Beckman Institute
This Integrative Education and Research Traineeship (IGERT) project will educate a diverse cadre of neuroscientists and engineers at the University of Illinois with an advanced understanding of both neuroscience and engineering, enabling them to engage in both sophisticated collaboration and independent research across the traditional gap between these domains. Many of the most important and exciting scientific and technological challenges for the future are centered on neuroscience, the study of the brain. Many recent (and most future) advances in understanding the brain depend on engineering new technologies for sensing, imaging, and analyzing the brain and their innovative use by neuroscientists. Similarly, some of the greatest and most important technological challenges, such as creating neural prostheses for the disabled, require engineers with a profound understanding of neuroscience. IGERT students will thus carry out innovative interdisciplinary research on neuroscience areas of great scientific and engineering importance, such as speech and audition; brain and imaging; neural implants that may lead to revolutionary advances in understanding the brain; and in new technologies, such as neural prostheses for the disabled. IGERT trainees will also receive training in leadership, communication skills, and the responsible conduct of research, as well as preparation for academic or industrial careers.
National Science Foundation Award #0965918
Rashid Bashir, Martha Gillette, K. Jimmy Hsia, Taher A.Saif
Mechanical Science and Engineering
This goal of this Integrative Graduate Education and Research Training (IGERT) award is to create a graduate training program that will produce the next generation of intellectual leaders in Cellular & Molecular Mechanics and Bio-Nanotechnology. This program represents a highly coordinated and interdisciplinary effort to educate Ph.D. students across the University of Illinois at Urbana-Champaign, University of California at Merced, North Carolina Central University, and partner institutions to tackle the important problems in bionanotechnology spanning the molecular-cellular-tissue scale.
How living cells transduce mechanical signals to functionalities at different length scales, from inside cells to their communication with the extra cellular matrix, presents a scientific grand challenge of our times. Recent advancements in micro/nanotechnology, molecular scale imaging, and computational methodologies will catalyze this quantitative biological revolution at a cellular and molecular scale. Students who have been trained at the intersection of these domains have the potential to revolutionize tissue and regenerative engineering, biological energy harvesting, sensing and actuation, cells-as-a-machine, and synthetic biology, to name a few. Unique training efforts in this program include a two-track educational program to educate engineering and biology students to develop depth and breadth in their area of research, new experimental modules and a summer workshop introducing the IGERT trainees to state-of-the-art equipment and laboratory procedures, an exciting iWORLD program with collaborators around the world that will provide IGERT trainees with international research experiences, and a student leader council that participates in the leadership and drives the management of the IGERT.
IGERT is an NSF-wide program intended to meet the challenges of educating U.S. Ph.D. scientists and engineers with the interdisciplinary background, deep knowledge in a chosen discipline, and the technical, professional, and personal skills needed for the career demands of the future. The program is intended to catalyze a cultural change in graduate education by establishing innovative new models for graduate education and training in a fertile environment for collaborative research that transcends traditional disciplinary boundaries.
---
Illinois Cyber Security Scholar Program
National Science Foundation Award #0830884
Roy Campbell, William Sanders, Masooda Bashir
Information Trust Institute
This project provides scholarships for students seeking undergraduate degrees in Information Assurance (IA). Each scholarship is for the last two years of a student's degree program. Students are engaged in team-based projects—motivated, for example, by the power grid, avionics systems, and enterprise computing—in which they build example applications using the latest computer security techniques. Upon graduation, scholarship recipients must work for a federal government agency in an IA position. This scholarship program is helping to address the nation's need for qualified information technology professionals working in government agencies. The project involves outreach to minorities and to two-year college transfer students.
---
National Science Foundation Award #1067943
Brian Cunningham, Lila Vodkin, Rashid Bashir, Paul Hergenrother, Irfan Ahmad
Electrical and Computer Engineering, Center for Nanoscale Science and Technology Chemistry, Crop Sciences
The Center for Agricultural Biomedical and Pharmaceutical Nanotechnology (CABPN) will focus on developing nanotechnology platforms that can be applied to three substantially important topics requiring strong industry/academic partnerships: Agriculture, Pharmaceutical Research, and Biomedical Applications. The proposed center will be a single-university center located at the University of Illinois at Urbana-Champaign (illinois).
The proposal touts advances in health care and agriculture at the confluence of biotechnology and nanotechnology in a "convergence of frontiers." The emphasis will be on taking bio-nanomedical developments from the bench to benefit agriculture and healthcare. Advances in this center are anticipated to enhance the development of vaccines for food animals, and safety of the food supply, monitoring patients in intensive care and tools to make pharmaceutical research more effective. The proposed center will enable assembly of a cohesive University0Industry alliance that will enable Industry participants to communicate their research needs to academia, to facilitate collaboration between companies in different market spaces, and to train graduate students as effective future leaders.
Fostering cooperation between the hard core nanotechnology practitioners (mostly coming out of electronics and materials departments) and those in agriculture, biomedicine, and pharma could provide a cross-discipline platform on which to stir the intellectual melting pot and generate innovative solutions. Should CABPN succeed in transitioning the tools of nanotechnology to commercial use in these unrelated fields while gaining synergies from their interaction at the center, it could be a real driver for commercial innovation. Success could produce jobs and improve the life of the nation.
Education/Dissemination: CABPN has planned an active role in mentoring students and has incorporated them into its overall plan. The proposed Center has a system for outreach to minorities to foster training in nanotechnology to the widest group of individuals possible, and plans to have meetings within the I/UCRC framework to widely disseminate the technologies within the staff of the I/UCRC as well as partnering organizations. Publication of works is also planned and the PI has a path to publication that takes into account the commercial interests of the partner organizations.
---
National Institutes of Health Award #1T32AI078876-01A1
James M. Slauch
Molecular and Cellular Biology
This NIH-funded project will establish an institutional pre-doctoral training program in Infection Biology at the University of Illinois at Urbana-Champaign submitted by an interdisciplinary program faculty from the Departments of Microbiology and Pathobiology. The expertise of the program faculty in microbial physiology, genetics, pathogenesis, immunology, and ecology of infectious diseases will provide broad graduate training in modern molecular pathogenesis that goes beyond what is available in current graduate programs. The 19 productive researchers that make up the training faculty are highly interactive with established collaborations that cross departmental and college boundaries. The broad interdisciplinary training of these students will enhance the research efforts funded by grants from the NIH and other agencies. The training program will also facilitate interactions with scientists at other institutions by sponsoring a seminar series, by participating in a locally sponsored international conference on New and Re-Emerging Infectious Diseases, and by providing support for students to attend additional national meetings to present their data to a critical audience. We request funds to support four trainees. These pre-doctoral students will be supported for a two-year period starting at the end of their second year of graduate studies, after they have completed much of their coursework, have established a thesis project, and have generated significant preliminary data. The program will enhance the training and mentorship of these students. RELEVANCE: Infectious diseases remain the third leading cause of death in the United States and the second leading cause of death worldwide. Funding of this training program will allow us to continue to build on our tradition of training high-quality scientists and to foster a growing community of interactive biologists working on high-impact timely problems across all areas of infectious disease.
---
National Science Foundation Award #1000615
Min-Feng Yu, Lawrence Bergman, D. Michael McFarland, Alexander Vakakis
Mechanical Science and Engineering, Aerospace Engineering
This NIH-funded project will establish an institutional pre-doctoral training program in Infection Biology at the University of Illinois at Urbana-Champaign submitted by an interdisciplinary program faculty from the Departments of Microbiology and Pathobiology. The expertise of the program faculty in microbial physiology, genetics, pathogenesis, immunology, and ecology of infectious diseases will provide broad graduate training in modern molecular pathogenesis that goes beyond what is available in current graduate programs. The 19 productive researchers that make up the training faculty are highly interactive with established collaborations that cross departmental and college boundaries. The broad interdisciplinary training of these students will enhance the research efforts funded by grants from the NIH and other agencies. The training program will also facilitate interactions with scientists at other institutions by sponsoring a seminar series, by participating in a locally sponsored international conference on New and Re-Emerging Infectious Diseases, and by providing support for students to attend additional national meetings to present their data to a critical audience. We request funds to support four trainees. These pre-doctoral students will be supported for a two-year period starting at the end of their second year of graduate studies, after they have completed much of their coursework, have established a thesis project, and have generated significant preliminary data. The program will enhance the training and mentorship of these students. RELEVANCE: Infectious diseases remain the third leading cause of death in the United States and the second leading cause of death worldwide. Funding of this training program will allow us to continue to build on our tradition of training high-quality scientists and to foster a growing community of interactive biologists working on high-impact timely problems across all areas of infectious disease.
---
Language Processing: A Training Program
National Institutes of Health Award #2T32HD055272
Kathryn Bock
Psychology
The continuing training program in language processing trains scientists who can advance our understanding of the cognitive basis of human communication. For predoctoral trainees, the program offers a coherent set of formal courses, advanced-topics research seminars, and research training in experimental and developmental psycholinguistics, linguistics, and computational modeling. For postdoctoral trainees, the program offers opportunities for broadening knowledge and skills, especially in preparation for careers in linguistics or cognitive neuroscience. For students at all levels, the program offers broad and balanced training as scaffolding for the development of outstanding researchers. The research of the program faculty spans language acquisition, language production, language comprehension, and linguistics. This breadth fosters abilities in conceptual analysis and theoretical development across the full range of core components of human language use. The methodological expertise of the program faculty encompasses eye-movement monitoring, computational modeling, event-related-potential recording, optical and functional-magnetic imaging, articulatory tracking, corpus analysis, speech analysis, and the basic techniques of cognitive and developmental research. This range gives trainees the opportunity to attain high levels of skill in designing, implementing, and interpreting experiments using state-of-the-art methods for probing the workings of language. Funds are requested to support four predoctoral and two postdoctoral trainees per year. The predoctoral training program demands four years beyond the bachelor's degree. It fulfills the basic requirements for the doctoral degree within the cognitive or developmental divisions of the Department of Psychology, using division options to create doctoral-program plans with a major emphasis on the experimental study of language processing and acquisition and minor emphases on linguistics, cognitive neuroscience, and speech processing. The postdoctoral program offers training in language processing and acquisition as a supplement for doctoral training in linguistics or cognitive neuroscience. The proposed training will take place within a strong institutional matrix formed by the Cognitive and Developmental Divisions of the Department of Psychology and the Cognitive Science Group at the Beckman Institute for Advanced Science and Technology. Both settings offer exceptional physical and intellectual resources fueled by a rich tradition of graduate training in psycholinguistics. The program develops expertise in basic research on human communication. This research addresses the emergence of communicative abilities in infants and children, problems of human communication, methods for enhancing human communication, and disorders of human communication.
---
Microscopic Theory of Many-Particle Systems from Nuclear Physics to Cold Atoms
National Science Foundation Award #0969790
Gordon Baym; David G Ravenhall
Physics
This award continues an ongoing program to develop fundamental theories of many-particle systems, ranging from nuclei and nuclear matter to cold atoms, with applications to astrophysical and condensed matter systems. A major focus is on understanding new states of matter formed under extreme conditions, especially quark gluon plasmas produced in ultrarelativistic heavy ion collisions. The program applies nuclear theory to neutron stars and supernovae, with the aim of understanding observations and, conversely, using observations to learn the properties of matter. The research on atomic Bose-Einstein and superfluid Fermi systems, a vital facet of the study of unusual states of matter, focusses on atomic states at low temperature, as well as under extreme rotation. This research also makes important interdisciplinary connections between ultracold atomic systems and dense nuclear matter. The nuclear and atomic systems being studied are very unusual many-particle systems which provide broad intellectual insights. By working across the boundaries between nuclear and atomic physics this program enables the building of bridges and cross-fertilization between the hottest and coldest many-particle systems in the universe.
Education Component: A vital component of this research program is the education of young scientists who, through the broad training they receive and their intimate involvement in the research of the PIs and colleagues, develop the ability to combine nuclear, particle, astro, condensed matter, and cold atom physics research on forefront problems. The scientists trained in this program have generally gone on to have significant impact in research at U.S. universities and national laboratories, as well as abroad.
---
MRI: Acquisition of a Confocal Raman Microscope for Non-destructive Imaging of Complex Heterogeneous Materials
National Science Foundation Award #0969790
Jeffrey Moore, Nancy Sottos, Ralph Nuzzo, John Rogers, Rohit Bhargava
Chemistry; Beckman Institute, Department of Materials Science and Engineering, Bioengineering
Non-destructive and non-invasive imaging in three dimensions allows for the analysis of intact samples of a diverse nature. Several techniques are available for 3D imaging from the atomic to macroscopic scales but are limited in their ability to probe complex materials. Confocal Raman microscopy provides a non-invasive and non-destructive method for 3D imaging of challenging samples and is required for the advancement of several projects, providing a platform for optical and spectroscopic analysis in materials characterization. Configured to allow for diversity in sample handling, the instrument will support a broad range of ongoing Illinois research programs in more than 18 different laboratories. Key research areas have been identified that would greatly benefit from acquisition of this advanced instrument including self-healing systems, multi-functional polymers, electronic materials, and cells & tissues. The instrument has relevance in a diverse array of research at Illinois and will be housed at the Microscopy Suite of the Imaging Technology Group at the Beckman Institute for broad access across campus. This instrument will be the only multi-user-accessible multi-wavelength confocal Raman microscope on campus.
Education Component:The Imaging Technology group and collaborating faculty will continue to enhance science education and training through a variety of outreach projects for a diverse group of students and staff.
---
National Center for Professional and Research Ethics
National Science Foundation Award: Press release
Nicholas Burbules; Michael Loui; William Mischo
Electrical and Computer Engineering
Coordinated Science Laboratory
Education
University of Illinois Library
This online center, called the National Center for Professional and Research Ethics, will develop, gather, preserve and provide comprehensive access to resources related to ethics for teachers, students, researchers, administrators and other audiences. As such, it will provide information and expertise for instructors who teach ethics, students with questions about research integrity, researchers and engineers who encounter ethical challenges in practice, administrators in universities and businesses who oversee ethics and compliance policies, scholars who conduct research on professional and research ethics, and others with questions or interests in these areas.
---
NetSE: Large: Collaborative Research: Exploiting Multi-Modality for Tele-Immersion
National Science Foundation Award #1012194
Klara Nahrstedt
Computer Science
Providing an environment that offers both immersion and interaction is a tough research challenge. Ensuring a reasonable Quality of Experience (QoE) in using these environments installed in geographically distributed cities is even a tougher challenge. This project considers a collaborative, immersive, and interactive environment that not only supports 3D rendering of the participants' video but also other modalities such as Body Sensor Network (BSN) data that can offer highly precise data about a person's physical movements (as well as physiological data). While creating this environment, one needs to consider the various bottlenecks that choke the data streams carrying the immersive and interactive information: reconstruction delay, ultra-high throughput needed, packet loss, and rendering delays.
The main aim of this project is to design and develop collaborative, multi-modal immersive environments with higher frame rates and frame quality by carrying out research tasks that can take advantage of information from other modalities and handle these bottlenecks.
In a typical tele-immersive environment, participants can see themselves in the locally rendered 3D view and see participants in the remote environments as well. Since local rendering delays are much smaller, participants can see themselves earlier and in a more smooth fashion compared to the rendering of remote participants that suffers from communication delays and packet losses. This aspect of varying delays among the immersive participants can potentially cause problems during dynamic interactions and affect their QoE. Answers to questions such as what type of problems can be caused and how the participants handle them depend on the application domain of the immersive environments. To study the QoE and validate (with usability studies) the collaborative, immersive environment, a tele-rehabilitation application will be deployed in multiple cities: Berkeley, California; 2 sites in Dallas, Texas; and Urbana-Champaign, Illinois.
Intellectual Merits: (i) The resource adaptation framework for streaming multi-source, multi-destination, multi-rate, multi-modal data incorporates supervisory hybrid control theory based fine-grained resource management, multi-modal coarse-grained management, and a multi-modal multicasting approach. (ii) Graphics Processing Unit (GPU)-based 3D reconstruction and compression algorithms. These algorithms facilitate reconstruction of 3D data points based on 3D camera array data and compress them at a faster pace than their CPU-based counterparts. (iii) GPU-based rendering algorithm of 3D data on the receiver side. This algorithm will handle potential data loss in 3D camera data streams using skeletal information from BSN data streams. (iv) Identification and measurement of Quality of Experience (QoE) metrics and using those metrics to derive Quality of Service (QoS) parameters. The derived QoS parameters will then help the resource adaptation framework to modify its decisions at run-time. This project aims to have transformative aspects in the new set of algorithms that exploits multi-modality while incorporating a feedback based on Quality of Experience for functions such as streaming, 3D reconstruction, and rendering.
Education Component: This project promises significant impact in the fields of education and pervasive health care by providing augmented abilities to carry out intricate programs such as tele-rehabilitation with increased correctness and flexibility. This can also lead to improved productivity in the society considering the ability of health-care professionals to potentially handle a larger population (in remote places) as well as considering the possibility of the affected persons to become independent and productive faster. The project also ensures the results from the proposed research will be incorporated into the courses being taught. 3 women PhD students and 6 under-graduate students (2 are minority students) already working with the investigators of this project. Serious efforts will be undertaken to continue their involvement in this project. Apart from refereed conference and journal publications, the developed software, collected data, and research results will be shared with other researchers through a dedicated website (after ensuring satisfaction of HIPAA regulations).
---
National Science Foundation Award #0903622
Klara Nahrstedt
Computer Science
This project is educating a diverse cadre of neuroscientists and engineers at the University of Illinois with an advanced understanding of both neuroscience and engineering, enabling them to engage in both sophisticated collaboration and independent research across the traditional gap between these domains. Many of the most important and exciting scientific and technological challenges for the future are centered on neuroscience, the study of the brain. Many recent (and most future) advances in understanding the brain depend on engineering new technologies for sensing, imaging, and analyzing the brain and their innovative use by neuroscientists. Similarly, some of the greatest and most important technological challenges, such as creating neural prostheses for the disabled, require engineers with a profound understanding of neuroscience. IGERT students will thus carry out innovative interdisciplinary research on neuroscience areas of great scientific and engineering importance, such as speech and audition, brain and imaging, and neural implants that may lead to revolutionary advances in understanding the brain and in new technologies such as neural prostheses for the disabled. IGERT trainees will also receive training in leadership, communication skills, and the responsible conduct of research as well as preparation for academic or industrial careers. IGERT is an NSF-wide program intended to meet the challenges of educating U.S. Ph.D. scientists and engineers with the interdisciplinary background, deep knowledge in a chosen discipline, and the technical, professional, and personal skills needed for the career demands of the future. The program is intended to catalyze a cultural change in graduate education by establishing innovative new models for graduate education and training in a fertile environment for collaborative research that transcends traditional disciplinary boundaries.
---
Noyce: Preparing Excellence and Diversity in Secondary Mathematics Teachers for Illinois' High Needs Schools
National Science Foundation Award #0934901
Rochelle Gutierrez, Joseph Miles
Curriculum and instruction, Mathematics
The Department of Curriculum and Instruction and the Department of Mathematics at the University of Illinois at Urbana-Champaign (Illinois) are awarding Noyce Scholarships to 39 students, including 24 undergraduate mathematics majors and 15 postbaccalaureate students, enrolled in programs leading to secondary teaching certification in mathematics. School districts served by the project include the small urban districts of Champaign, Urbana, Decatur, and Danville, as well as rural districts in Tolono, Rantoul, and Mahomet. The Noyce Illinois program combines a rigorous mathematics and education curriculum with extensive interaction with leading faculty in the area of equity and effective mathematics teaching of marginalized students. It offers early field experiences and student-teaching placements in high needs school districts, supported by targeted opportunities to learn and apply the latest theories and cutting-edge practices for supporting marginalized students to learn mathematics in the 21st Century. Summer internships in K-12 STEM education programs are offered as a recruitment strategy for prospective Noyce Scholars. A monthly Noyce seminar focuses on problems from the field, reflection on coursework, the skills needed for teaching in high needs schools, and video examples of classroom teaching. Noyce Scholars have access to the particularly rich and diverse array of summer enrichment programs operated by the University of Illinois across the Colleges of Engineering, Agricultural and Economic Sciences, Liberal Arts and Sciences, as well as UI Extension. Noyce Illinois incorporates formalized mechanisms to support ongoing interactions among Noyce graduates and campus groups as well as professional development sessions and online mentoring geared to support graduates in their first year of teaching.
---
National Science Foundation Award #0951647
K. Jimmy Hsia
Mechanical Science and Engineering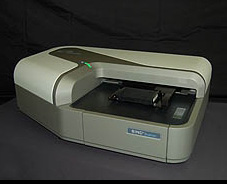 Biosensor
BioSensing-BioActuation (BSBA) is a compelling new research frontier that will have profound impact on both engineering and biology in sensing/actuation science and technologies. This project establishes a series of three Summer Institutes on BSBA (SI-BSBA) for early career researchers and graduate students from the U.S. and Taiwan. Jointly organized by the PI and Professor Shuo-Hung Chang of National Taiwan University, the Summer Institute is funded in the U.S. by the National Science Foundation and in Taiwan by the National Science Council. The goals of the Institute are to provide a platform for researchers from a diverse background to exchange ideas in the BSBA area, to train students and researchers who are knowledgeable in both engineering and biology in the highly interdisciplinary BSBA area, and to promote international collaborations between researchers in the US and in Asian Pacific region. Each institute will include approximately twenty students/early career researchers from both areas. The two-week Summer Institute will alternately be held in the US and in Taiwan. Engineering and biology experts in the BSBA area will be invited to give lectures on the basics of sensing/actuation technologies and fundamentals of biology, as well as on state-of-the-art research topics. Participants will receive hands-on laboratory training with basic engineering tools, such as micro- and nano-fabrication; basic tools from cellular-level to organism-level studies, and BSBA components, such as neuron-networks and computational tools. The impact of SI-BSBA will be significant and far-reaching, including developing new research tools, transforming existing research methodologies, and potentially leading to solutions to some of the biggest challenges in society, such as the environment, healthcare, sensor networks, and multi-functional materials. Furthermore, participants' international experiences will be extremely valuable to the next generation of US scientists and researchers.
---
NSF Science and Technology Center: Emergent Behaviors of Integrated Cellular Systems
National Science Foundation Award #0939511
Martha Gillette (Co-PI), K. Jimmy Hsia (Co-PI), Lizanne DeStefano, Rashid Bashir
Mechanical Science and Engineering
Electrical and Computer Engineering
The STC on Emergent Behavior of Integrated Cellular Systems (EBICS) will develop the science and technology needed to engineer clusters of living cells (biological machines) that have desired functionalities and can perform prescribed tasks: sensing, information processing, actuation, protein expression, and transport elements that can be effectively combined to create functional units. These biological machines could perform tasks such as processing systems that detect toxins in the environment and neutralize them; smart plants that sense and respond to the need for water and nutrients, surrogate organs that are used in place of animals to test new drugs; and biological factories that sequester CO2 in a continuous flow process.
This STC in engineered biological systems seeks to understand how cell systems interact to produce coordinated, emergent behavior under the control of local micro-environmental cues consisting of biochemical factors and physical stimuli. Single-cell machines or factories hold enormous promise, but multi-cellular systems that incorporate populations of specialized cells assembled into a single integrated unit could have greater impact. New understanding of cell-cell and cell-matrix interactions is critical and will require new technological platforms to bridge molecular scale interactions with macroscale behavior of complex biological systems. The proposed research is truly transformative and revolutionary at the interface of science and engineering. EBICS has the potential to enhance understanding of emergent biological behaviors under integrated biochemical and physical cues at the cellular, cell network, and cell population levels.
Education Component: The outreach and knowledge transfer program seeks to attract more young students into STEM, particularly into the interdisciplinary field of bio-engineering. The Center's alliance/collaborative research plans with minority-serving institutions will improve participation of underrepresented minorities in STEM. The two-track, integrated graduate program merging the essential sciences and technologies will offer a graduate teaching consortium to offer courses synchronously in all partnering institutions via the internet and international experiences by internships. Graduate courses developed by EBICS will be recorded and made widely and freely accessible through OpenCourseWare. The novel and revolutionary nature of the research will attract the best and the brightest students into this program and strengthen the future US workforce's global competitiveness. The Center's potential discoveries could potentially impact critical national needs: energy, the environment, security, and healthcare.
---
National Science Foundation Award #1028568
Kimani Toussaint , Nicholas Fang, Logan Liu
Mechanical Science & Engineering, Electrical and Computer Engineering
This research is to develop nanoantenna-based frequency up-converter arrays for efficient nonlinear optical response at wavelengths for which silicon has high quantum efficiency. These plasmonic nanoantenna arrays will be optimized for photon-management applications, e.g., optical frequency conversion solar cell technology. To date, little work has been done on optimizing these structures for their nonlinear optical response, which, in general will depend on multiple parameters including material and geometric. In addition, this project offers an opportunity to investigate several not-well-understood, fundamental scientific studies, such as: 1) identifying the origin of the nonlinear optical response; 2) determining the limiting factors that influence the near-field resonance of nanoantennas; and 3) understanding how nanoscale plasmonic enhancement can be precisely coupled to the local nonlinear optical response in solid state materials. This work has the potential to revolutionize and fast-track the development of efficient solar cell technology.
Education Component: This project is expected to broadly impact interdisciplinary science/engineering education by developing a high-school module on plasmonic-enhanced solar cells and photo detectors, incorporating research materials into an undergraduate course on nanotechnology, and providing unique graduate research experience for students from various backgrounds. The work will be broadly disseminated through various academic/industrial channels.
---
National Science Foundation Award #0822613
Taekjip Ha, Klaus Schulten
Physics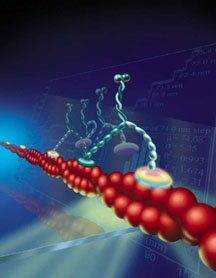 Image of how a cell's biomolecular motor moves. (Illustration by PrecisionGraphics.com)
In the Center for the Physics of Living Cells (CPLC) experimentalists, computational physicists, and theorists will jointly attack the extreme technical challenges posed by quantifying processes in living cells with the sensitivity needed to explore how life organizes itself, weaving molecular systems into the fabric of living matter. Specifically, the Center will: (1) push in vitro single molecule techniques to a 10- to 100-fold increase in sensitivity, spatio-temporal resolution, and throughput for concurrent detection of multiple observables; (2) use synthetic nanostructures to manipulate single molecules, enabling measurements of both forces and molecular conformation with sub-microsecond resolution; (3) observe individual events within single cells, enabling time- and space-resolved studies of gene expression and other key cellular processes; and (4) extend computation to biologically relevant timescales, and theory to greater biological realism, enabling the detailed interpretation of the dynamics of biological systems from the molecular to the cellular level. The interaction between theory, computation, in vitro and in vivo experiments will be at the core of the Center's mission. A concrete example combining these four approaches will be to build a truly quantitative and dynamic physical picture of transcription and translation machinery used by the cell to copy DNA into RNA and then into proteins.
The Center will provide exciting educational opportunities on and off campus. For Ph.D. students, the Center will build a community around special seminars, symposia, tailored courses, and joint mentoring and help generate a new generation of scientists who are fluent in both physics and biology. This new science will be brought to the undergraduate level in the form of courses, online computing and visualization environments, and a single-molecule laboratory course where they can acquire hands-on experience. The Center will recruit minority students into the REU programs and summer workshops through partnership with primarily minority institutions and participation in two annual scientific meetings for under-represented minorities. At the high school level, the Center will expand an existing programs in which Ph.D. students can act as mentors for teachers on and off campus, introducing visualization tools and modern molecular biology concepts into the classroom. To address young students directly, the Center will establish a pilot program at a girls' middle school. This program will provide contact with students as they begin their formal science education, exposing them to modern biophysical concepts and tools. To the scientific community, the Center will provide visualization and simulation tools to enable the study of macromolecular assemblies and cells. Likewise, the state-of-the-art instrumentation developed by the Center will lead to mainstream applications in biological sciences and is expected to have major commercial impact.
---
National Science Foundation Award #1132301
Brian Cunningham, Lawrence Schook
Micro and Nanotechnology Lab
This project is developing a photonic crystal enhanced microscope (PCEM) as a powerful multimode imaging approach for quantification and visualization of the interactions between cells and surfaces. The PCEM is designed to utilize the properties of a photonic crystal (PC) biosensor surface that is designed to produce narrow bandwidth optical resonances.
Broader Impacts: Biologists are developing a more sophisticated understanding of how cell membrane interactions with surfaces, chemical stimuli, and other cells are modulated, and the role of integrins, ion channels, G-coupled transmembrane proteins, and filapodia in fundamental processes such as migration, wound healing, differentiation, and apoptosis. Yet, there are few tools currently available that allow visualization and quantification of these processes. While the initial set of demonstrated applications for PCEM will include cancer cell cytotoxicity, T-cell induced apoptosis, stem cell differentiation, and cardiac cell stimulation, the system's capabilities extend to any cell type and any process that can be carried out upon a surface.
Education Component: The system will be included in multidisciplinary training programs. Users of the system will be comprised of faculty, graduate students, and undergraduate students from Engineering, Pharmacology, Animal Sciences, Microbiology, and Immunology. The project will develop general-purpose methods for studying cell-surface interactions that can be used broadly in pharmaceutical screening and life science research - extending the applicability of photonic crystal biosensors. The PI has a successful track record of biosensor instrumentation invention, development, and commercialization. The proposal also describes an education plan that is closely linked with the program's technical goals with impact upon graduate student research, undergraduate research, undergraduate classroom/laboratory learning, and teaching biosensing/photonics concepts to a University-based all-girls middle school. The PI has a strong track record for involving undergraduate students in his research, and for making the technology developed under NSF funding available in his ECE416 "Biosensors" course, both in the form of lecture topics and hands-on laboratory experience.
---
Plasticity and Avalanches: Connections Between Systems Ranging from Metals to Granular Materials
National Science Foundation Award #1005209
Karin Dahmen
Physics
This award supports theoretical research and education to combine concepts from statistical physics, materials science, solid mechanics, engineering, granular mechanics, and metallurgy to advance and unify understanding of how materials respond to external stresses.
Many systems crackle when they are pushed slowly: Wood can crackle when it is slowly bent. Similarly, small metal or ice crystals deform in a rather jerky way, through a sequence of local slip events that span a broad range of size. In these slip events, weak spots fail in response to the slowly increasing applied shear stress. On a much larger scale, roughly the same phenomenon gives rise to earthquakes, when slow tectonic motion triggers slips of weak spots in the earth's crust. Many other systems exhibit similar failure avalanches, ranging from granular materials to magnets. This project develops a quantitative understanding of the similarities of the avalanche statistics of these systems, many of which were previously studied separately. The goal is to predict to what extent the results and understanding can be transferred from one system to another. Recently, powerful mathematical tools have been developed to answer these questions. These methods will be coupled with computational simulations and comparisons with experiments on plastic deformation of metals, alloys, granular materials, and magnets.
Results are relevant for a number of applications, including: materials failure predictions and control from nanodevices to bulk materials, nondestructive materials testing, increased materials stability during processing, improved understanding of jamming and avalanches of granular materials, and long-term security of magnetic information storage.
Education Component: The diverse group of graduate and undergraduate students involved in this project will receive broad interdisciplinary training and will learn to use modern tools from statistical physics, materials science, mechanical engineering, and mathematics. Collaborations with a network of national and international theorists, experimentalists, materials scientists, engineers, and seismologists will be fostered. Simulation codes will be shared with the broader research community.
---
Sloan Foundation
Bryan White, Hans Blaschek, Nicki Engeseth
Agricultural, Consumer and Economic Sciences
The Illinois Professional Science Master's (PSM) is a non-thesis graduate program that offers an MS degree, allowing students to pursue advanced training in science or mathematics while simultaneously learning critical business skills through an integration of four key curriculum components: science or mathematics courses, "plus" business courses, industry seminar, and internship. Program options include Agricultural Production, Bioenergy, or Food Science and Human Nutrition.
---
Project NEURON (Novel Education for Understanding Research on Neuroscience)
National Institutes of Health Award #1R25RR024251
Barbara Hug
Neuroscience Program, Curriculum and Instruction, Office for Mathematics, Science, and Technology Education
Project NEURON (Novel Education for Understanding Research On Neuroscience) will bring together scientists, science educators, teachers, and students to develop and disseminate curriculum materials that connect frontier science with national and state science standards. The wide-ranging research at the University of Illinois at Urbana-Champaign will allow Project NEURON to link NIH-funded neuroscience research with educational research that examines how teachers and students learn. Project NEURON will also help teachers integrate the newly developed materials into existing state curriculum frameworks. Project NEURON will a) develop and disseminate curriculum modules for use in secondary science classrooms; b) improve instructional practices of secondary science teachers; and c) improve student engagement and learning of key science concepts. In addition to developing curriculum modules, the project will 1) create an ongoing series of professional development opportunities for teachers and graduate students; 2) perform a formative and summative evaluation; and 3) provide a dissemination mechanism for the modules, including presentations at science and science education conferences and article submissions to peer-reviewed journals.
---
Proteomics, Actin and Plasticity in Circadian Rhythms
National Science Foundation Award #0818555
Martha Gillette
The School of Molecular and Cellular Biology
Cell and Developmental Biology
How does the brain encode experience so that future behaviors are changed? Altered neural function that long outlasts experience characterizes brain processes from learning to memory modification to resetting the circadian clock, which patterns behavioral changes over the day-night cycle. Underlying mechanisms are not understood. Consensus is emerging that stimulus-induced remodeling of the actin-based cellular architecture redistributes key informational proteins bound there. Which proteins mediate this change? The researcher will use the power of the mammalian circadian clock, where mechanisms, including plasticity, are evolutionarily ancient and conserved, and control of the rhythmic homeostatic patterning of daily behaviors is localized within one brain site, the suprachiasmatic nucleus (SCN). The cross-disciplinary approach will combine novel analytical chemistry that enables large-scale analysis and identification of actin-binding proteins in local brain regions with neurophysiology and behavior. The researcher will manipulate SCN actin state, comparing effects of natural neural signals on actin-associated proteins with reagents that directly activate or inhibit actin remodeling. This broad approach will permit discovery of protein complexity necessary for circadian neural and behavioral plasticity. Coupled proteomic and functional analyses will provide new insights on how sensory experience is integrated into a long-lasting response spanning molecular, cellular, brain and behavioral levels. Research on this evolutionarily ancient brain system will identify a set of core plasticity elements that may contribute critical emergent properties to all forms of brain plasticity. Thus, findings will impact understanding of fundamental principles of experience-induced brain adaptation.
Education Component: This study will provide training opportunities at the intersection of analytical chemistry and neuroscience for students in the laboratory, as well as outreach to undergraduates, especially minorities under-represented in science.
National Science Foundation Award #1004311
Susan Larson, Craig Zilles
Civil and Environmental Engineering, Computer Science
The computing landscape is changing—parallel computing will be the "default" approach to programming in the future. A central challenge in the transition to parallelism is shortage of workforce with expertise in parallel programming. In this REU, we will train students in the basics of parallel programming, provide them with research experience that demonstrates its importance in their own fields, and help them develop the confidence that they need to be successful in graduate school.
To enable undergraduates to participate in the revolutionary new capabilities afforded by parallel computing, the REU-POP program (Research Experience for Undergraduates—Passionate on Parallel) at Illinois will recruit ten (10) junior- and senior-level undergraduates majoring in STEM disciplines to participate in a summer research experience in parallel computing and programming relevant to their own fields of study. Recognizing that women are critically underrepresented in academic and professional computer science, qualified students will be especially sought at women's and minority-serving colleges with limited research or graduate-school options. Eligible students will have completed specified computer science courses, but will not be required to have experience in parallel programming, which is rarely available at the undergraduate level.
REU students will work in pairs (current literature suggests this is a successful learning strategy for women in programming) in small teams that will include a faculty member in their own discipline and a specially trained graduate mentor. Through preparatory online sessions before the POP summer, a four-day immersion session at the start of the POP summer, hands-on learning in their university laboratory, weekly technical sessions, and special seminars on topics such as parallel computing in current technology; research ethics; technology commercialization; and the benefits of graduate school, students will develop essential skills in parallel programming and explore the research options in their own STEM disciplines. Students will also interact with prominent professional and academic researchers to form a network of diverse role models and mentors to provide advice on careers and graduate school options.
We believe undergraduates can be encouraged to persist in engineering programs, particularly computer science, by engaging them in research, by employing multiple mentoring options, and by providing opportunities for them to work in "programming pairs." The REU-POP program at Illinois will explore these methods within the REU context, and we will report on their success in the open literature to assist others in this effort.
---
SI2-SSE: Adaptive Software for Quantum Chemistry
National Science Foundation Award #1102418
So Hirata
Chemistry
The goal of this project is to establish a new paradigm of scientific software, electing quantum chemistry as the domain science. The new software does not have a static, compiled code, but instead consists of an expert system and code generator. At every execution, it analyzes the hardware and application parameters, determines (parallel) algorithms, and implements them for one-time use. This strategy not only allows unprecedented flexibility in algorithm optimization but can also realize ideas that are impossible otherwise. Since the approach makes no assumption about hardware or application, it is more extensible, maintainable, and portable. It is particularly well suited for chemistry, where a variety of molecules and reactions is infinite.
The expected long-term impact of this project is a change in the way scientific and engineering computing software is developed and defined. It promises novel software technology, which simultaneously achieves development efficiency, high product quality, and increased ability to optimize the code and enhance the methodological capabilities, by having no fixed source code.
Education Component: This project also offers unique, interdisciplinary education for chemistry graduate students, which places exceptionally large focus on computing, the field that has been a driving force of the 21st century economy.
---
SHF: Small: Research on New Challenges in EDA
National Science Foundation Award #1017516
Martin D. F. Wong
Electrical and Computer Engineering
Micro-chips are at the heart of modern microelectronic systems for computing, communication, entertainment, and other consumer electronics. In order to design and manufacture next generations of complex microelectronic systems, major innovations in the design of EDA (electronic design automation) software are needed. This project addresses four new challenges in EDA for complex microelectronic systems at both the micro-chip and the circuit board levels:
Beyond-die EDA: The routing (wiring) of today's high-density complex circuit boards has to be done manually since no existing EDA software can solve the problem. Research will be carried out in circuit board routing to handle various new technology issues.
Litho-aware EDA: Since there is no alternative practical option but to continue using 193nm light to print (manufacture) on-chip features of size 32nm and below, accurate printing has become extremely difficult. EDA software will be developed to produce designs that are friendly to lithography for successful micro-chip manufacturing.
GPU EDA: Graphics processing unit (GPU) has become a popular cost-effective parallel computing platform recently. How to take advantage of GPU to accelerate critical EDA tasks is a challenge and will be studied.
Stochastic EDA: In order to handle process variations in advanced technology nodes, EDA software will be designed to solve fundamental graph optimization problems (e.g., shortest path, minimum spanning tree, and network flow etc.) where edge weights (costs) are random variables.
The proposed research will advance knowledge in EDA. It will also add new knowledge to other fields such as mathematical programming and combinatorial optimization since ultimately the research will need to solve large scale optimization problems.
Education Component: The broader impacts of this project include technology advancement and the education of next generation of engineers. The proposed research improves the design and manufacturing of microelectronic systems which will benefit the society at large. New research results will be passed on to undergraduate and graduate students through dissertation research, course projects, homework, and classroom teaching.
---
Student Use of Digital Learning Materials: Implications for the NSDL
National Science Foundation Award #1049537
Glenda Morgan
Office of the Chief Information Officer
This large-scale national project is investigating how undergraduate students in STEM disciplines use digital learning materials. Much of the work already done by the National STEM Digital Library (NSDL)—especially by the NSDL large "Pathways" collections)—assumes that students will be directly connected to the content in the collections, or that they will otherwise find and use the digital resources from collections in ways that assist the depth of their learning. However, little is known about how undergraduates use digital resources. This study will develop a better understanding of the extent and nature of undergraduate use and it will begin to determine the value of digital learning materials to undergraduates. The project is:
Examining how undergraduates use digital and distributed learning resources and collections
Documenting how and why they use these resources
Examining the impact of that use on their learning
Exploring student perceptions of barriers to the use of NSDL services and programs


Following these information collection tasks, the project will begin a second stage to:
Identify possible strategies for overcoming barriers to use of digital libraries and distributed learning resources by undergraduate STEM students
Disseminate the tools developed in this study for use by NSDL projects in developing individual benchmarks regarding their own usage, and
Establish baseline data for future studies of NSDL usage and impact
---
Surface and Interface Free Energies of Epitaxial Nanocrystals
National Science Foundation Award #1006077
Jian-Min Zuo; Dallas Trinkle
Materials Science and Engineering
Expires: June 30, 2014 (Estimated)
Substantial parts of materials technology, major components of chemical industry, and exciting new developments in medical diagnostics and treatments rely on the properties of supported metallic nanoparticles. The unusual functions of metallic nanoparticles come from the synergistic interactions of surfaces and interfaces of nanoparticles and their support. However, modern studies have largely avoided the complexity of supported nanoparticles; nanoparticles are too small for experimental characterization and too big for rigorous theoretical investigations. This project is to study nanocrystal surfaces and interfaces by taking advantage of the recent progress in atomic resolution imaging using aberration-correction in transmission electron microscopy and combining it with nanocrystal synthesis and theory. The research will be integrated with outreach efforts, including high school visits and undergraduate education. Results from this research project will be incorporated in the web-based educational materials for teaching students about atomic structure and diffraction, infrastructure for which is already in place (see http://emaps.mrl.illinois.edu/ or google webemaps). This particular website is now listed as one of the best web resources for learning electron diffraction and electron diffraction pattern indexing in the standard transmission electron microscopy workplace.
---
The Applied Baccalaureate Degree: An Emerging Pathway to Technician Education
National Science Foundation Award #1003297
Debra Bragg
Education
Expires: July 31, 2014 (Estimated)
The multi-method multi-site targeted research project examines the Applied Baccalaureate (AB) degree within the context of technician education as supported by the Advanced Technological Education Program. The AB degree is a new phenomenon in post-secondary education that allows courses from a terminal applied associate-level degree to transfer directly into a baccalaureate-level degree in STEM. The AB degree provides another avenue to strengthen the accessibility and availability of post secondary education in advanced technology and to meet the growing need for a robust advanced technological workforce in STEM.
Intellectual Merit: This study is designed to bridge the gap between theory and practice in technician education by the inclusion of the Advanced Technological Education program community in fine turning the research design (to include questions, analyses, and focus on utilization) and in conducting the research. To increase the utilization of project findings, selected PIs of ATE centers and projects are members of the research team. The set of research questions is sufficiently broad to provide a national picture of AB degree programs and targeted to provide a nuanced picture of AB degree programs and efforts in the context of ATE-funded centers and projects. The three-phase study design provides a wide bandwidth complemented by in-depth rich descriptions of individual sites. The project draws on previous work on the AB degree by the principal investigator and a broad network of interested parties that include community colleges and ATE centers and project.
Broader Impact: Of particular relevance to technician education is the extent to which AB degree programs enroll populations historically underserved by STEM. The resulting findings have the potential to contribute to the research literature on technician education, the viability of AB degree programs in post-secondary education in STEM, the contributions of community colleges in the development of a robust technician workforce in STEM associated with these types of degree programs, and the opportunities and challenges facing the development of AB degree programs that interface with technician education.
---
Tissue Engineering Teaching Laboratory
Roy J. Carver Foundation
Michael Insana, Jennifer Amos
Bioengineering
Nicknamed "Grad School in a Box," this project involves the development of a new undergraduate teaching lab where students will learn the necessary skills to design, perform, and analyze their own experiments in the area of tissue engineering. The course will be offered for the first time in Fall 2011. The unique lab experience will be published in educational journals and presented at conferences in the fall and spring, respectively.
---
Training in Cognitive Psychophysiology
National Institutes of Health Award #5T32MH019554
Gregory Miller
Psychology
The training program in cognitive psychophysiology responds to the increasing penetration of psychophysiological techniques into many domains of the behavioral and biological sciences. Psychophysiological techniques include electromagnetic, hemodynamic, and optical neuroimaging methods, as well as measures of more peripheral bodily functions (such as eye movement, heart rate, electrodermal activity, and electromyography, in all of which we have expertise). Scientists trained in many subdisciplines of psychology, psychiatry, neuroscience, bioengineering, radiology, physics, and other fields are adopting these measurement approaches to attack mental illness. There is a pressing and even accelerating need to provide training in cognitively sophisticated psychophysiology for basic, clinical, and translational scientists. The program faculty are active scientists with diverse backgrounds and interests, based in the Departments of Psychology, Psychiatry, Bioengineering, Statistics, and Electrical and Computer Engineering, as well as the interdepartmental Neuroscience Program and the Beckman Institute, emphasizing fMRI, ERP, and optical methods and their integration with each other and with other methods, especially MEG and eye movement. The training program brings the core faculty members and their graduate students and postdocs together in an exceptionally rich environment, in terms of both diverse scholarship and excellent facilities, that provides thorough training in cognitive psychophysiology through coursework and an intensive research apprenticeship, augmented in the next funding cycle by broadened exposure to psychopathology and training in advanced biosignal processing for studying the implementation of the mind by the brain and its disruption in mental illness. Sixteen core faculty are available to 4 predoc and 3 postdoc trainees. Relevance: Training in cognitive psychophysiology directly addresses NIMH priorities for understanding brain mechanisms in mental illness. Assessment and intervention strategies will benefit to the extent we identify brain implementations of abnormal psychological phenomena.
---
Training In Inflammation and Nutritional Dysfunction
National Institutes of Health Award #5T32DK059802
Sharon Donovan
Food Science and Human Nutrition
This training program is administered by the interdisciplinary Nutritional Sciences program and integrates recognized areas of excellence at Illinois, Nutritional Sciences, Integrative Immunology and Behavior, and Gastrointestinal Innate and Adaptive Immunity. While the interdependency between nutrition and immunology long has been appreciated, the complex interaction between the neural, endocrine, and immune systems and how they are modulated by environmental factors only recently has begun to be elucidated. Inflammatory mechanisms are central to the pathophysiology of many chronic diseases for which diet is used for prevention or treatment. Thus, it is essential that mechanisms underlying the complex interactions between nutritional status and inflammation be elucidated. The "Inflammation and Nutritional Dysfunction" training program provides comprehensive education at the interface of nutritional sciences and cellular and molecular immunology, with the objective of preparing predoctoral and postdoctoral fellows to become productive, independent scientists capable of furthering the need of NIH to understand the complex interactions between the nutritional status, the innate and adaptive immune systems, and health and disease. In just 4 years, a robust training program has been established, exemplified by an exceptionally strong biomedical research base, success in recruiting underrepresented minorities and students pursuing combined Ph.D./M.D. degrees, and the establishment of the Integrative Immunology and Behavior program at Illinois. Dr. Robert Dantzer, an internationally-recognized leader in the area of psychoneuroimmunology, has been recruited to direct the Integrative Immunology and Behavior program and has been added as a preceptor. Eight preceptors with active research programs focused on nutrition and inflammation provide the core for the training program. Four predoctoral and two postdoctoral fellowships are requested. Candidates with exceptional academic credentials and research experience will be recruited, and underrepresented minorities and M.D./Ph.D. candidates will continue to be specifically targeted for enrollment. Research training will be complemented by coursework in nutrition, immunology, endocrinology, neuroscience, biochemistry and molecular biology, a weekly seminar series, and presentations at scientific conferences. The strong research programs of the preceptors, the excellent reputation of the Nutritional Sciences program, and the outstanding intellectual environment at the University of Illinois combine to form an ideal climate in which to train future leaders in this unique interdisciplinary field.
---
Transport and Interfacial Phenomena in Boron Nitride Nanotubes
National Science Foundation Award #0852657
Narayana R Aluru
Mechanical and Industrial Engineering
Transport and interfacial phenomena of water and electrolytes in nanopores have gained attention over the last decade due to their promise in substantially improving the performance and efficiency of many applications, such as biological/chemical systems, water purification systems, and fuel cell devices. Carbon nanotubes' (CNT) physical and chemical properties have been investigated for a number of these applications. Boron nitride nanotubes (BNNTs) possess many of the superior properties of CNTs, such as a high Young's modulus and thermal conductivity, but unlike CNTs, BNNTs exhibit high resistance to oxidation and a wide band-gap regardless of its chirality. These exciting properties allow BNNTs to act as complementary materials to CNTs or even replace the CNTs for many applications. The goal of this research is to perform extensive computational studies on transport and interfacial properties of water and ions through BNNTs to not only establish the fundamentals of nanofluidics in BNNTs but also to enable development of various applications using BNNTs. The primary objectives of this proposed research are to (i) perform quantum-mechanical calculations to compute partial charges of various atoms in bare and functionalized BNNTs; (ii) perform molecular dynamics simulations to compute structure, dynamics, and transport properties of water and ions in bare and functionalized BNNTs; (iii) perform continuum and hierarchical multiscale calculations to compute macroscopic properties (such as current versus voltage, flow rate versus pressure) in BNNTs; and (iv) explore various applications in energy, sensing, and separation. The research fundamentals and techniques developed as part of this project will be incorporated into a graduate-level course on computational modeling of MEMS and NEMS offered by the PI. Recruitment of women and minority graduate students, recruitment of undergraduate students for REU projects, and incorporation of project results into summer schools offered at Illinois are other planned activities.
---
Institute of Education Sciences (IES) Award #R305B100017
Sarah Lubienski, Arthur Baroody, and Joseph Robinson
Curriculum and Instruction and Educational Psychology
This new mathematics education research-training program supports three-year positions offering collaborative and independent research opportunities. The program prepares fellows to address questions relevant to mathematics instruction and policy in a methodologically rigorous manner and to serve as leaders in improving U.S. mathematics teaching and learning for diverse populations. Specific research projects will be based upon the joint interests of the fellow and the Illinois faculty mentor(s). Three core faculty members will serve as program mentors: Dr. Sarah Theule Lubienski (mathematics achievement, equity, and reform; expertise in both qualitative and quantitative methods, including multi-level modeling of classroom and large-scale data); Dr. Arthur J. Baroody (non-experimental and experimental studies on the teaching and learning of basic number, counting, and arithmetic, with a particular focus on young children or those with learning difficulties); and Dr. Joseph P. Robinson (effects of policies and practices on the academic outcomes of English learners, expert in quasi-experimental research methods). Sixteen affiliated faculty members also participate in program activities. Trainees are recruited from education, related social sciences (economics, psychology, sociology), mathematics, statistics, and other suitable fields.
Underrepresented Undergraduates in STEM at Large Research Universities: From Matriculation to Degree Completion
National Science Foundation Award #0856309
William Trent
Education Policy, Organization, and Leadership
This is a three-year study that is examining the matriculation, persistence, and degree attainment of full-time, first-time enrolled women, minorities, and low-income undergraduate students in STEM (science, technology, engineering, and mathematics) fields at a consortium of 11 large research universities. This project is using statistical and qualitative research methods to identify key individual and institutional factors that affect underrepresented students' matriculation, persistence, and degree completion in the STEM fields. It is evaluating the impact of course offerings, policies and practices, and program interventions designed to increase educational outcomes. This study is contributing to understanding by using large samples of underrepresented students and placing them into meaningful categories (by racial/ethnic sub-group, academic preparation, and STEM major), as well as the intersection with critical demographic characteristics, such as socioeconomic status.
The findings from the study are intended to increase understanding about how postsecondary institutions can use mechanisms and program interventions to improve the persistence and degree attainment of underrepresented students in the STEM fields. The study will benefit the academic community by creating a graduate-level course to be offered to students enrolled at any CIC institution to discuss the empirical, methodological, policy, and program issues that impact the representation of women and minorities in the STEM fields, with specific attention to students attending large, research universities.
---
Understanding and Enhancing Post-Combustion Multi-Pollutant Control with Carbon-Based Materials
National Science Foundation Award #1034470
Mark Rood
Civil and Environmental Engineering
The research, educational, and outreach components of this project will allow for the development of unique carbon materials that allow for reduction in emissions of several high and low concentration gas phase pollutants with continuous dissemination of results to all levels of education. NOx, mercury (Hgo/Hg2+), and dioxins/furans (PCDD/F) are emitted from a wide range of sources, including emissions from coal-fired power plants. NOx contributes to acid rain and secondary aerosol formation resulting in ozone, which causes health effects and visibility degradation. Mercury leads to enriched concentrations and heightened toxicity in lake sediments, animals, and humans, while PCDD/Fs are known to be excessively toxic and carcinogenic. Stricter air quality regulations strive to protect human health and welfare. This research will develop new technologies to enhance our ability to consume less toxic materials, prevent the emission of these pollutants to the environment, and provide for a more sustainable existence.
The intellectual merit of achieving multi-pollutant control involves an international research team at Illinois, URS, Inc., and National Central University, Taiwan, uniquely qualified to study the ability of custom and commercially available carbons to achieve multi-pollutant transformations and removal of toxic air pollutants from flue gas streams. Results will be interpreted and disseminated through national/international collaborations and conferences, educational programs at Illinois, peer-reviewed literature, and K-12 educational programs.
Broader impacts of this research will effectively integrate research results with K-12 and college undergraduate/graduate education. The key K-12 component is to make students aware of and more interested in engineering solutions to solve environmental issues. Results will be disseminated not only through conventional research conferences and manuscripts, but also via classroom demonstration modules, web-based modules, and in collaboration with The STEM Education Coalition, supported by the Illinois Board of Higher Education. Underrepresented research assistants at the undergraduate level will be recruited through NSF's supplemental REU Program, and collaboration is planned with college students abroad.
---
University of Illinois Mathematics GAANN Fellowship Project
US Department of Education Award #P200A090062
Karen Mortensen, Randy McCarthy
Mathematics
---
URM: Mentoring in 'New Biology' with a Focus on Latino Undergraduate Students
National Science Foundation Award #1041233
Gustavo Caetano-Anolles; Sandra Rodriguez-Zas
Agricultural, Consumer, and Environmental Sciences
Life Sciences
This Undergraduate Research and Mentoring (URM) program will provide one-year research experiences in quantitative biology and informatics to four cohorts of scholars, starting in the summer of 2011 and continuing through 2015. Each cohort consists of seven students who will explore problems using integrative quantitative inquiry. This program seeks to enhance the pool of multicultural and multidisciplinary workforce of scientists and professionals by offering experiential learning opportunities in computational and wet laboratories, as well as academic and career development activities, to community college students. Recruitment will be through collaborating Hispanic-serving institutions. The program will also provide long-term mentoring and will encourage family support and participation. Students will be able to select from topics in plant and animal bioinformatics, quantitative genetics and plant breeding, statistical genomics, architecture of complex traits, food nanotechnology, biological system modeling, and statistics for agriculture. Students will participate in (1) a 12-week, summer, intensive research immersion experience, (2) mentor-guided academic year research, and (3) an optional second summer internship experience. The research will be complemented with academic and career advancement, network development, and support activities. Project evaluation will assess the quality of research, oral presentations, and student and mentor interactions, as well as skills assessment using pre and post test instruments and student feedback on the program.
---
U.S.-West Bank Workshop "Nanotechnology for Advanced Material and Devices," Nablus, December 2010; West Bank, Israel
National Science Foundation Award #1013836
Munir Nayfeh
Physics
This project supports a US-West Bank Workshop on Nano-Structured Advanced Materials, to be held in the West Bank in December 2010. The organizers are Dr. Munir Nayfeh, Department of Physics at the University of Illinois, Urbana-Champaign and Dr. Hikmat Hilal, Department of Chemistry, AlNajah National University, Nablus, West Bank. The workshop will bring together experts from the US and West Bank (Palestine) to discuss various aspects of nanotechnology, explore ways to collaborate and identify areas for future joint activities. The four-day workshop will cover various nanotechnology areas including synthesis, characterization, and applications. The workshop will include visits to several locations of scientific interest in the West Bank. The goal of the meeting is first to foster collaboration between the US and Palestine in the area of nanotechnology research, education, training, entrepreneurship, and commercialization, and second to discuss proposals for establishing a national center for scientific excellence in nanotechnology that serves Palestinian universities, research organizations, general school education as well as industry. The activity promises a variety of mutual benefits for both the US and the West Bank (Palestine) that increases opportunities in research and teaching, tech transfer, and job creation.
Intellectual Merit: Upon miniaturization, material often acquires improved and novel properties not found in bulk, such as improved mechanical, electrical, optical, as well as chemical properties, and becomes lighter, stronger and cheaper. Nanotechnology is a field in which both industrialized and developing countries can participate at the cutting edge of development and as such is conducive to international collaboration. The impetus of nanotechnology research is not only the elucidation of the nature of material when miniaturized to a regime at the transition between the solid and molecular states, but also the exploitation of this nature for manufacturing better products at lower cost and with new functions allowing the improvement of the quality of life.
Education Component: The proposed project is intended to provide cultural training and international experience and perspectives for US scientists, graduate and undergraduate students. It will stimulate US scientists with NSF-sponsored research to add international collaborative components with universities in the Middle East. The workshop is also intended to stimulate scientific collaboration and important intellectual bridges in the region and between groups at individual as well as institutional and state levels from key parts in the Middle East. Finally, it is hoped that this workshop will encourage networking and joint ventures. At least four US junior scientists and students will participate in the workshop, and visit at least three academic and research institutions in the West bank.
---
National Science Foundation Award #1069157
Andrew Suarez, Gene Robinson, William McMillan, Carla Caceres, Sandra Rodriguez-Zas
Institute for Genomic Biology, School of Integrative Biology
Vertically Integrated Training With Genomics (VInTG) will provide support for as many as 30 graduate students over the next five years. Students will learn ways to both ask and answer the big research questions of the coming decades, says principal investigator Andrew Suarez, associate professor of Animal Biology and Entomology and IGB affiliate.
VInTG will address two "grand challenges" in biology: How do genomes interact with the environment to produce biological diversity? and How are biological systems integrated from molecules to ecosystems? Answering these questions will help both science and society determine how to maintain food security under climate change; how to integrate genetics and ecology to study emerging infectious diseases; and how organisms' responses to climate change influence biodiversity and ecosystem function.
---
National Science Foundation Award #0925332
Gene Robinson
Institute for Genomic Biology
This project will support the Illinois Summer Neuroscience Institute (ISNI) for three years. The Institute provides students with an introduction to neuroscience research, to graduate school, to careers in neuroscience, and to the neuroscience community. The ISNI is a one-week intensive introduction to neuroscience, targeting mainly students from underrepresented groups in science, in their first two years of undergraduate study. The ISNI is held at the campus of the University of Illinois at Urbana-Champaign (Illinois) and is organized and led by the Illinois Neuroscience Program. Students learn about state-of-the-art questions and techniques from Illinois faculty who are experts in a broad range of areas within neuroscience. After hearing about research from the faculty, the students conduct a laboratory exercise that allows them to experience the challenge, excitement, and the inevitable frustrations of research. The exercises will take advantage of the expertise in insect neuroethology and Drosophila genetics at Illinois. The purpose of the Institute is to attract students to neuroscience who might not otherwise have the opportunity or exposure to the discipline and to the neuroscience community. The ultimate goal is to expand the pool of applicants, especially from underrepresented groups, to Illinois and to other neuroscience programs in the US.