Top STEM Education Stories
Our vision for Illinois as a land-grant institution is to foster accessible, effective STEM teaching and learning—from preschool through graduate education—
at local, state, and national levels, thereby preparing a highly able citizenry and diverse STEM workforce to tackle pressing global challenges.
Current STEM Ed Highlights
September 19, 2018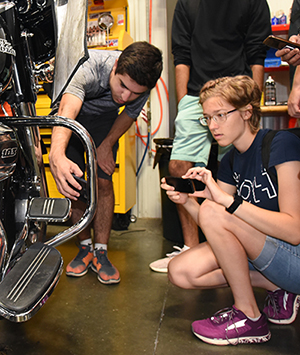 Students check out a Harley Davidson motorcycle.
We've all seen toddlers learn about shapes by trying to place a round object into a toy's square hole, and vice versa. We've also seen children learn basic structural engineering principles by building a tall tower of blocks or Legos with insufficient structural support, only to have it crash to the floor. If small children can learn through play, couldn't much older students, such as undergraduates in Illinois Engineering courses? Leon Liebenberg, a MechSE Professor, and a team of colleagues who are part of his "Play-in-Learning: Cognition, Emotion, and Playful Pedagogy" SIIP proposal all seem to think so. However, Liebenberg reports, "Not everyone is convinced that play belongs in engineering…Some people are cynical or suspicious about the prospective benefits of play in engineering."
---
September 13, 2018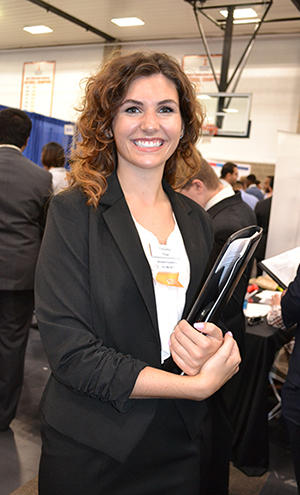 Aerospace Engineering student at ECF.
Armed with a list of companies they were interested in working for, a list of questions they intended to ask, and probably a revised resume, a steady stream of Illinois engineering students—dressed to the nines—made their way across campus to the ARC for the Engineering Career Fair on September 11–12. Their goal: network with company representatives and land an internship, or even more importantly, a job for once they graduate. For the recruiters, their goal was to romance the coveted Illinois engineering students, possibly attracting the best and the brightest to their companies.