Top STEM Education Stories
Our vision for Illinois as a land-grant institution is to foster accessible, effective STEM teaching and learning—from preschool through graduate education—
at local, state, and national levels, thereby preparing a highly able citizenry and diverse STEM workforce to tackle pressing global challenges.
Current STEM Ed Highlights
November 14, 2018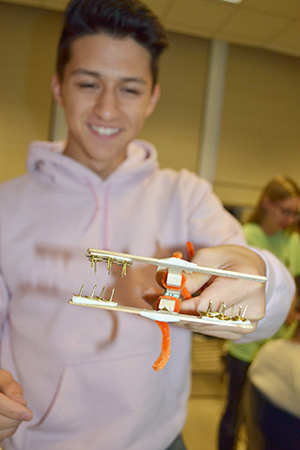 A high schooler shows off the device he and his teammate created during Bioengineer Your Impact.
One of the main goals of Illinois' Biomedical Engineering Society (BMES) is to shape well-rounded Bioengineering (BioE) students by providing a variety of resources and opportunities for its members. However, almost as important to BMES members is their desire to maintain the BioE pipeline by interesting high school students (and even younger ones) in going into the field—possibly at Illinois. This was the goal of one of their major outreach events of the year—Bioengineer Your Impact—which recently took place on Saturday, November 10th. The 13 high schoolers who showed up on campus for the event discovered what Bioengineering is about through a variety of different activities and interactions.
---
November 14, 2018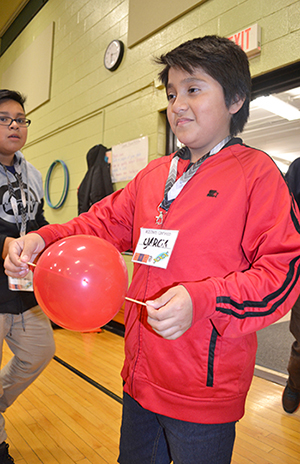 A Cena y Ciencias participant shows the balloon that he completely put a stick through.
A group of around 80+ mostly Hispanic K–5 students and their families showed up for the November 5th Cena y Ciencias (Spanish for "Supper and Science") at Dr. Preston Williams Elementary School in Urbana. Jointly sponsored by SACNAS and I-MRSEC, the program is addressing materials such as polímeros (Spanish for polymers)—the star of the November outreach. And while the free pizza most likely provided some incentive for families to take part, based on the youngsters' excitement, it was apparent that participating in the different hands-on science activities led completely in Spanish was their main focus during the evening.