Physics' Lorenz Shines a Light on Invisible Light as Part of
I-MRSEC's Musical Magnetism Program at Franklin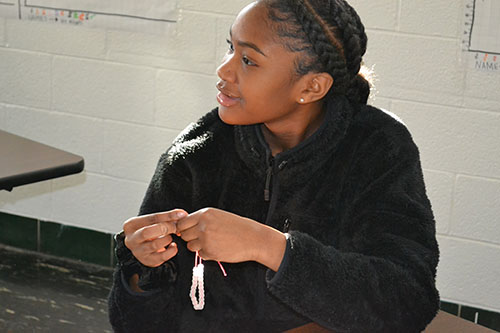 A Franklin STEAM Studio eighth grader works on a bracelet made of special UV-reacting beads.
January 21, 2020
What better way to get Franklin STEAM Academy seventh and eighth grade students interested in science than by couching it in fun, hands-on activities and demonstrations and encouraging them to express what they've learned in some mediums they love—music, hip hop/rap, and videos. This is the goal of the Musical Magnetism program sponsored by I-MRSEC (the Illinois Materials Research Science and Engineering Center), Illinois' NSF-funded center which focuses on some of the properties of materials, such as magnetism. The main project of the Jan 13–March 6, 2020 program is this: students are to select a specific topic related to magnetism, research it, then create a music video to be previewed at a video release party on the final day of the program.
I-MRSEC's Musical Magnetism curriculum dovetails with the school's emphasis on STEAM, which uses the Arts (A) to address STEM (Science, Technology, Engineering, and Mathematics). So for eight weeks, Franklin students will be learning about science and materials and exploring magnetism. The in-depth look at magnetism will include the opportunity to "Destroy a Toy" (take a MagnaDoodle apart), take a look at some "Magnetism Technologies," and "Build a Toy."
Virginia Lorenz and Pamela Pena Martin do an activity using infrared light. Lorenz is holding an i-Pad loaded with software that uses infrared light to detect the heat signature of a Franklin student who is hidden behind a black garbage bag, holding up several fingers, which Lorenz and Pena Martin are to guess using the infrared image.
The Arts emphasis will introduce students to various aspects of music and video making. Activities will include a presentation by guest artist Jamie Roundtree, how to make a music video, how to write lyrics, audio recording and video storyboarding, and different beats in music. Other activities will include a field trip to MRL (the Materials Research Lab, home of I-MRSEC), and a career panel comprised of an MRL staff scientist, a professor, and someone from industry.   
For the program's introduction to materials sessions on January 16th, Physics Associate Professor Virginia Lorenz and two of her graduate students did an activity about materials and light with the seventh and eighth graders.
First, Lorenz discussed light—both the visible light spectrum and types of light which can't be seen by the human eye. After talking about the visible light spectrum, she explained that infrared light has a longer wavelength than visible light and is therefore invisible to the human eye. She also addressed ultraviolet light, which has a shorter wavelength than those that make up visible light. This type of light has both fun and not-so-great consequences; for instance, while it makes black-light posters glow, which everyone loves, it's also responsible for sunburned skin.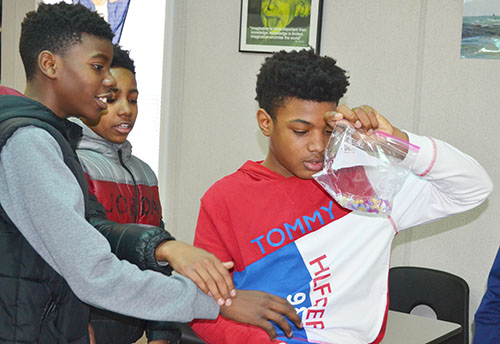 Franklin seventh graders examine a student's beads which have changed color after being exposed to UV light.
Next, the team of researchers led the Franklin students in an engaging, hands-on activity designed to test the effectiveness of sun screen in preventing sunburn. First, students received plastic bags containing special beads which turned various colors when exposed to UV light—which they immediately tested using special UV flashlights, as well trooping outdoors into the sun. The experiment involved teams of students who were to test three lotion samples (labelled A, B, and C), to see which provided the least vs. the most protection from the sun's UV rays. For the experiment, students applied the different lotions to the outside of their plastic bags to determine which provided the most protection. Following thorough testing, they discovered that A provided the least while C provided the most protection.
Finally, after the experiment, the kids got to make bracelets or necklaces from the beads, which they were allowed to keep—a stroke of genius that would remind the students of the lesson on UV light every time they stepped out into the sunshine!
Lorenz says she signed up to do her lesson on materials and light at Franklin partly because it's part of her role as the outreach director for I-MRSEC. However, she also likes to get involved outreach activities like this one because she hopes to "bring science to the public and especially children whom we'd love to see grow up to become scientists."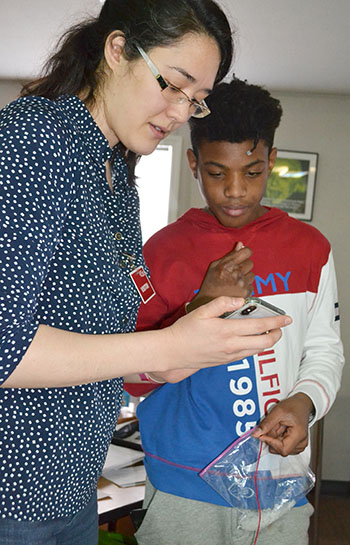 Virginia Lorenz shows a seventh grader a YouTube video of someone who created a large art project using materials that react to UV light.
According to Lorenz, her goals for her activity were "for the students to feel empowered to explore and discover things about the world on their own, to have the knowledge of scientific methods that allow them to do so, and to have a good memory of fun with science."
Lorenz shares how Musical Magnetism is beneficial for her and her colleagues: "It's easy to forget how cool science is and how far we've come in our understanding; by working with the Franklin students we are reminded of how exciting it can be to learn something new about the world."
She shares what she considers to be one of the benefits for the kids: "Interacting with scientists exposes them to potential careers that might seem mysterious otherwise and gives them a direct connection to that community."
---
Story by Elizabeth Innes, Communications Specialist, I-STEM Education Initiative. Photos by Elizabeth Innes, unless noted otherwise.
For more I-STEM web articles about I-MRSEC, see:
More: 6-8 Outreach, I-MRSEC, Underserved, 2020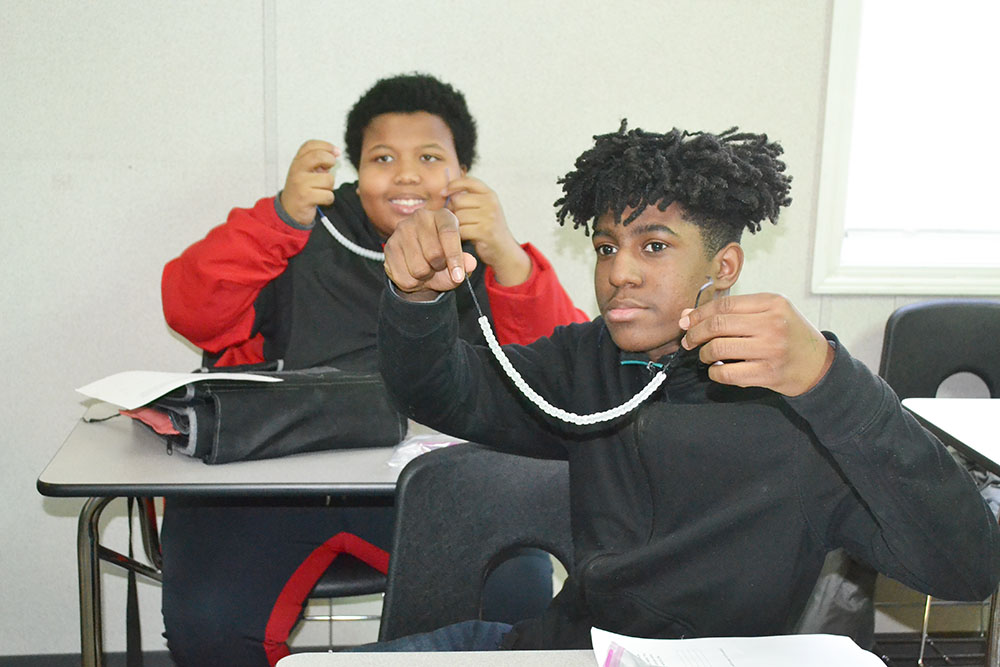 Franklin seventh graders show off the necklaces they've made from special beads that react to UV light.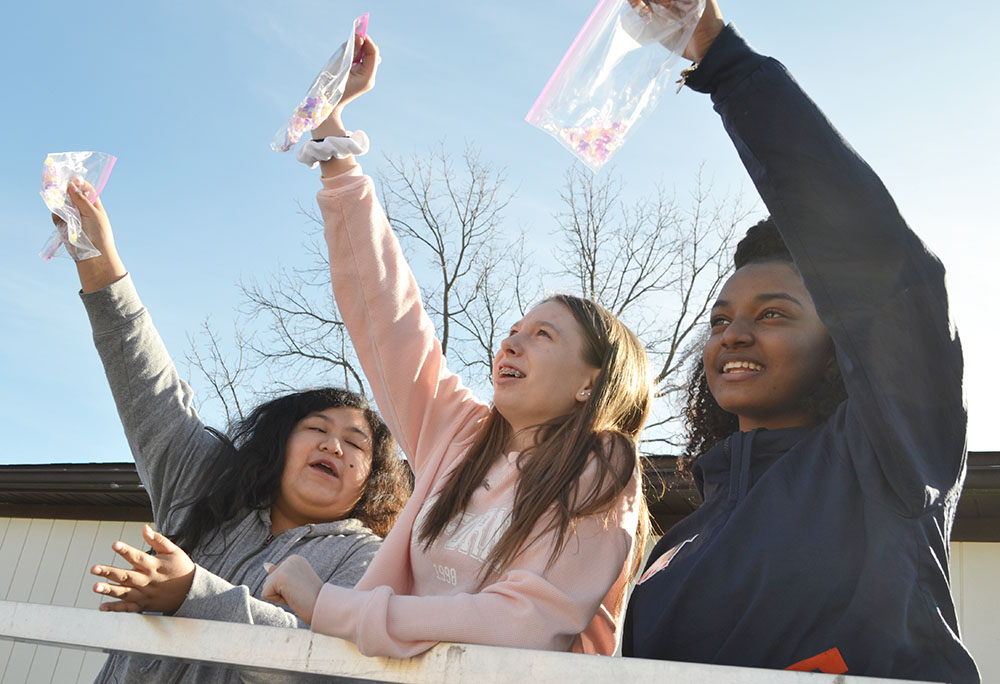 Franklin seventh graders show off the necklaces they've made from special beads that react to UV light.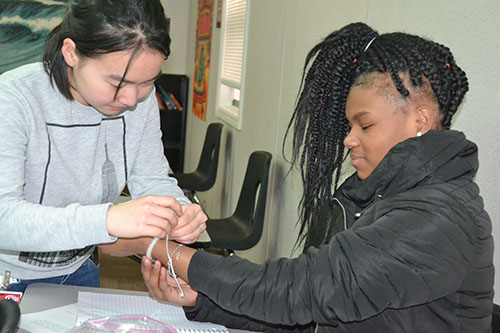 Lorenz' PhD student, Junyi Wu ties the bracelet a Franklin student has made on her wrist.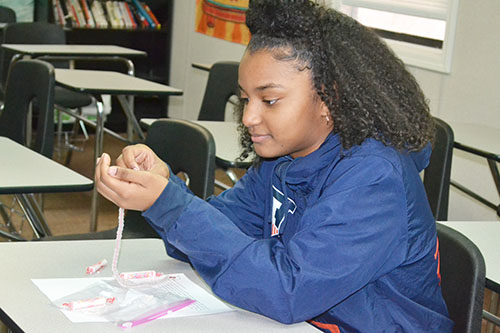 A Franklin seventh grader makes a bracelet with the beads that react to UV light.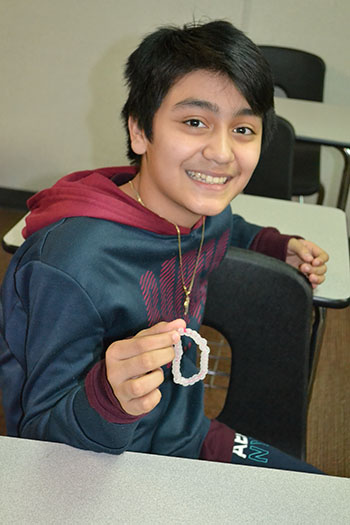 A seventh grade boy proudly displays the bracelet he made.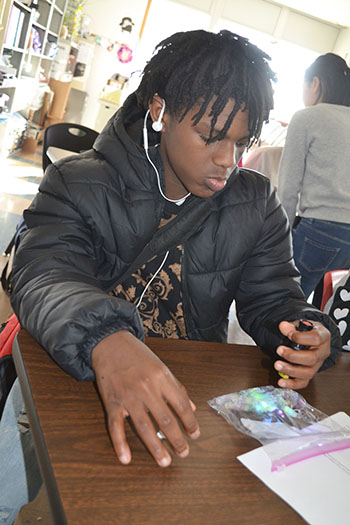 A Franklin eighth grader shines a UV flashlight on a bag of special UV beads he has coated with lotion to test its ability to "protect" the beads from UV rays.