About Us
Our vision for Illinois as a land-grant institution is to foster accessible, effective STEM teaching and learning—rom preschool through graduate education—at local, state, and national levels, thereby preparing a highly able citizenry and diverse STEM workforce to tackle pressing global challenges.
As we become more reliant on advances in science, technology, and engineering to meet challenges in national defense, climate change, health, energy, economic growth, safe and accessible food, and environmental protection, the demand for highly able scientists, engineers, and health professionals reaches unprecedented levels.
National Academy of Sciences, 2008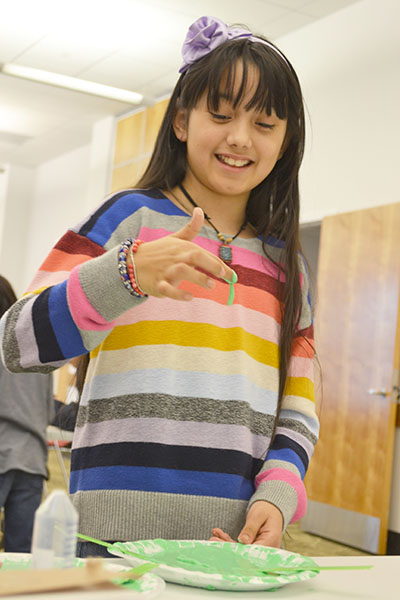 A local visitor to Ciencias! plays with slime at the States of Matter station; Ciencias! is a program supported by university groups such as I-MRSEC, an NSF Center I-STEM evaluates, and SACNAS, a Hispanic student organization.
Why a Campus Focus on STEM Education?
Our world increasingly relies on science and technology to solve some of today's most intractable problems. As noted in the National Science and Technology Council report, Federal Science, Technology, Engineering, and Mathematics (STEM) Education Strategic Plan (2013), improving STEM education will continue to be a high priority. In addition, as noted by the Committee on STEM Education of the National Science & Technology Council (2018), the character of STEM education "has been evolving from a set of overlapping disciplines into a more integrated and interdisciplinary approach to learning and skill development." Perhaps at no time in our nation's history has a strong, comprehensive system of education been so essential in order to promote STEM literacy for the individual, for schools, and for all society in the 21st century. As challenges mount in such areas as national defense, climate change, health, energy, economic growth, food safety and accessibility, and environmental protection, so does the demand for highly able scientists, engineers, and health professionals. As the flagship campus of one of the nation's premier land-grant research universities, the University of Illinois at Urbana-Champaign is committed to playing an active role in the improvement of innovative, multidisciplinary STEM education at all levels.
What is STEM?
The acronym STEM refers to four broad fields: science, technology, engineering, and mathematics. This can include teaching, learning, conducting research, or working in one, or a combination, of these areas.
What is I-STEM?
The I-STEM Education Initiative (I-STEM)—a campus coalition grounded in Education and led by the Office of the Provost under the CITL (Center for Innovation in Teaching & Learning) umbrella—involves Liberal Arts & Sciences, Education, Engineering, Agriculture, Veterinary Medicine, Applied Health Sciences, Medicine, Library and Information Sciences, Social Work, the National Center for Supercomputing Applications, Beckman Institute for Advanced Science and Technology, the Institute for Genomic Biology, and other units. I-STEM collaborates with Illinois campus units and external organizations locally and around the world to meet three goals:
Foster STEM Citizenship Through STEM Communication & Public Engagement.
Foster Undergraduate & Graduate STEM Education Reform.
Advocate for STEM Education; Disseminate Evaluation Information.
I-STEM works with internal and external partners to evaluate STEM education programs, provide news coverage of STEM initiatives and events; facilitate the development of education and outreach programs; serve as advocates for STEM education in the state and the nation, such as at national conferences; and to disseminate results regarding STEM Education evaluations.