Contact Information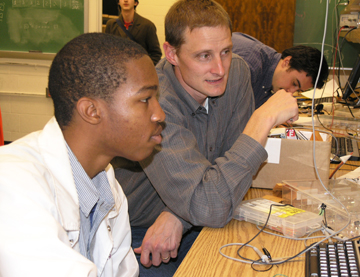 Instructor Christopher Schmitz works with ECE 101 student during lab.
I-STEM Education Initiative
313 Noble Hall
1209 S. Fourth St.
Champaign, IL 61820
MC 508
Ph: 217-333-9625
Website: www.istem.illinois.edu
Email: i-stem@illinois.edu
Email: I-STEM Webmaster
I-STEM-NEWS Listserv
I-STEM's listserv provides subscribers with information about upcoming STEM education opportunities: deadline dates and funding information from funders, seminars, and other STEM-education-related events. To subscribe to I-STEM-NEWS, send an email to: listserv@listserv.illinois.edu, including only the following text in the body of the email: subscribe I-STEM-NEWS.
Our Location
The I-STEM Education Initiative is located in Noble Hall just north of the ARC on Peabody. Parking meters are available in the E-24 parking lot just west of the ARC.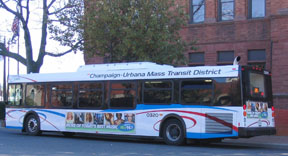 Champaign-Urbana MTD bus on campus.
Public Transportation
Champaign-Urbana Mass Transit District (C-U MTD) buses serve the local community and the University campus. Long distance transportation to the Champaign-Urbana area is provided by Amtrak trains, Willard Airport and other regional airports, and several bus companies.
Parking Options
Bicycle Parking
University bicycle racks have been strategically placed throughout campus. Biking is a convenient, fast, and inexpensive way to get around the large campus.
Motorcycle Parking
The university requires permits for all motorcycles and mopeds, which must park in designated "Motorcycle Parking Permitted" areas. The closest area is on Sixth Street between John and Daniel Streets. Motorcycle parking areas are designated by stars on the campus map. Visit Campus Parking or call 333-3530 for further information.
Automobile Parking
City of Champaign Parking
City of Champaign metered spaces along Peabody Street
City 2-hour metered spaces run along Peabody Street, just south of I-STEM. Additional metered spaces are available in Lot E-24, just west of the ARC. The meters are enforced from 7:00 am-9:00 pm, Mon-Sat. The rate is 75 cents per hour.
City of Champaign's University District Parking Information
University of Illinois Metered Parking
Parking Lot E-24
University parking lot E-24, which is located to the west of the ARC on Peabody. IIt contains a number of metered spaces, enforced Mon–Fri from 6AM–5PM. The rate is 75 cents per hour.
More University Parking Information
University parking in metered or reserved spaces is free on Saturday and Sunday (unless the signs indicate otherwise; note that short-term red parking meters are never free).
Parking Reserved by I-STEM
When organized I-STEM events provide parking for invited participants, I-STEM staff will communicate details directly to participants.