Musical Magnetism's Destroy-A-Toy Activity: Messy, But Definitely Curiosity-Driven and Educational!
February 13, 2020
"But we also want to make sure that it's, first and foremost, about the students. So, putting ourselves in their shoes and thinking about what will be engaging and interesting and encouraging at that age." – Pamela Pena Martin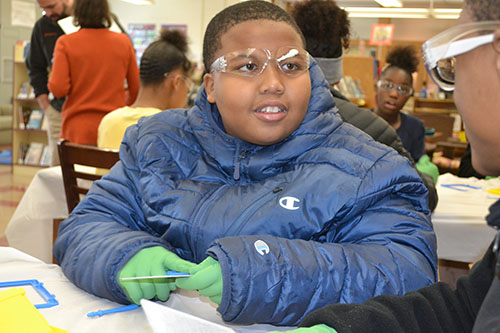 A Franklin student takes his Magnadoodle apart.
The challenge for the Franklin STEAM Academy seventh and eighth graders participating in the Musical Magnetism's Destroy-A-Toy, hands-on activity was to discover what makes toys like a Magnadoodle or an Etch-a-Sketch work. After all was said and done, they learned that it was magnetism. (After all, in a program called Musical Magnetism, it's apparent that either one or the other must be involved.)
Here's how the activity went. Each kid received a toy (purchased from the Dollar Store for $1 each!) Then after first doodling on the toy for a bit to see it in action, they donned rubber gloves and goggles and set about tearing the toy apart. Once they had finally gotten into the thing's innards, and once they had gotten past the ooey-gooey, noxious-smelling suspension liquid necessary for its operation, the students discovered what allowed users to sketch, why their drawing remained, and why using the slider removed their artwork. Tiny iron shavings suspended in the thick white liquid were attracted to a magnet-tipped stylus, which made the drawing and caused it to stay in place. Of course, a long magnet attached to the "wiper" served to erase the screen clean of its drawings. So what did students learn as a result of the activity? They learned one way magnets can be useful in everyday life. They also learned that through curiosity, exploration, and perseverance, one can learn a great deal.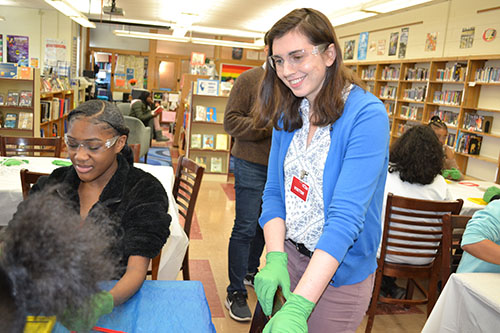 Physics' Secondary Education Partnership Coordinator, Maggie Mahmood interacts with a Franklin STEAM Studio student.
Helping Pamela Pena Martin, I-MRSEC's outreach coordinator, with set-up, clean-up, and more importantly, steering the inquisitive students in the right direction and underscoring their findings, were a couple of folks whose skills and passions closely align to I-MRSEC's goals: Maggie Mahmood, who encourages messy learning, and Kisung Kang, who loves magnetism.
Physics' Secondary Education Partnership Coordinator, Maggie Mahmood, is a researcher in physics education research. In fact, she used to be a physics high school teacher. Mahmood is currently researching various pathways that different groups of students take through Illinois' engineering programs. She's specifically tackling where the bottlenecks are for particular subgroups (such as women and minorities), in terms of first matriculating into engineering, then, going through the physics sequence, and finally getting a degree in engineering.
Mahmood got involved with Musical Magnetism because she actually used to do music videos with her physics and math students, which is basically what the Musical Magnetism program is doing. She says her students were "basically taking content-related vocabulary and changing the words to popular songs in order to make some sort of like content music videos," she says,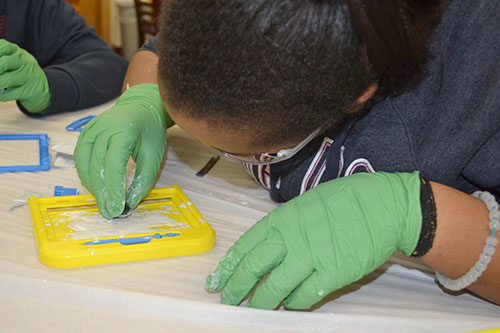 A Franklin student uses the magnet that was inside her Magnadoodle to play with the iron shavings in her toy's white suspension fluid.
Another aspect of her job at Illinois is outreach and partnership, "So this was yet another way that I felt I could be involved in the community. And so just everything kind of clicked and intersected in that way, which is nice."
What was Mahmood's favorite part of the Destroy-a-Toy activity? She first acknowledges her least favorite part: "Well, I don't like cleaning it up," she admits. "But I really do like when the students find things out by getting messy," which is perfect, given the messy state of the students' gloves, work areas, and even clothes, following the Destroy-a-Toy hands-on activity. "I think that's sort of a theme with me as a teacher.  I definitely like messy projects and things where there isn't necessarily always this beautiful defined end, but maybe a kind of like gross mess that then you patch together and then you find out something different than maybe what you were expecting."
She definitely found the activity rewarding. "So I like doing that, but yeah, this was really fun. And just seeing how excited the students were and even just putting on the gloves and goggles here and seeing them light up, that was nice. But my favorite part of any of these days is just interacting with the students and getting to know them, and it's really fun."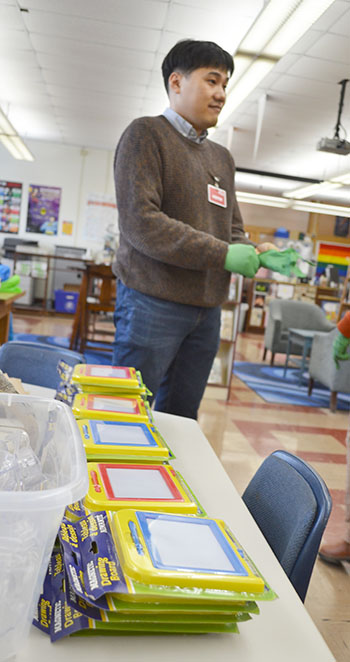 Kisung Kang prepares for Franklin students to enjoy the Destroy-a-Toy activity.
For Kisung Kang, a 4th year PhD student, the outreach is right up his alley as well; his research is magnetic simulation. He explains why he volunteered to be involved with Musical Magnetism.
Indicating that his research is too complicated for the general public, he reports that this kind of outreach can give the students some simple ideas about their research. He also claims that by participating in hands-on activities about each magnetic principle, the students can learn how these simple principles are related to more complicated research.
Kang's favorite aspect of this particular hands-on activity was the kids getting to break down the magnetic drawing board to see what's going on inside of it, which was the main emphasis of this particular activity. He was excited that they were getting to learn about the physics of the mechanism: "doing something with the real parts and seeing what's going on inside of this stuff and learning the real physics inside of this stuff."
What's the benefit for Kang? Why put his important research on hold and get out of his lab for a few hours to come spend time with the Franklin kids? "For me it's kind of like refreshing myself. So sticking in the laboratory is kind of a boring job, but when I meet students like these, doing this kind of stuff, then I can remind myself I was once a kid in middle school, who was eager to study about the sciences. So it's kind of reminding myself."
Regarding the benefits for the students, Kang reports: "Well, they usually spend most of their time with science teachers, but not real researchers like us or a professor. This kind of gives them some chance to communicate with the real scientific experts. They can meet and then discuss what's going on in the real word. I think this is kind of a valuable experience for the students."
For Pamela Pena Martin, I-MRSEC's outreach coordinator, her favorite part of the Musical Magnetism program is seeing the students get turned on to science. "Just getting to know the students that are in the program," she says, "and seeing how excited they are about science, and watching them engage and be curious, and find an opportunity to just interact with science and feel positive about it."
Regarding what she finds the most challenging about the Musical Magnetism program, she admits that organizing and administrating it is quite a challenge.   "It's a lot of work to organize the program, to think about the order of things, to make sure that there's a lot of engaging activity. We have things that we do in our center, and things that we hope students will learn."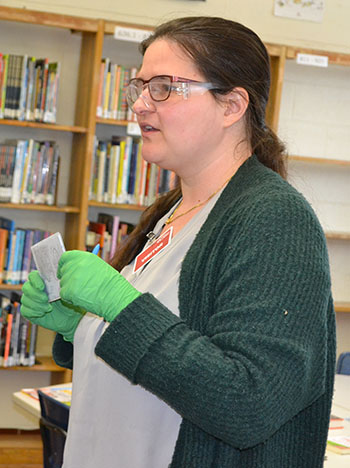 Pamela Pena Martin explains the Destroy-a-Toy activity to Franklin students.
However, the biggest challenge, according to Pena Martin, is making sure it engages the students. "But we also want to make sure that it's, first and foremost, about the students. So, putting ourselves in their shoes and thinking about what will be engaging and interesting and encouraging at that age."
Regarding the impact Pena Martin feels it's having on the kids, she reports:
"I feel like they've been more readily participating in the activities. I think they're taking challenges more. They seem to be really interested."
---
Story by Elizabeth Innes, Communications Specialist, I-STEM Education Initiative. Photos by Elizabeth Innes, unless noted otherwise.
For more I-STEM web articles about I-MRSEC, see:
More: 6-8 Outreach, I-MRSEC, Underserved, 2020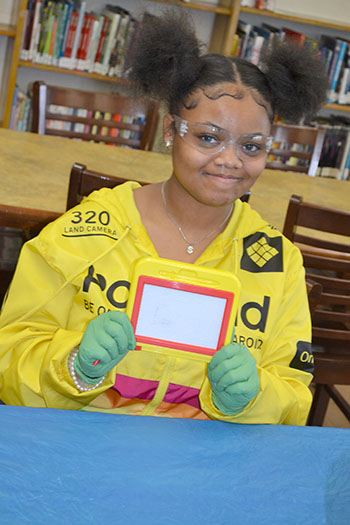 A Franklin STEAM Studio student with her erasable writing sketch pad.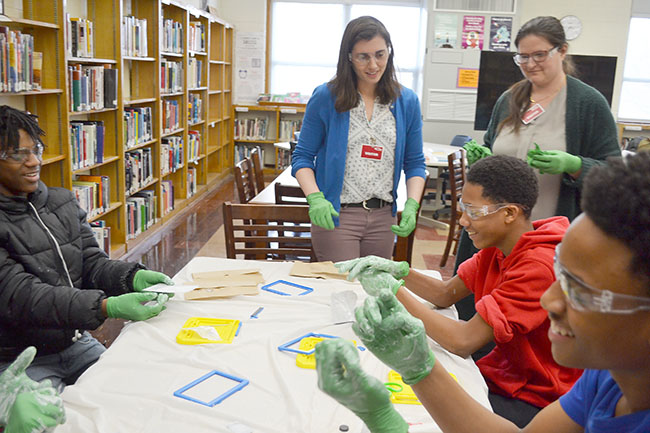 Maggie Mahmood and Pamela Pena Martin (standing) interact with Franklin students who have finished "destroying" their Magnadoodles.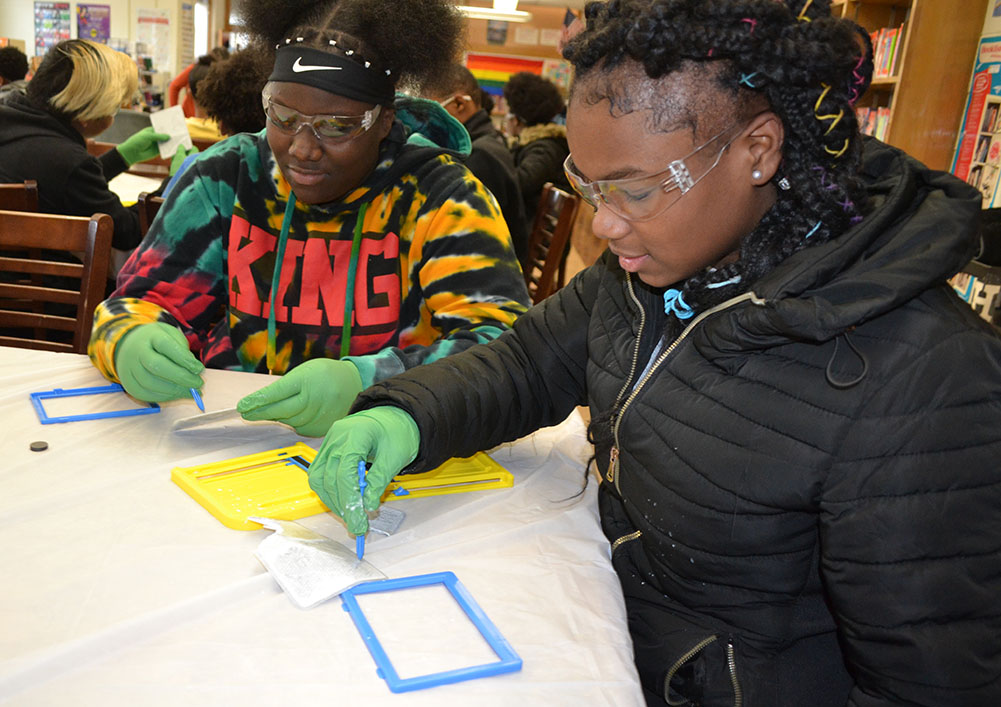 Franklin students finish dismantling their Magnadoodles.