Stories about... Sustainability
Sustainable Futures Campers Experience Sustainability In and Out of the Classroom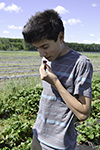 June 23, 2016
In its third year, the six-day 2016 Sustainable Futures camp from June 5th–10th, exposed ten high school students to sustainability, both in the classroom and in the real world via tours of local sustainability efforts. One key activity was students' final group projects, 21st Century Scenarios, which they presented on Friday to camp leaders and several parents. What drew the students to the camp? In addition to learning more about sustainability, several acknowledged that they hoped to discover if a career related to it might be right for them.
---
CGS's Summer Camps Teach STEM With a Global Flavor; Act as a Bridge to College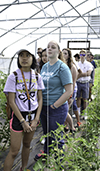 June 7, 2016
While one might not think of Illinois' Center for Global Studies (CGS) as a STEM unit, two of its three summer 2016 camps address STEM topics…from a global perspective. Sustainable Futures, from June 5–10, addressed a number of topics regarding sustainability. Global Health, in its first year, will address communicable diseases and epidemics. (The third, non-STEM camp is Intensive Arabic.) CGS Outreach Coordinator, Jeremie Smith, admits that while their camps are a lot of work, they're valuable in a number of ways.
---
Sustainable Futures Workshop Stokes High Schoolers' Passion: Sustainability
June 27, 2014
What prompted 14 high school students to give up prime time lounging by the pool to attend the Sustainable Futures summer workshop? Some came to explore career options; however, others, whose career aspirations were not necessarily related to sustainability, didn't. But no matter how disparate their career goals, they all had two things in common: they wanted to change their world, and they all were passionate about sustainability.
FULL STORY
---