MERGE Program Gives Underserved Students a Glimpse of Grad School at Illinois
September 30, 2016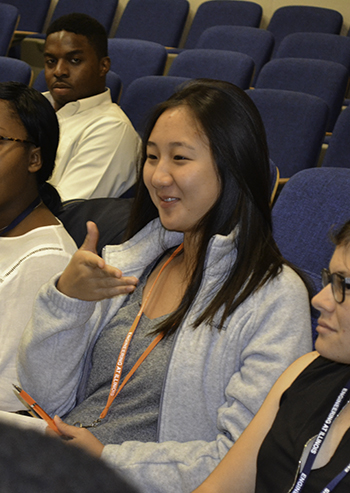 A MERGE participant asks one of her questions during one of MERGE's sessions.
"What's it like to be a graduate student at Illinois?" What kind of funding is available?" "How cold does it get here?" These are some of the questions 48 underrepresented students, mostly undergrads, who participated in the College of Engineering's MERGE program hoped to get answered during their campus visit on September 30th–October 1st, 2016. The goal of MERGE (Multicultural Engineering Recruitment for Graduate Education) and the Engineering departments who invited these African-American, Latino/a, Native American, and female students for the weekend was that they might experience Illinois; its research, resources, and students; get their questions answered; and ultimately come to graduate school here.
According to the Rhonda McElroy, Engineering's Director of Graduate Programs and MERGE Coordinator, the program received around 119 applications to participate in the fall 2016 two-day event. McElroy says she works with the departments, and together they decide which students to invite:
"We want to make sure departments have a say," says McElroy, "since they do the admissions process. We want to bring in students who have a solid chance of being admitted to the university. So we actively recruit those that can be strong applicants in the application pool."
In addition to the application, students submitted a one-page personal statement explaining their plans for grad school, such as seeking a Masters or a PhD. They also submitted transcripts showing how well they've done in their courses, along with their resume, which lists leadership or research experiences.
According to McElroy, the departments are evaluating, "Is this a potential recruit we would like to go after? Do they have the right GPA to be considered for recruitment into our department? "Would they be able to compete in the rigor of our courses?"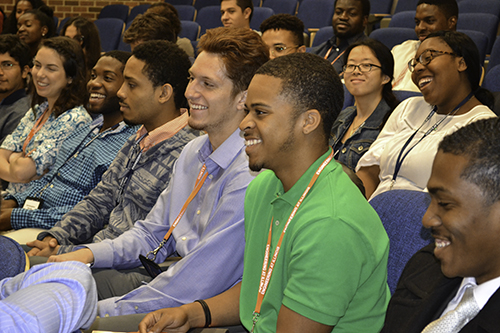 MERGE participants enjoying one of the presentations.
During the application process, Engineering departments evaluated the students to see if they would be a good fit at Illinois; however, once the students arrived, they were the ones evaluating, to see if Illinois would be a good fit for them. And MERGE planners worked hard to show visitors that Illinois' faculty and research opportunities, resources and funding opportunities, and students make it the perfect place to go to school.
Regarding Illinois' students, a number of events encouraged visitors to meet and get to know current students. McElroy says she likes having current Illinois grad students around because, "Often they [visitors] want to ask students certain questions, and not faculty or admissions." And to provide opportunities for student-to-student interactions, Illinois students were assigned to be ambassadors to the visitors, "so that they can be connected before they come for the visit, and after," McElroy explains.
In fact, some Illinois students who volunteered to serve as mentors or ambassadors were previous MERGE participants, "Because they remember the value it added to them," says McElroy.
While the students were arriving on Thursday, no social events were planned. However, students were on hand to take visitors on campus tours or to the Illini Union to hang out and answer any questions.
But a social event was planned for Friday night so MERGE participants could meet and get to know some current grads in an informal setting—bowling, pool, and pizza at the Illini Union. "It's all informal; you just get to hang out and be yourself," says McElroy. And although MERGE administration was around to serve pizza, McElroy admits, "We just kind of let it be students who all just talk to each other."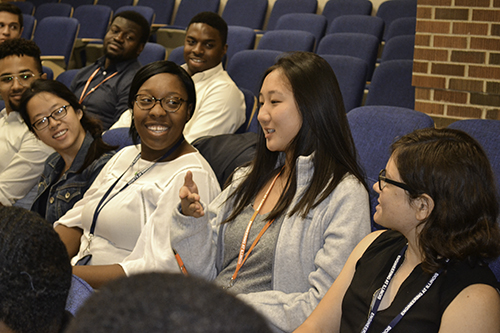 A MERGE participant gets one of her questions answered.
Another activity that fostered student communication was a student panel, where visitors could ask current grad students any questions they might have about campus and what being a graduate student is like. "So we want them to leave knowing what grad life would be like here at Illinois," McElroy explains.
And it wasn't just MERGE participants and Illinois students who got to know one another. McElroy says the MERGE students also built relationships with each other. "It's nice to see them all connect…It's really fun to watch them exchange contact information, and I think they correspond a lot with one another; they start that networking."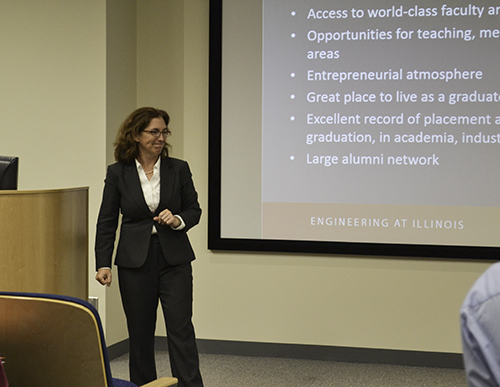 Jennifer Bernhard, Engineering's Associate Dean for Research, shares her presentation with the MERGE students.
In addition to introducing the visitors to Illinois' students, MERGE introduced them to the University's numerous resources. For instance, Friday morning, Harry Dankowicz, Engineering's Associate Dean of Graduate Programs, welcomed the visitors and gave them an overview of Engineering and cited some of its strengths. Jennifer Bernhard, Engineering's Associate Dean for Research, shared with students about research at Illinois, and exhorted students that while they're "shopping," to be sure to do their homework in order to find the researcher on campus who is perfectly suited to their needs as graduate students. The one point she wanted students to be sure to take away from her talk—to be sure to check the professor's name on their application, plus include it in the final sentence of their personal statement.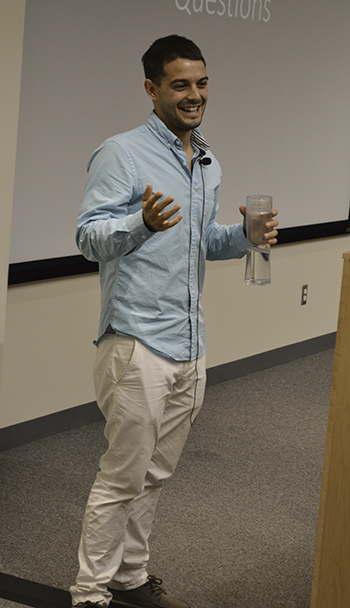 Computer Science Ph.D. student & MERGE alumni Joseph DeGol
Also, according to McElroy, it's really important for students "to understand that we have those mentoring appointments here, and that you are not alone, and you will have the necessary support." So after Bernhard's talk about research, Joseph DeGol, an Illinois Computer Science Ph.D. student and former MERGE participant, talked to the students about another important resource: mentoring.
Because DeGol had fairly recently been through a lot of what these students are now facing, students were able to easily connect with him. He shared how his quals had been a major milestone, how he had gone about finding his mentors, and how he himself was involved with mentoring both undergrad and grad students. Students asked him a number of questions, ranging from what was his most challenging thing he'd encountered at Illinois (it wasn't his quals; it was juggling his three different advisors). MERGE participants were also quite interested in his research and his startup company, and how he was able to manage his time.
One of the main purposes of MERGE was for prospective students to understand the kinds of research opportunities available to them in Engineering. So after DeGol's talk, students dispersed to their departments, where they met current students in their discipline, visited labs to discover the various kinds of research that goes on there, and met with faculty.  "So they spend the entire time embracing the department's environment and atmosphere and people." McElroy says.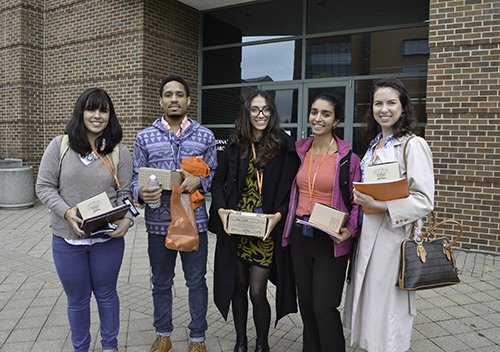 Armed with their lunches, five MERGE participants prepare to head over to the Material Science and Engineering department for lunch and to meet with some of the department's students and faculty.
Another purpose of MERGE was for visitors to learn about funding and other resources available at Illinois. So on Saturday, Ken Vickery, Director of External Fellowships, apprised students of what kind of funding Illinois has to offer, and Ave Alvarado, Director of the Grad College's Office of Educational Equity Programs, informed students of resources available here, and various student support groups. They also shared something else students might appreciate: the cost of living here is not as expensive as in other places in the country.
How successful has MERGE been over the years in terms of recruiting underrepresented students? McElroy says that out of the 48 who participated in MERGE 2016, over half will most likely apply to Illinois. And she says that some years, "a high majority of that half get accepted and come here."
McElroy's office keeps track of MERGE participants, often long past the initial MERGE weekend. For example, one thing she finds particularly rewarding about her job is watching students graduate. "I love May," she admits. "I love when they come in so excited because they are graduating."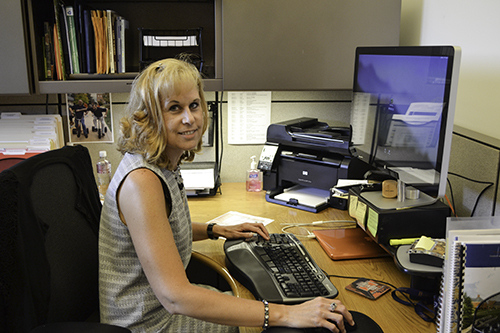 Rhonda McElroy, Engineering's Director of Graduate Programs and MERGE Coordinator
"They do come back and see me," McElroy adds, then goes on to share an anecdote about running into a MERGE alumni at a recent conference:
"A student came up to me and said, 'Do you remember me? I was one of your MERGE recruits last year.' Then he said, 'I didn't come [to Illinois] because I wanted to stay close to my family, but can I contact you for my PhD?' And I said, 'Absolutely!' The experience is very memorable for them. They leave feeling good. Whether they come here or somewhere else, my job is to educate them to be successful in grad school."
McElroy and her staff also appreciate hearing from MERGE participants who choose not to come to Illinois, particularly their reasons for not coming, and seek to address those issues if possible.
"We always look at the data of why they went somewhere else. And if it's in our control to fix, we absolutely work to implement a strategy to avoid being denied. But, 'I need to be close to family,' or 'There were two of us that needed to be considered,' those reasons are out of our control. We can't do anything to change that."
How serious is Engineering about wanting to increase the number of underrepresented students who come to Illinois? "We pay for everyone to come here, "McElroy admits. "We pay for their air expenses and their hotel accommodations."
And McElroy is pretty serious about helping the students too.
"You know, I don't view this as 'This is my job.' I love what I do. I truly do. At the end of the day, just watching a student smile because I helped them get through a hurdle is rewarding enough. Because you helped someone accomplish the next step in their pathway—to me, that's just a rewarding experience every day."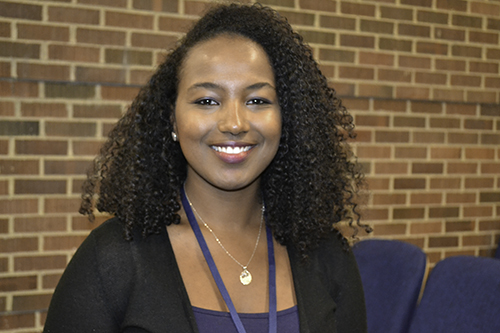 Yemeserach Mekonnen from Florida International University in Miami
Why did the students participate in MERGE and what were their expectations? Yemeserach Mekonnen, who recently completed her Master's Degree at Florida International University in Miami, hopes to get a Ph.D. in Electrical and Computer Engineering or Systems Engineering and came to check out Illinois.
Mekonnen was particularly excited about the faculty meetings in her two departments of interest, especially faculty who have the same interests that she does. "Just kind of to talk to them, get a feel for how they work, how research groups are conducted, what's the basic requirement of being in their research group, and things like that." She was also excited to "see the campus, to see how everything works within the Engineering College."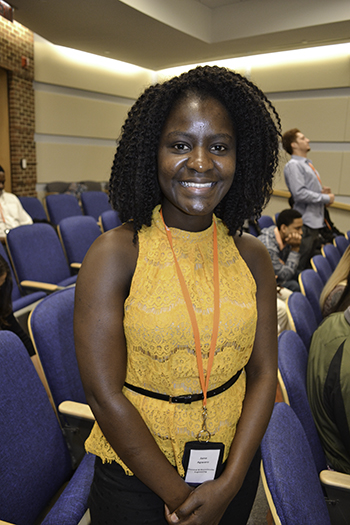 Jane Agwara, a senior at Tuskegee University in Alabama
Jane Agwaro, originally from Kenya, East Africa, is currently a senior at Tuskegee University in Alabama. Interested in pursuing a Ph.D. in Chemical Engineering or Biomolecular Engineering, Agwaro shares why she came to MERGE. "I really want to know how versatile the research projects are here at the U of I. I'm interested in meeting the professors and just seeing how passionate they are in their programs." She was also interested in "knowing the funding availability that they can give to students that have the potential to invent and be innovative." Agware also wanted to "just see the culture, and see how I can adapt and thrive in this program for the next five years of my life…or six or seven!"
Cesar Loera, currently a senior at Brown University, is deciding between industry and graduate school. He reports, "I want to know if I can find a mix of those two by continuing on to graduate school."
Santiago Salinas, a senior at the University of Florida, "Is the University of Illinois good for me, and what are the opportunities and challenges that a Ph.D. program has to offer?"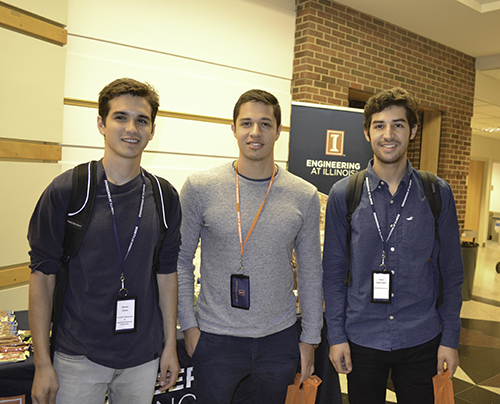 Three Aerospace Engineering MERGE participants, Steven Ceron, Santiago Salinas, and Cesar Loera.
Also from University of Florida, Steven Ceron is a senior in Mechanical Engineering, who is interested in Aerospace, hopefully Robotics. He shares his reason for participating in MERGE: "I want to explore U of I and see if it would be a good fit for grad school, meet some of the professors, explore their labs." What did he think so far? "Pretty good. I like the meeting that we had. Seems like a really good campus, really interdisciplinary."
Regarding one of MERGE's main goals—to answer students' questions about Illinois, how do she and her staff respond to the "How cold does it get here?" question, which, according to McElroy, is the #1 question they get? She says they don't prevaricate, equivocate, nor fudge on the truth. "We have to be completely honest with students," she acknowledges. "Because if we aren't, they will come here and they won't like it, and then they might leave."
---
Story by Elizabeth Innes, Communications Specialist, I-STEM Education Initiative.
For additional I-STEM articles about programs working to increase the number of underserved students at Illinois, see: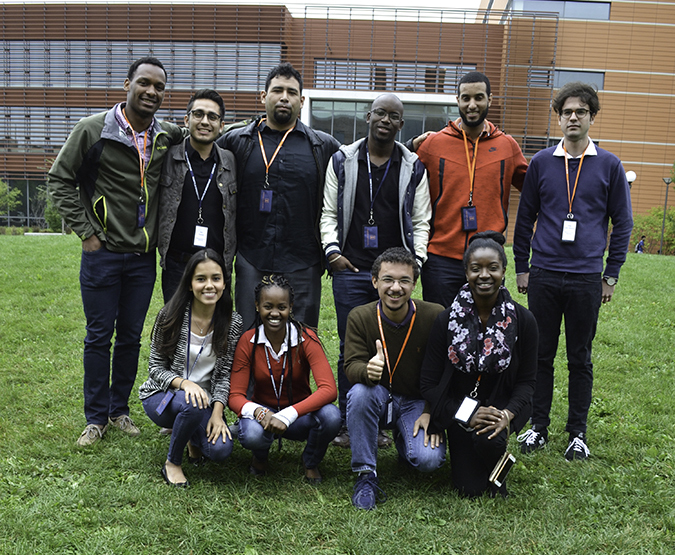 Mechanical Science and Engineering's MERGE participants.