i>clicker Clicks Further
November 14, 2009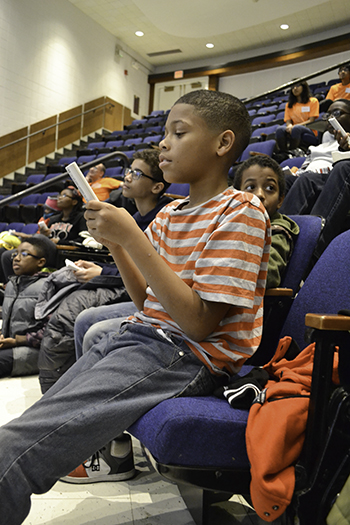 A Chicago Public School student uses an i>clicker during a visit to
Illinois.
i>clicker, an innovative classroom technology invented by Illinois physics faculty, is continuing its successful trajectory in the commercial world. A team of four University of Illinois physicists invented i>clicker in response to curriculum reform begun as a result of physics education research. Because of a need to poll students, they began to try a variety of methods ranging from flash cards to hand-made clickers. They sold the easy-to-learn, easy-to-use i>clicker system to Macmillan in 2005. Two of the inventors, Tim Stelzer and Mats Selen, remain key visionaries, active members of the product development team, and are heavily involved in all product decisions and the overall vision of the software and hardware. They also continue to travel for i>clicker pedagogical training sessions as i>clicker deploys in more educational venues.
Thousands of higher education faculty have implemented i>clicker in their classrooms, and it is used by more than 500,000 students in North America.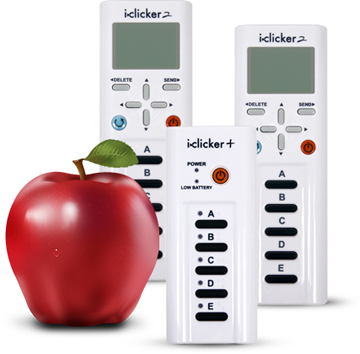 Images of I>clickers
i>clicker began when a team of University of Illinois physicists, inspired by a major curriculum reform based on physics education research, began experimenting with many solutions that facilitated student polling—from flash cards to their very own hand-crafted clickers. With the resources of Macmillan supporting their inventions, they built i>clicker—a classroom response system that is easy-to-learn, easy-to-use, and unfalteringly reliable.
Today, inventors Tim Stelzer and Mats Selen remain deeply involved in i>clicker's product development and commitment to pedagogy. Every decision—from hardware to software to support—is made in the classroom. In less than two years, i>clicker has been adopted by thousands of higher ed faculty and used by more than 500,000 students in North America.
---
For additional I-STEM articles about LLCs, see: No Longer Just for Sleeping, Illinois Residence Halls Provide Learning Via LLCs
Author/Photographer: Elizabeth Innes, Communications Specialist, I-STEM Education Initiative