Top STEM Education Stories
Our vision for Illinois as a land-grant institution is to foster accessible, effective STEM teaching and learning—from preschool through graduate education—
at local, state, and national levels, thereby preparing a highly able citizenry and diverse STEM workforce to tackle pressing global challenges.
Current STEM Ed Highlights
December 12, 2018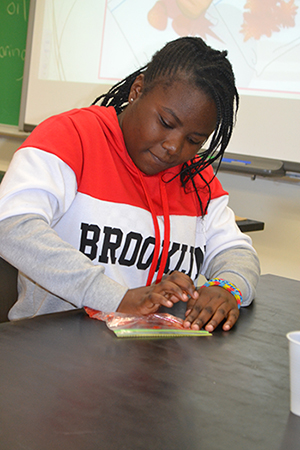 A student mashes strawberries so that she can collect the DNA from it.
Extract DNA from strawberries. Look at human cheek cells via a microscope. Make paper helicopters. These are some of the fun, hands-on STEM activities Jefferson Middle School eighth graders are getting to do courtesy of the MCBees, a graduate student organization from Illinois' School of Molecular and Cellular Biology (MCB). So, a couple of times a month from October 2018 through May 2019, MCB Ph.D. students (and postdocs) are putting their research on hold for an hour or so in order to share their passion for science with Elizabeth Wheatman's and Sammy Yoo's eighth grade students. The two science teachers appreciated the MCBees' spring 2018 activities so much that they invited them back for the entire 2018–2019 academic year too.
---
December 6, 2018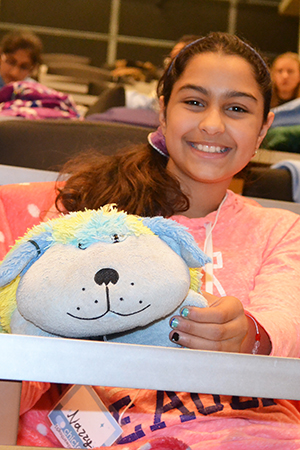 A Chic Tech participant gets cozy with her stuffed animal during Girls' Night.
Excited to interact with other girls (and women) interested in computer science, high school girls from all over the state showed up at ChicTech, a two-day event designed to expose girls to computer science (CS), some possible careers in CS, and to show them that they would have a ready-made community, the WCS (Women in Computer Science) group, should they matriculate to Illinois. And more importantly, during the workshops, they learned that, yes, indeed, they can do computer science.
One of the main goals of Chic Tech was to give participants a chance to learn that they can do computer science. The event featured three different workshops designed for girls with different levels of expertise...