Top STEM Education Stories
Our vision for Illinois as a land-grant institution is to foster accessible, effective STEM teaching and learning—from preschool through graduate education—
at local, state, and national levels, thereby preparing a highly able citizenry and diverse STEM workforce to tackle pressing global challenges.
Current STEM Ed Highlights
May 21, 2018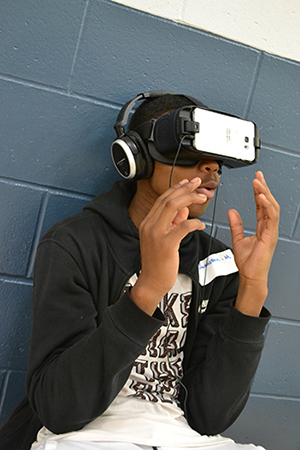 A UHS student experiences a roller coaster in virtual reality at AHS day.
On Friday, May 4th, around 20 Urbana High School athletes, along with their coaches, visited Illinois' College of Applied Health Sciences (AHS) for I-STEM's first ever AHS Day. During their visit, students were introduced to folks from the four different AHS departments (Speech & Hearing Science; Community Health/Health Sciences; Kinesiology; and Recreation, Sport, & Tourism). There, the high school students not only learned some things they hadn't known before about the various presenters' research areas, but they were also introduced to some possible college majors they've most likely never considered before. Plus, they also got to meet some of the College's students, including a few athletes, and find out what it's like to be a student in AHS at Illinois.
---
May 11, 2018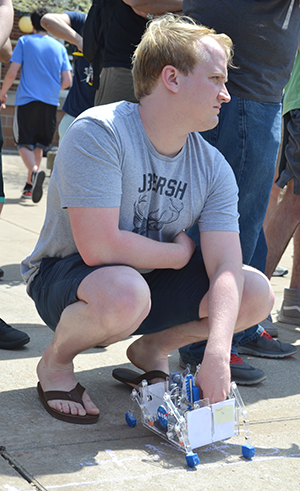 An ME370 student prepares to race his automaton.
It was noon on Wednesday, May 2nd on Engineering Quad, and the hopes and dreams of a group of Mechanical Science and Engineering (MechSE) students were riding on the little robot they'd built for the ME370 projects course final competition: the March of the Automata. Their motivation? If their team's automaton won the race, they'd not only have bragging rights, but they'd get a bye on the upcoming final exam.