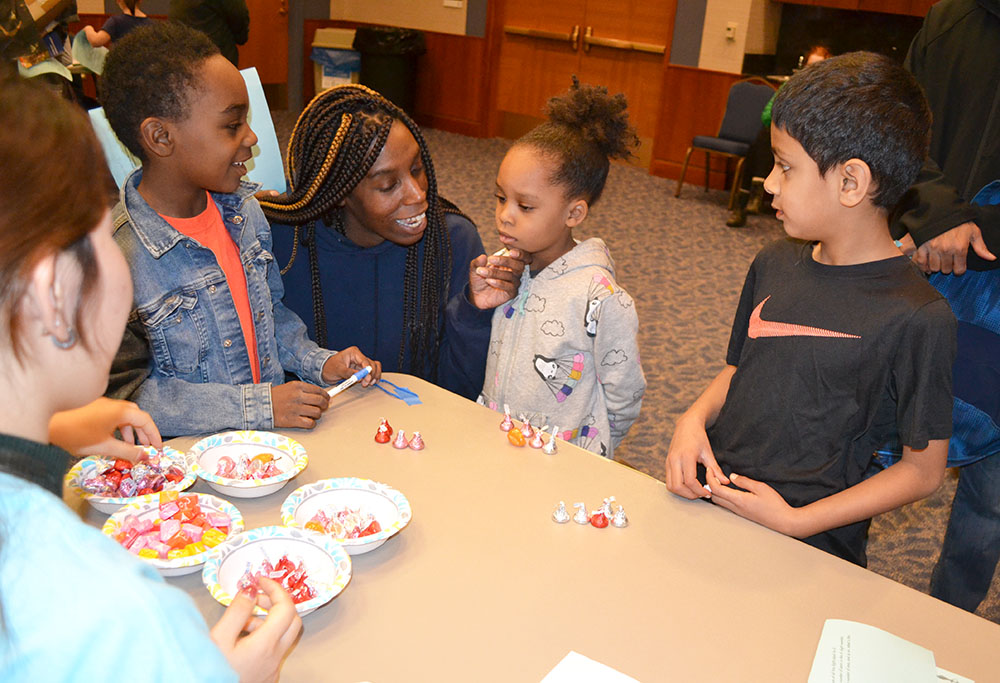 A local mom comforts her daughter who had ended up having to take the chili, which means she lost the Chocolates and Chili game.
Full article
---
Current STEM Ed Highlights
February 12, 2020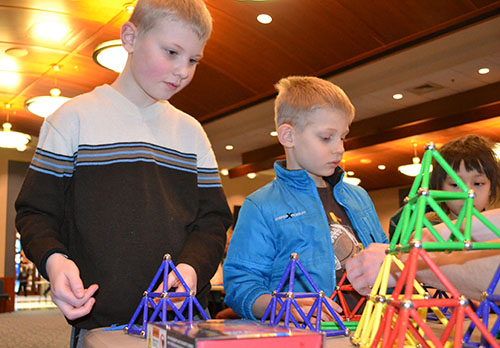 Young visitors create fractals during the Winter Math Carnival.
Math can be fun! This was the idea behind the Winter Math Carnival held at the Alice Campbell Alumni Center on February 2nd from 2:00–5:00 pm. It drew around 150 families and 400–500 people overall—parents, grandparents, and a whole lot of kids having a good time. Sponsored by Illinois Geometry Lab (IGL), a key research/outreach program of Illinois' Mathematics Department, the carnival featured a variety of hands-on, math-related activities and games that encouraged the youngsters to think. Plus, in addition to some goodies, kids had a chance to interact with math students who were eager to share their passion for what they do and how much fun math can be.
Organizing the event were a couple of Illinois Math PhD students. For instance, Simone Claire Sisneros-Thiry got involved because she was the graduate leader for IGL's development of exciting outreach material. Her fellow co-coordinator, Elizabeth Field, has served as a mentor for a couple of undergraduate student research projects. Of course, the Director of IGL, Math Associate Professor Philipp Hieronymi, was also integrally involved.
---
February 5, 2020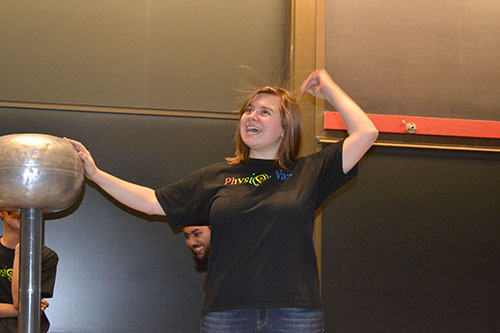 Spencer Hulsey demonstrates how the Van de Graaff Generator can cause one's hair to stand on end.
This is one of Physics senior Spencer Hulsey's favorite quotes by physicist Richard Feynman, who helped to pique her interest in physics. However, someone who had an even more significant impact on her love of physics and decision to study it was her high school physics teacher, Steve Eischens. And while Hulsey loves physics research (she's worked for four different professors), probably her favorite thing to do is outreach. In fact, all who have seen the co-coordinator of the Physics Department's long-standing outreach group in action might aptly call her "the Face of the Physics Van."
Physics Van is a group of mostly engineering and physics students (and even a few non-engineering students) who do fun, engaging, often spectacular demonstrations about science, particularly physics. Hulsey, who began as a Physics Van volunteer her freshman year, became one of the Van's two coordinators at the end of her freshman year, and has been doing it ever since.
---