Top STEM Education Stories
Our vision for Illinois as a land-grant institution is to foster accessible, effective STEM teaching and learning—from preschool through graduate education—
at local, state, and national levels, thereby preparing a highly able citizenry and diverse STEM workforce to tackle pressing global challenges.
Current STEM Ed Highlights
August 9, 2018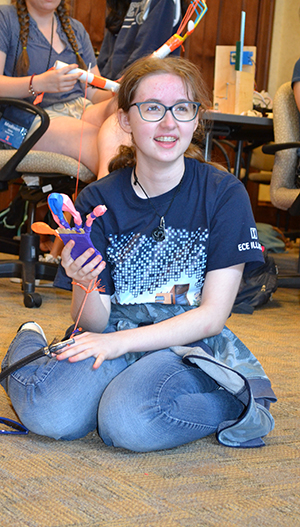 A GBAM GAMES camper shows off the prosthetic hand she and her teammates made.
"Lots of times, engineering is kind of this abstract sort of thing where someday I guess I'll be an engineer, but I'm not sure what they are, or what they do, or whatever, and I think it might be interesting. It's great to get [students] here and get them doing and seeing what [engineering] really is and how impactful it can really be." – Joe Muskin, MechSE Educational Coordinator.
That's exactly what 24 high school girls experienced when they attended the 6th annual GBAM (Girls Building Awesome Machines) GAMES (Girls' Adventures in Mathematics, Engineering, and Science) camp from July 8–17, 2018.
---
July 25, 2018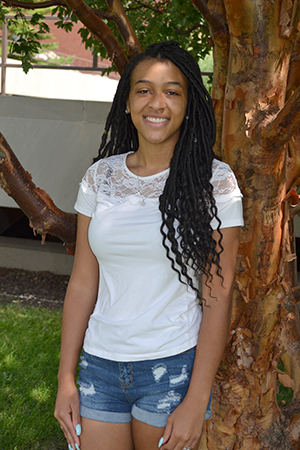 REACH RCEU participant, Bri Griffin.
Brione Griffin's career goals have always been "to be a doctor—be a doctor and help people out." So when she learned about REACH (Research and Education for the Advancement of Compassionate Health Care) RCEU (a Research Experience for Undergraduates with an added clinical component), which is sponsored and funded by the new Carle Illinois College of Medicine, she was intrigued. "I think it's something I've loved all my life," Griffin says regarding her passion for science, biology, and medicine. She shares an anecdote about how she got interested in those.