Top STEM Education Stories
Our vision for Illinois as a land-grant institution is to foster accessible, effective STEM teaching and learning—from preschool through graduate education—
at local, state, and national levels, thereby preparing a highly able citizenry and diverse STEM workforce to tackle pressing global challenges.
Current STEM Ed Highlights
October 17, 2017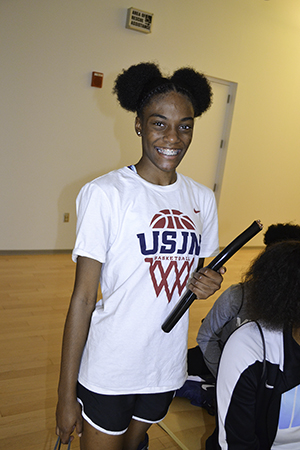 A camper poses with a sample Blue Waters supercomputer cable.
Where's the Popcorn? That was all that was missing when 27 Urbana High School (UHS) student athletes sporting 3D glasses lounged in the cushy, theater-quality seats of NCSA's viewing room to preview some of the Advanced Visualization Laboratory's (AVL) high-resolution, cinematic-quality, 3D data visualizations. They were at the National Center for Supercomputing Applications for NCSA Day, the final day of the first-ever, I-STEM Summer Camp: A Multidisciplinary Program. During the Friday, August 18th visit, students also toured the National Petascale Computing Facility and met the Blue Waters Super Computer up close, and also discovered more about what NCSA does while attending a panel discussion hosted by several NCSA researchers and programmers.
---
October 13, 2017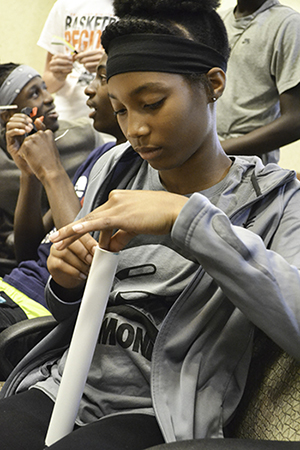 A UHS student athlete works on her team's prosthetic.
A 24-year-old woman, Magdalena, who had bone cancer as a child and thus had an arm amputated needs a prosthetic in order to maintain her livelihood. This was the scenario presented to 27 Urbana High School (UHS) student athletes as a part of MechSE Day on Thursday, August 17, during I-STEM's first-ever multidisciplinary summer camp. So the day's main hands-on activity involved making a prosthetic device. And while the students learned a bit about prosthetics and Mechanical Engineering during the day's events, they also learned some things about teamwork and what being a MechSE undergrad might be like.