Top STEM Education Stories
Our vision for Illinois as a land-grant institution is to foster accessible, effective STEM teaching and learning—from preschool through graduate education—
at local, state, and national levels, thereby preparing a highly able citizenry and diverse STEM workforce to tackle pressing global challenges.
Current STEM Ed Highlights
February 15, 2018
"Everywhere you go, the ubiquitous Joe." — Betsy Innes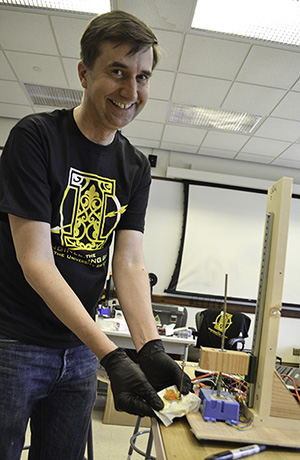 Joe Muskin shows off a 3D printed object one of the GAMES campers made on the 3D printer they designed and built.
If you make the rounds of campus outreach very often, you will soon discover that one of the constants in the STEM-education-outreach universe is Joe Muskin. Education Coordinator for Mechanical Science and Engineering (MechSE), Muskin is an outstanding ambassador, both for his department and for the University. A tireless, creative teacher, he's come up with innovative ways to communicate the material he's teaching for the countless STEM education activities he's been involved in. From teachers, to current Illinois students, to high school students, to elementary (and even pre-school) students, he's broadened the knowledge of those he's worked with about specific areas of engineering as well as STEM outreach.
---
February 8, 2018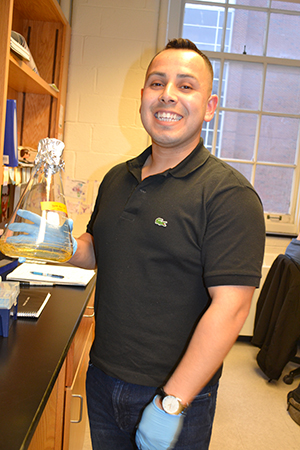 Heredia at work in Erik Procko's development lab.
Jeremiah Heredia hasn't always been as passionate about science as he is now. In fact, as a kid, he didn't like it one bit. "Not at all," he admits. "I wasn't into science at all." Actually, he wanted to be a baseball player…a second baseman, to be precise. Nowadays, however, instead of pulling on a baseball glove, the fourth year Biochemistry PhD student is pulling on vinyl lab gloves. But he's still competitive. However, instead of trying to beat an opposing little league team, he's moved on up to the big leagues and is going after an even bigger W. He hopes to beat some of the major diseases plaguing our society, like HIV-1, for instance. And when he's not in the lab, he's out doing something else he's passionate about…getting underserved students excited about science.