Top STEM Education Stories
Our vision for Illinois as a land-grant institution is to foster accessible, effective STEM teaching and learning—from preschool through graduate education—
at local, state, and national levels, thereby preparing a highly able citizenry and diverse STEM workforce to tackle pressing global challenges.
Current STEM Ed Highlights
April 26, 2017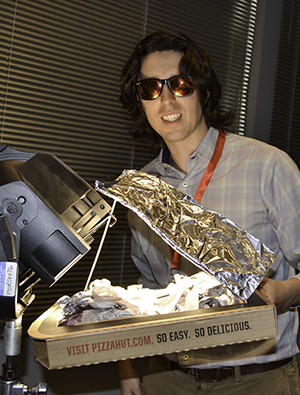 Member of a team finds an optimal spot for their solar oven.
The objective of the contest? Use a pizza box to build a solar oven capable of heating up a marshmallow to the hottest temperature possible during a 10-minute time span. But in a room full of 50 or so talented and competitive engineering grad students from four universities who were on campus for POETS' NSF Site Visit, the challenge wasn't so much the design itself. It was about finishing first and getting one of the coveted, optimal spots in front of a limited number of lights! However, for the leaders of the April 19th Student Outreach Seminar, the more salient objectives were 1) to create T-shaped graduate students (with depth of expertise in their field plus technical and professional breadth), and 2) to replicate their own love of outreach in the participating grad students—with the goal of increasing the number of youngsters exposed to STEM in the future.
---
April 24, 2017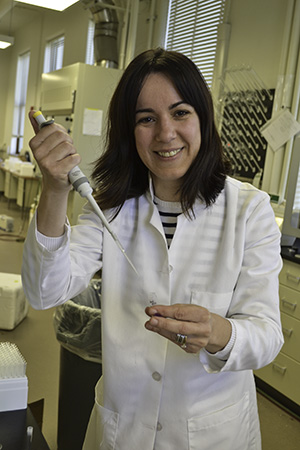 Leal at work in her MatSE lab.
Cecelia Leal, an Assistant Professor in Materials Science and Engineering (MatSE), was recently awarded a 5-year National Science Foundation Grant called, "CAREER: Nanostructured Soft Substrates for Responsive Bioactive Coatings," to study key fundamental properties of biocompatible lipid materials. Because Career grants also require researchers to do an educational outreach component, in addition to the graduate students she'll be training and mentoring, Leal will be doing a new summer camp for middle school girls and a workshop for incarcerated individuals as part of the Education Justice Project.