Top STEM Education Stories
Our vision for Illinois as a land-grant institution is to foster accessible, effective STEM teaching and learning—from preschool through graduate education—
at local, state, and national levels, thereby preparing a highly able citizenry and diverse STEM workforce to tackle pressing global challenges.
Current STEM Ed Highlights
March 19, 2018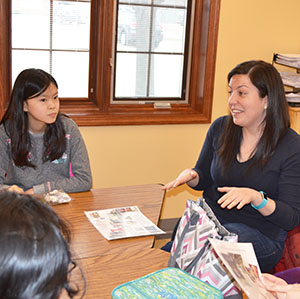 MCB PhD student Jessica Kelliher chats with the NGS middle school students during their Science Social Café Club,
On Thursday March 9th, six MCB PhD students briefly put the work in their labs on hold to drop by the Science Social Café at Next Generation School's STEAM Studio in Champaign. There, while a group of 11 middle school girls (and one boy) ate their lunches, they served as role models, explained a bit about how they ended up in science, shared what doing research as an MCB graduate student at Illinois is like, and described their career goals and other possible careers in their field. Plus, they were available to answer any of the younger students' questions. The goal of the event? According to STEAM Studio Director Angela Nelson, it was to "break the boundary of 'You could be a doctor, an engineer, or a lawyer,'" and open the youngsters up to the myriad possible careers, such as in science and research.
---
March 15, 2018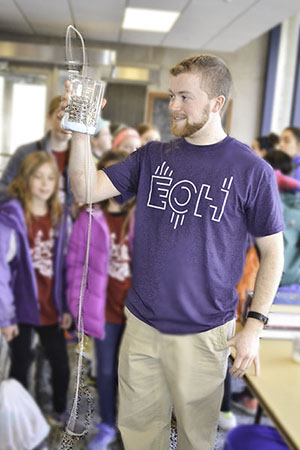 Austin Steinforth, Electrical Engineering Ph.D. student, has been presenting his Self-siphoning beads demo every year at EOH.
On March 9–10, 2018, thousands of visitors flooded the University of Illinois campus to participate in EOH 2018: Drafting the Future: classes on field trips, parents who played hookey from work and brought their kids, high school students considering Engineering at Illinois. And there to meet them were hundreds of proud Engineering students, eager to show off what they've been learning or researching. EOH 2018 featured more than 250 exhibits, including many hands-on activities, demonstrations, contests, races, and other displays. Most of the engineering disciplines on campus were represented. For instance, Aerospace students and organizations showcased their discipline via several exciting rocket launches or rocket races.