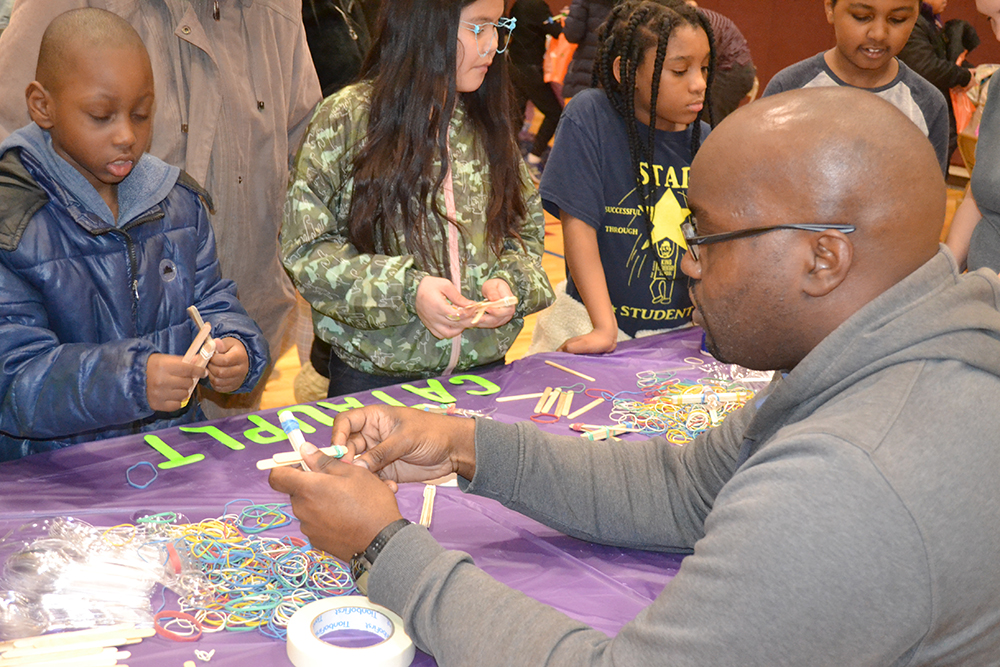 An Illinois Engineering student (right) shows a student how to make a catapult at M. L. King Elementary School's Recent STEAM Night.
Full article
---
Current STEM Ed Highlights
April 8, 2020
"Cause that's a really big part of this independent, creative thinking, is to have the freedom to choose and to have the trust from your instructors that you are the expert." – Katie Ansell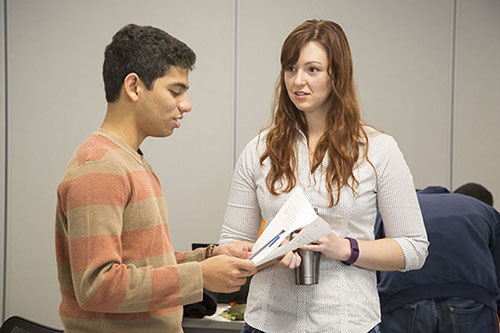 Katie Ansell helps a Physics 211 student resolve an issue he's having with the lab instructions. (Image courtesy of Brian Stauffer.)
In fall 2020, the Physics Department is going to roll out reformed course laboratories that they've been piloting over the last several years. But it won't be business as usual. For instance, instead of having the 2500 or so students follow verbatim a long set of very detailed instructions, the idea is that the labs would foster independent, creative thinking, giving students the freedom to explore—and even fail—just like real scientists. Another goal is that the labs will help students develop two kinds of necessary skills: expertise in doing procedures plus "invisible" or involuntary skills—expertise to do something without even thinking about it, including some life-long skills. And contrary to the instructor-student hierarchy traditionally understood in years past, it's not the instructor who will be the expert, but the students will be the acknowledged experts of the work they'll be doing.
---
March 16, 2020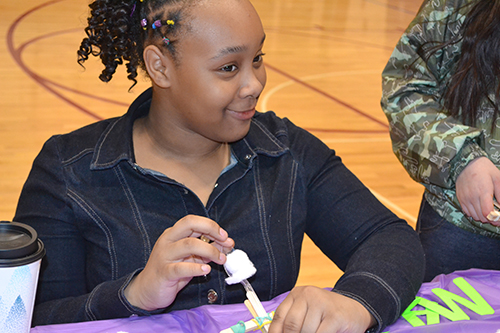 A STEAM Night visitor prepares to test the catapult she built by lobbing a cotton ball at the target: a plastic cup pyramid.
Over the last several years, the familiar acronym, STEM (science, technology, engineering, and mathematics) has improved its reach by incorporating a seemingly disparate but actually complementary discipline: Art. That's what the recent March 5th STEAM Night at the Dr. Martin Luther King, Jr. Elementary School in Urbana was all about—exposing kids, especially minority students, to STEM via some element of art.
---
CISTEME365 Now Accepting New School Teams
Now in our second year, the Catalyzing Inclusive STEM Experience All Year Round (CISTEME365) program is seeking school-based teams of counselors and teachers interested in partnering with The University of Illinois' Grainger College of Engineering and the National Alliance for Partnerships in Equity to increase interest in STEM majors and careers among traditionally underrepresented populations in STEM fields.
The CISTEME365 initiative is currently accepting applications for the 2020-2021 cohort, seeking schools interested in:
establishing a team of counselors and teachers who will form a united front and strategize together to broaden STEM participation
strengthening after-school or during-school informal STEM learning with a hands-on/minds-on curriculum and materials in electrical and computer engineering, and
gaining access to scholarships for multiple students to attend a week-long University of Illinois Summer STEM camp.
To learn more and submit applications, go to: https://cisteme365.engineering.illinois.edu/idea-teams/apply/
Feel free to contact us with any questions at wyse@illinois.edu.