Top STEM Education Stories
Our vision for Illinois as a land-grant institution is to foster accessible, effective STEM teaching and learning—from preschool through graduate education—
at local, state, and national levels, thereby preparing a highly able citizenry and diverse STEM workforce to tackle pressing global challenges.
Current STEM Ed Highlights
June 7, 2018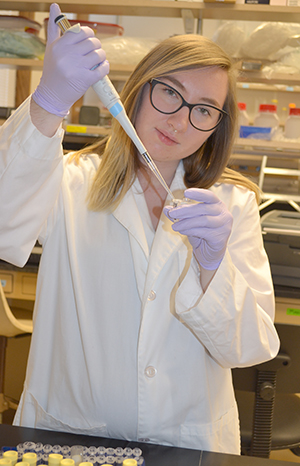 Kristina Allen, a senior in anthropology, pipetting samples in the Clancy Lab.
When most people think of anthropology majors, they may not picture them in a research lab. But rising senior Kristina Allen doesn't let stereotypes cramp her style. She studies biological anthropology, which explores concepts ranging from human evolution to human biosocial variation from a scientific perspective. Her research focuses on reproductive ecology, and she jokes that she may be the first woman to ever say, "I love menstruation." Allen held a love for science throughout her school years, and originally wanted to be a doctor, but switched out of premed after taking a few anthropology courses and realizing that her passion lay elsewhere. She seems to have found her niche, saying "I love what I do now."
---
June 4, 2018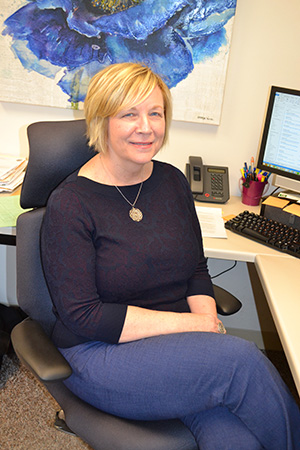 Karen Rodriguez'G, Interim Director and Associate Director of the university's Office of Undergraduate Research.
Exactly what is undergraduate research at Illinois? Is it one undergrad working in a lab? Is it a research-focused course with a capstone project? Is it not just a project, but a process? To all of the above, Karen Rodriguez'G, both the Interim Director and the Associate Director of the university's Office of Undergraduate Research (OUR) says, "Yes!"
Rodriguez'G wears a couple of different hats at OUR. As Associate Director, she oversees the day-to-day function of the office. But as Interim Director, she describes her role as "forward facing for the campus—I am essentially the person in the office that faces everyone on campus." For example, she works with higher ups, such as the heads of the university's eleven research institutes, to discover what undergrad research looks like for them, what sort of partnerships can be put in place, and how her office can help to provide opportunities for students. Plus, she serves on several committees that address these issues as well.