Top STEM Education Stories
Our vision for Illinois as a land-grant institution is to foster accessible, effective STEM teaching and learning—from preschool through graduate education—
at local, state, and national levels, thereby preparing a highly able citizenry and diverse STEM workforce to tackle pressing global challenges.
Current STEM Ed Highlights
December 12, 2017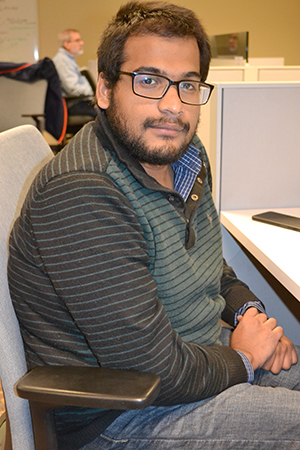 CIP intern, Yogesh Bhandari
According to NCSA's Daniel Lapine, the number of qualified people who have experience working in advanced cyber-infrastructure (CI) is rather limited. So over the next three years, he and some folks at NCSA hope to do something about it. As part of the NSF-funded CyberTraining CIP: NCSA Internship Program for CI Professionals, they are seeking to add to the nation's pool of qualified, advanced cyberinfrastructure professionals. Lapine, the project PI, along with Co-PI Volodymyr Kindratenko, says they developed the project because of "an awareness that we really lack qualified candidates when we're searching for people to come in and fill these positions." He's referring to the difficulty NCSA has had finding qualified CI professionals for several job openings there.
---
December 11, 2017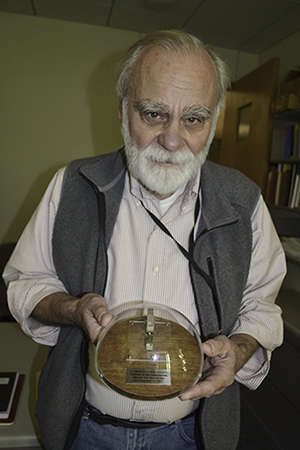 Allen with a replica of the first transistor invented at Bell Laboratories in New Jersey on December 23, 1947.
How well do AP students do on Illinois' engineering math courses? To answer that question, about 12–15 years ago, a joint group of Illinois math and engineering professors studied the issue. While there is a strong correlation between AP scores of incoming students and how well they do in subsequent engineering math courses — students who get 5's typically get A's, 4's get B's, etc. — the study also discovered a great deal of variance and overlap between scores: though most students follow the norms, some end up getting A's while others get D's. Jont Allen, a professor in the Electrical and Computer Engineering (ECE) Department at Illinois, sees this enormous variability as a problem, so he set out to correct it. He created his own class, ECE 298 JA (his initials), to refresh incoming students in engineering fundamentals while teaching them the history of mathematics.