Top STEM Education Stories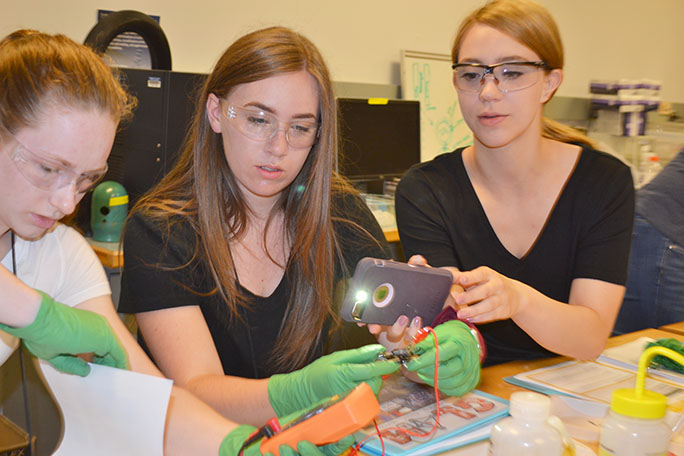 High school students participating in GLAM 2019 test the solar cell they made.
---
Current STEM Ed Highlights
July 1, 2019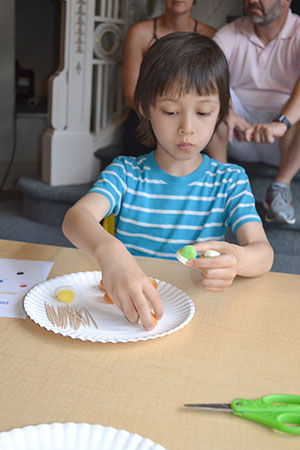 Crafting a yummy snack while learning.
While making a "molecule" with toothpicks and gum drops might just seem like a fun (and tasty?) pastime on a Saturday afternoon, the children participating in the activity at Champaign's Orpheum Children's Science Museum on June 29th were actually learning a bit about nanotechnology —to be specific—about nanodiamonds. The activity, presented by MechSE Assistant Professor Lili Cai, was related to one of her research areas: using a flame-based process to manufacture advanced nanomaterials. Cai is submitting an NSF Career grant proposal in January 2020, so in preparation, she has been implementing various research-related outreach activities that will fulfill NSF's outreach component. For example, in addition to the June 29th nanodiamond activity, on July 11th, she'll be presenting an activity to high school students participating in one of Illinois' Worldwide Youth in Science and Engineering (WYSE) summer camps.
---
June 28, 2019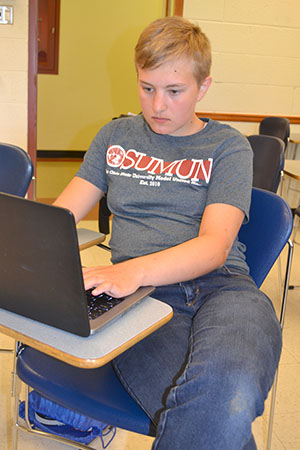 A Uni High student works on her research.
For the second summer in a row, the Illinois Geometry Lab (IGL) in the Department of Mathematics partnered with University Laboratory High School (Uni High) to provide research projects for some of the school's students. For four weeks from June 3rd through June 28th, 15 high schoolers visited Altgeld Hall to conduct math research, mentored by Illinois Math graduate students. The idea was to expose the younger students to math not traditionally taught in school and also to give them a taste of what math research is like. In addition, the younger students experienced another aspect of academia: they prepared presentations then presented their research at a final symposium on Thursday, June 27th.
---
Our vision for Illinois as a land-grant institution is to foster accessible, effective STEM teaching and learning—from preschool through graduate education—at local, state, and national levels, thereby preparing a highly able citizenry and diverse STEM workforce to tackle pressing global challenges.
STEM Ed News