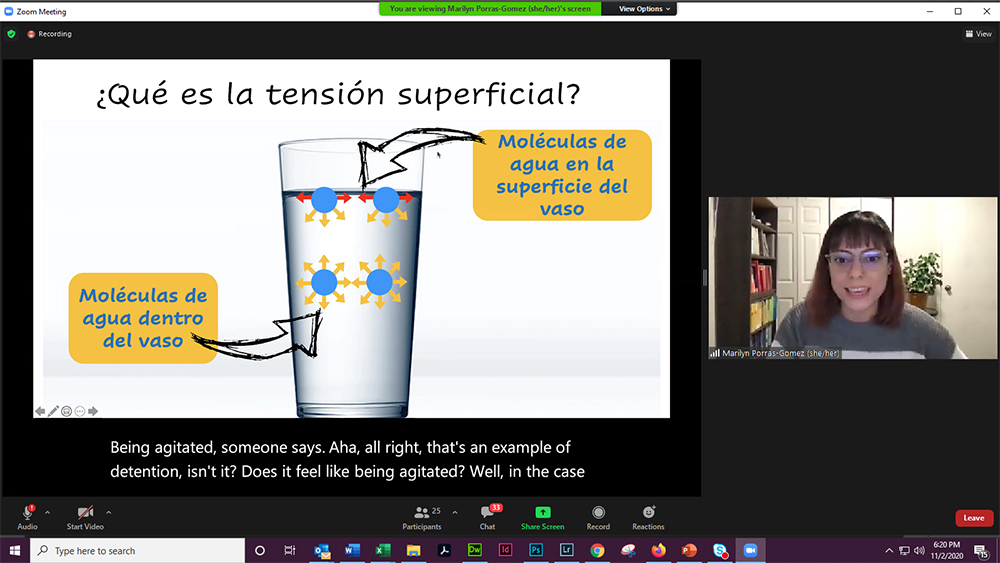 Marilyn Porras-Gómez presents a slide about surface tension during her Virtual Cena y Ciencias Zoom presentation.

Full article
---
Current STEM Ed Highlights
Why does holding your nose when taking medicine make it not taste as bad? What is surface tension on liquids? What do scientists do in labs? What are crystals and how do they form?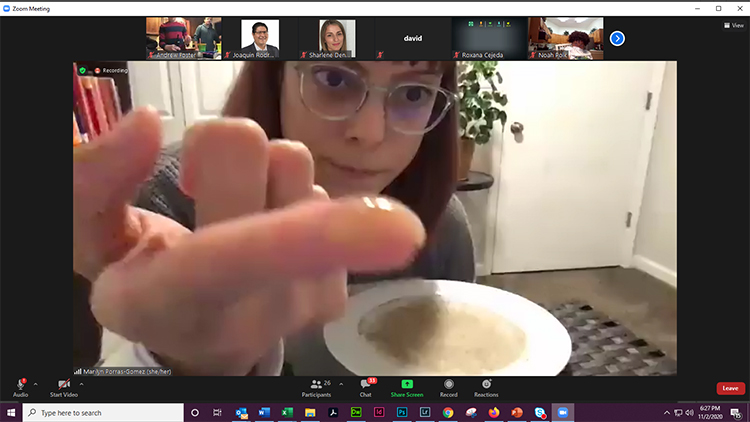 During her November 2nd CyC presentation, Marilyn Porras-Gómez, a third-year Materials Science and Engineering Ph.D. student, shows how pepper sprinkled on water on a plate floats on the top due to surface tension.
November 12, 2020
Noted above are just some of the questions I-MRSEC's Virtual Cena y Ciencias (CyC) hopes to answer during its Spanish-language, science outreach events for local Hispanic and dual-language-program school children. But, to adhere to COVID-19 social distancing mandates, CyC, scheduled for the first Monday of the month throughout the fall 2020 and spring 2021 semesters, is being held online until further notice. Despite the change of venue, the COVID-19-friendly events, like their no-social-distancing-required predecessors, feature lectures and/or demonstrations followed by hands-on science—with a caveat. The "kitchen science" activities feature science that can be done with materials available in most homes. Plus, in addition to the exposure to science, the youngsters will experience it in Spanish, offered by Hispanic scientists who serve as role models.
---
"Really, one of the goals of the Nobel Project is to provide young people with unprecedented access to the University of Illinois—the land grant mission...If our youth are to become computer scientists, to become the next Nobel Laureate, to become sociologists —whatever it is that their gifts and talents are urging them to be—we can support them in that effort." — Ruby Mendenhall
November 9, 2020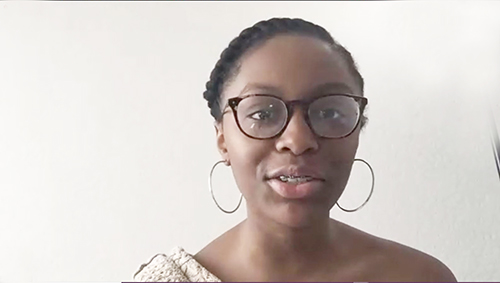 Nobel Project participant Kyanna Hobbs chats on Zoom
According to statistics, very few faculty and industry professionals in Computer Science (CS) are from marginalized populations. For instance, only around 2% of employees in CS are Black; plus, percentages from marginalized groups are also low in medicine and other STEM fields. Seeking to address this issue is STEM Illinois' Nobel Project, headed up by Dr. Ruby Mendenhall, Assistant Dean for Diversity and Democratization of Health Innovation at the Carle Illinois College of Medicine (CI MED), and an Associate Professor in African-American Studies in the Department of Sociology. The Project's goals over the next two years are to hold workshops and other activities designed to get young people from marginalized groups interested in CS.
---