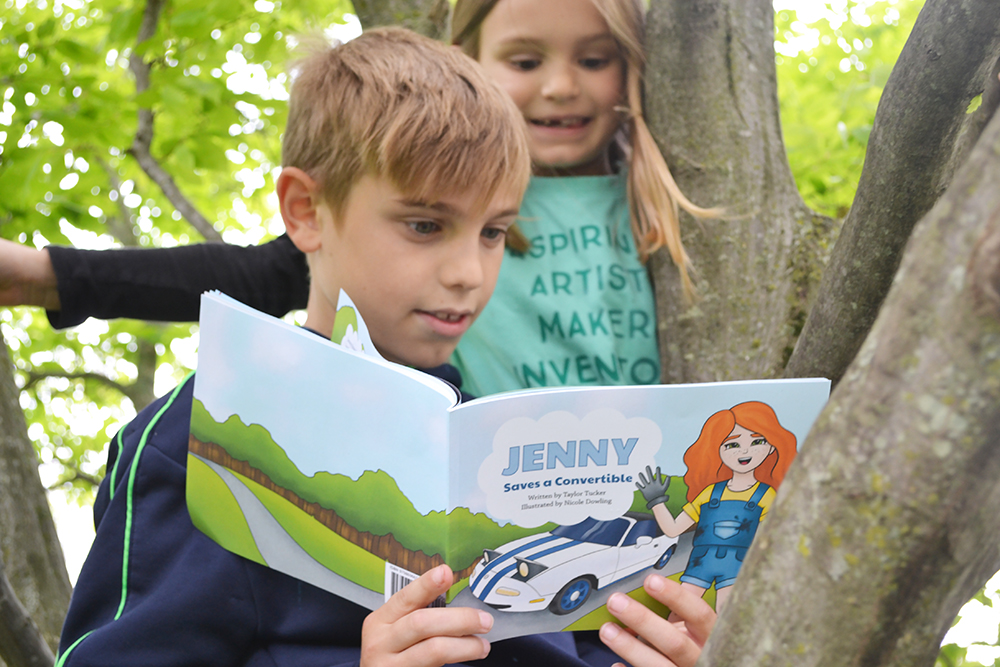 Local youngsters enjoy Jenny Saves a Convertible, written by Illinois alums Taylor Tucker and Nicole Dowling.

Full story.
---
Current STEM Ed Highlights
TechTogether Chicago to Redefine the Hacker Stereotype
July 10, 2021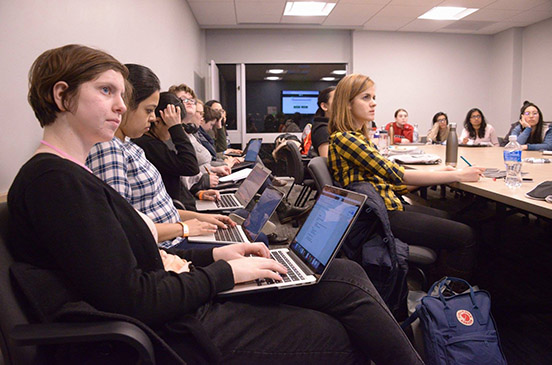 Past TechTogether Event (Courtesy of TechTogether).
The nonprofit organization TechTogether formed with the aim to increase diversity in the hackathon community with their events and chapters. Now, the new chapter TechTogether Chicago aims to grow upon this mission with their work in organizing one of the few gender-focused hackathons in Illinois. In addition, TechTogether Chicago will be using the virtual environment as an opportunity to innovate and produce new workshops that can help inspire students to pursue careers in technology.
Fiona Whittington, founder and executive director of TechTogether never knew that her work would go beyond Boston. When she started out, TechTogether was far from a national organization, but was a Boston-based hackathon known as SheHacks. When the SheHacks team received 800 hackers (out of 1866 applications) Fiona realized that, "gender-focused hackathons were really great tools for getting specifically younger women interested in computer science and other tech related disciplines."
While she and her team realized that "there was an opportunity to grow our [TechTogether's] impact to run the program we are doing on scale" the way to do so was an ambiguous process. This led to the rebranding of SheHacks to TechTogether, and with that an, "unique model for individuals to host events across the country" with their nationwide chapter program. And since then the impact produced is astronomical - TechTogether was able to increase the gender diversity in the hackathon community from 2019-2020 by 18%.
---
Aerospace Engineering Launches Virtual Summer Camps to Pique Students' Interest in Aero
July 2, 2021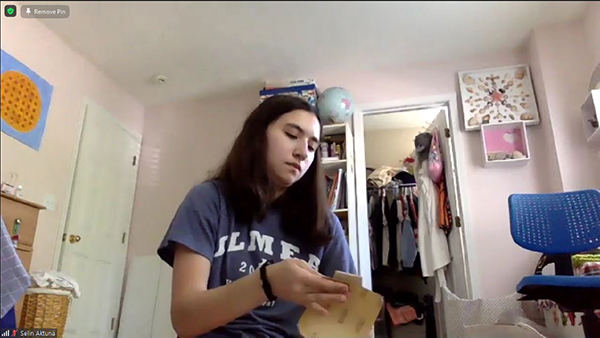 An aerospace GAMES camper works on building her rocket.
Design an aircraft then watch it soar after launching it with a huge rubber band. Build a Mars lander to safely transport a real egg, then test the contraption by dropping it from a second story window. Zoom chat with a NASA flight director whose office provides a perfect view of mission control. These are just some of the informative and educational, yet fun activities 130 virtual campers from across the country got to experience during Aerospace Engineering's (Aero's) three summer 2021 camps.
From June 27–July 1, 2021, 30 rising 10th–12th graders participated in EAGER (Engineers Aiming for Gender Equity and Representation) camp, which seeks to increase the number of women and gender non-binary students pursuing STEM majors and careers. Plus, 50 rising 9th–12th graders took part in Aero's two Illinois Aerospace Institutes, one from June 21–25, then another from July 12–16, 2021.