Stories about...MCB
September 27, 2017
A grad student is dead. Who did it? An undergrad who wanted the grad student's spot and/or funding? The professor who was upset with the student because he wasn't working hard enough in the lab?
This "Whodunit?" was the scenario members of the MCBees came up with to get 27 Urbana High School (UHS) students excited about STEM, specifically DNA research. The MCBees, the MCB (School of Molecular and Cellular Biology) graduate student organization, provided the hands-on activities for day one of the first-ever, I-STEM Summer Camp, a multidisciplinary summer program from August 7–18, which focused on exposing underrepresented minorities to the many different STEM fields and career opportunities, building teamwork and lab skills in the students, and showing them what STEM research is like.
---
September 12, 2017
Twenty-seven Urbana High School (UHS) athletes, mostly underrepresented minorities, participated in the first-ever I-STEM Summer Camp from August 7–18. The goals of this multidisciplinary summer program were to 1) expose participants to various STEM fields so they know what their options are when choosing their career/ college path; 2) to build teamwork and lab skills in different STEM disciplines; and 3) to allow students to experience what STEM research is about. Ten different STEM departments and units on campus were each responsible for one day of activities during the two-week camp.
---
UHS Scholar-Athletes Discover "Omics," the IGB, at I-STEM's DNA & Health Day
March 1, 2017
Taking a break from their regular classes… and the gym, on February 22nd, 63 scholar-athletes from the Urbana High School boys' and girls' basketball teams visited the Institute for Genomic Biology (IGB) on campus to learn about DNA sciences during I-STEM's DNA and Health Day. While learning about DNA and Health via a number of hands-on activities, they also got to interact with some Illinois researchers. During a tour of the IGB, they got hands-on experience with state-of-the-art microscopes and cutting-edge technology. And over a pizza lunch, they discovered some resources available for them should they choose to attend Illinois. What did the students take away from the event? Hopefully the notion that exploring the world of "Omics" is intriguing and fun and that they too could become scientists if they so choose.
---
Local K–5 Students Learn about DNA and Genomic Research at IGB's Genome Day
November 30, 2016
Around 500 visitors, both young and old, spent their Saturday afternoon on November 12th at Genome Day, learning more about DNA and genes. Sponsored by the Institute for Genomic Biology (IGB), the event featured fun, engaging, hands-on activities taught by 120+ Illinois students, staff, and researchers associated with IGB who were on hand at the Orpheum Children's Science Museum, where they shared their passion for genomics and introduced the visitors to the world of IGB's research.
FULL STORY
---
Illinois' MCBees Expose STEAM Studio's STEAMcation Students to Medieval Science
August 16, 2016
On July 25th, 24 local youngsters spent the morning doing some hands-on activities learning about science —in medieval times and today—as part of STEAMcation, the 9-week summer program of STEAM Studio, Next Generation School's after-school and summer program. And taking the morning away from their labs to sharing their scientific expertise and passion about their field with the youngsters were a number of outreach-minded Ph.D. students who are members of the MCBees, a graduate student group from MCB (Molecular and Cellular Biology).
---
Local Students Learn About DNA During I-STEM's DNA Day Outreach Event
May 3, 2016
A group of 29 mostly underrepresented local students from Urbana High School and several Champaign middle schools and high schools visited campus on Friday, April 29 to participate in "DNA Applications: Interdisciplinary Perspectives for STEM Careers."Hosted by the I-STEM Education Initiative as part of the National Institutes of Health (NIH)-sponsored National DNA Day activities, the event, primarily via hands-on activities and tours, introduced the local students to DNA, some DNA research done on campus, and some careers that deal with DNA. Students were also encouraged that they, too, could go to college, and were apprised of several resources available to help them achieve that goal.
---
MCBees Help Provide Student Support, Recruit, & Share the Joy of Science

April 26, 2016
In the past, new graduate students coming into Illinois' 10-year-old School of Molecular and Cellular Biology (MCB) didn't have much interaction with other grad students who had been in MCB for a while. During their first six months at Illinois, they were somewhat isolated as they rotated from lab to lab to find their niche, then got further divided as they entered one of MCB's four departments: Biochemistry, Cell and Developmental Biology, Microbiology, and Molecular and Integrative Physiology (MIB). Then, once that first semester was done, they didn't really come into contact with their classmates any more, "because you kind of get busy with your work," admits Biochemistry grad student Amruta Bhate, "and you only meet people from your department."
FULL STORY
---
Illinois' MCBees Expose STEAM Studio's STEAMcation Students to Medieval Science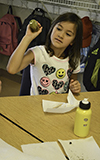 August 16, 2016
On July 25th, 24 local youngsters spent the morning doing some hands-on activities learning about science —in medieval times and today—as part of STEAMcation, the 9-week summer program of STEAM Studio, Next Generation School's after-school and summer program. And taking the morning away from their labs to sharing their scientific expertise and passion about their field with the youngsters were a number of outreach-minded Ph.D. students who are members of the MCBees, a graduate student group from MCB (Molecular and Cellular Biology).
FULL STORY
---
STEAMcation Provides Summer STEAM ...With a Little Help from Illinois Friends

August 16, 2016
The 48 local youngsters who spent the summer at STEAMcation doing activities which incorporated art into a variety of STEM-related activities not only had a lot of fun. They learned some STEM principles too. And helping teach the youngsters about some of these topics were a number of outreach-minded University of Illinois folk, such as the MCBees, a graduate student group from MCB (Molecular and Cellular Biology), and RailTEC, the Rail Transportation and Engineering Center.
FULL STORY
---
IGB's Genome Day Exposes Visitors to Genomic Research
November 13, 2013
From watching themselves dance with plants on a video screen, to using a ProScope to examine coral and fossils, to measuring the temperature of a "Yellowstone National Park hot spring," around 500 area youngsters (and their parents) who attended Genome Day on Saturday, November 2, 2013, got to learn a whole lot about genomics.
FULL STORY
---