Illinois Science Olympiad Seeks Your Vote/Funding Via Pepsi's Refresh Project
November 18, 2010
"Look around your community, and think about how you want to change it." This catchphrase for Pepsi Corporation's Refresh Project encourages people, businesses, and non-profits to submit ideas that will have a positive impact on their communities. Then, based on America's votes, Pepsi will dole out awards ranging from $5,000 to $250,000 for the winning ideas seeking to make improvements in the areas of health; arts and culture; food and shelter; the planet; neighborhoods; and education. The Illinois Science Olympiad (ISO) has taken the Pepsi plunge—with the refreshing idea of getting Illinois youth excited about science.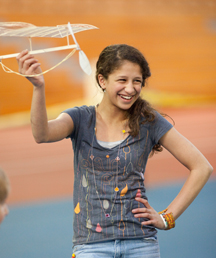 2010 Illinois Science Olympiad participant demonstrates her project.
The proposals ISO has submitted to Pepsi seek to improve the state's Science Olympiad competitions by subsidizing teams that can't afford registration fees; supplying new teams with start-up resources; providing all teams with kits for the year's new events; and training coaches, students, and event supervisors across the state.
Pepsi, which accepts 1000 new ideas every month, awards $1.3 million on a monthly basis. Since voting for specific projects is also on a one-month basis, voting for the ISO's Refresh Everything projects is from January 3–31, 2011.
According to ISO spokesperson Ursula Ahern, individuals can vote for the ISO projects three ways every day: once through the website, the second time via text, and thirdly via Facebook. Voters can text the messages "104513" and "105444" to the Pepsi Refresh number: 73774. The ISO website has complete voting links and directions.
If you are one of the many persons who have been impacted by the Illinois Science Olympiad and want to see more Illinois youth experience "the thrill of team competition and the reward of hands-on learning," or if you are convinced that for us to compete in today's global economy, the U.S. needs to increase the number of students who choose careers in STEM, use this link, register, and vote thru January 31, 2011. Help the Illinois Science Olympiad attain its goal of steering more youngsters into science: "By equipping adult leaders with event specific training and providing resources to help middle and high school students soar, we can impact the next generation of scientists!"
More: Science Olympiad